You eat, breathe and sleep fashion. Your sartorial prowess is commendable and you are the go-to person for a friend who is plagued by any fashion indecision-yes, you are a budding fashionista. You have glitter in your veins and one fine day, you would love to strut in the halls of Vogue. We agree you are fashion conscious and way ahead of your time, but a little help hurt nobody. Take a look at some of the best fashion books that have inspired generations of fashionistas!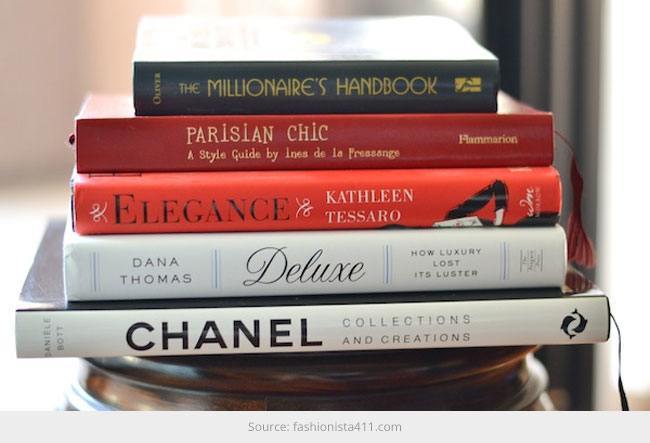 The Vogue Factor By Kirstie Clements:
A behind the scene peek at the nitty-gritty life of fashion in the world's biggest fashion magazine, this book was written by Clements after she was fired from the post of Editor-in-Chief at Vogue. She chronicles her journey from that of a receptionist to the Editor and shines light on everything that came her way as she made her journey to the top.
[Also Read: Which "Sex and the City" Fashion Character Are You?]
The Fashion Book- Mini Edition:
The Holy Grail of Fashion, this is a book that should be the dictionary for every fashion-forward lady. From Chanel to Givenchy, this nifty little book covers everything and anything that matters in the fashion industry.
Fashion A to Z by Alex Newman and Zakee Shariff:
Short and concise, this book contains everything that a fashion dictionary should have. A ready reckoner, this book is extremely helpful for budding fashionistas who want to improve their fashion vocab.
The Little Black Book of Style by Nina Garcia:
Fashion doesn't need to be all about haute couture, does it? This tiny book teaches just that. In a journey of self-exploration, Garcia takes readers on a phenomenal ride to help them realize what their own style is. Not only will you learn what's happening in the fashion world, but at the same time, you will also learn more about yourself.
The Beautiful Fall By Alicia Drake:
Two of high fashion's biggest names fight it all out in the book which explores the drama of rivalry. Set in 1970s Paris, this book is a story of an unknown battle between Yves Saint Laurent and Karl Lagerfeld. This best selling fashion book has managed to hold the attention of every fashion geek.
[sc:mediad]
[Also Read: 10 Style Commandments a Fashionista should Live By]
If You Have to Cry, Go Outside: And Other Things Your Mother Never Told You by Kelly Cutrone:
The race to the top is a cutthroat chase. The fashion industry is often brutal and many are sacrificed in their chase. This is the story where PR specialist Cutrone talks about how she made it to the top and what she actually went through in the industry.
The Little Dictionary Of Fashion by (wait for it!)…Christian Dior
Would fashion be ever complete without a verdict from the fashion giants? Dior's tips for fashion are timeless and it is a fashionable read even for those not interested in fashion. An inspirational read, it is a must-have for any fashionista's bookshelf.
[Also Read: Do You have A — Z Style in Your Wardrobe]
Grace: A Memoir by Grace Coddington
Nostalgic and intimately written, as Vogue's creative director and Anna Wintour's right hand, Grace Coddington offers a very stark view of the fashion industry and how it has all transformed in front of her eyes. A very insightful read into the ever-changing world of fashion.
Alexander McQueen: The Life and Legacy by Judith Watt
The legendary fashion designer passed away at a very young age, but he left his legacy burned into the minds of fashion-forward people all over the world. The book is a tell-all into the life and legend of Alexander McQueen.
Champagne Supernovas by Maureen Callahan
This book has all the insider gossip from the fashion world in the 90's. Kate Moss, Marc Jacobs and Alexander McQueen stand out in the book while inspiration has been scooped in from other inspiring fashionistas too.
How To Dress For Success by Edith Head
Edith Head has styled many of the leading ladies and has of course penned down his experiences into this book. It tells you how your style and outfits can help you achieve anything. Mainly, it addresses the problem of how you can dress your best!
Women In Clothes by Sheila Heti, Heidi Julavits and Leanne Shapton
This book brings about a relatively new concept and could be rounded up as one of the best coffee table fashion books. It combines the fashion perspectives of various women from all over and answers integral fashion questions.
These books about fashion will let you know more about how one of the fastest industries in the world functions.