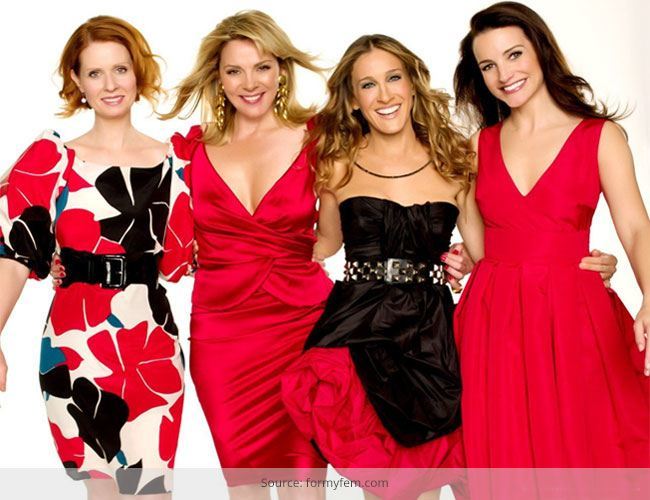 'Sex and the City': the favorite of fashionable women all around the world. Love them or hate them, you certainly can't do without them! SATC has been off air since a decade now, but we women can't just get over them. Whether it's Samantha's rocker ways of life or Carrie's quest for eternal love (Oh, thank god she found Mr. Big!), we girls can't get enough of them. But have you really had a heart-to-heart connection with one of them? Fashion wise? I'm sure you have! Check out these fashion traits and find out who is your SATC twin!
If Shoes and Clothes and Vogue are your Thing, you are CARRIE BRADSHAW:
She is the one who can rock Tutus and Manolo Blahnicks at the same time. Dior, Chanel, Jimmy Choos and every other fashion house is your favourite haunt and you would never be seen dead in something outdated. Fashion is like your second name and shoes are your eternal love. You are on top of your game when it comes to wearing the right things at the right time. Heck yes, you can even rock a newsprint head and turn heads all around. You are a fashion diva and you can easily run errands in heels without a wince!
[Also Read: Are You Pronouncing These Fashion Brand Names Correctly?]
If you are Pragmatic and Fashion is All about Comfort, you are MIRANDA HOBBES:
You are all about comfort and looking sharp. Of course you care about fashion, but that certainly does not mean that you would be seen dead in sky high heels! You are surely aware of the fashion Dos and Don'ts and you can rock a business suit like a high flying entrepreneur! You are also like a fashion seer. You can foresee into fashion future and you would be rocking trends that are even yet to come in the scene. Tailored suits and dresses are just the favorite pieces of clothes in your cupboard and you can't do without them!
[sc:mediad]
If Those Dainty Skirts Caught Your Eye, you are CHARLOTTE YORK:
You are the epitome of elegance and you dress like a woman every other woman wants to be: Feminine, delicate and as pretty as you can be! Your cupboard is stuffed with vintage Chanel skirts and Dolce and Gabbana dresses. You dress like every day is a new day. Your special qualities include paying attention to detailing and dressing up in a way which would help you seamlessly transform your look from a day to night attire in a trice. You are the pink lady and you love accessorizing your outfits with little pink items. Pink is your best friend. So whether you are jogging or going to church, you are always seen with a tiny little hint of pink!
If You Can Rock Anything With Your Confidence, You Are SAMANTHA JONES:
[Read More: Sex And The City Fashion]
For you, fashion is just another part of your life. You don't think much about rocking any outfit because you know you are going to turn heads in that dress. Your confidence is magnetic and everyone you meet is awed by your presence. It doesn't matter that what you are wearing is raising a lot of brows, if it looks good on you, you will very well wear it. You are not afraid to experiment and you always get your way around with the most expensive retail items. Whether or not your outfit is on point, you will always have the right shoes and the right bags to up your game.
So, which SATC fashion character is your twin?