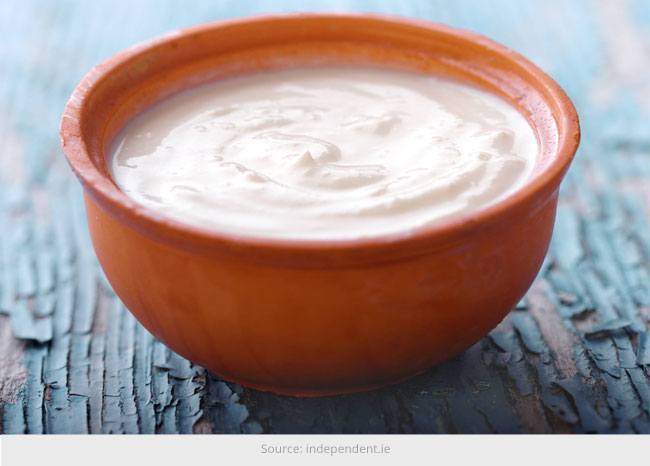 It is a nature-friendly recipe and the coolest thing that can bring a sigh of relief to our stomachs no matter the season. Goes well as accompaniment with meals (aloo parathas, rice etc.) and can be sweetened or liquefied (as lassi) to make it more flavoursome. Summers are incomplete without a bowl of curd. Dahi as it is fondly called, is a good source of protein, minerals, calcium and vitamins and is easily digestible and is a great reservoir of beauty too. Besides different ways to use curds for skin and hair, here's why curd is a 'must must' for the Indian kitchen and bellies.
CURD FOR HEALTH
Stomach
Say goodbye to stomach ulcers and pestering gastric problems thanks to curd. Since it is cool in nature, it helps maintain a good body temperature and that of the gut enabling good digestion.
Heart
Replace your colas and sugary beverages with cholesterol-free curd. It prevents thickening of arteries in our body and reduces the risk of high blood pressure and heart attack.
[Also Read: Yogurt For Skin]
Immunity
It might sound unbelievable but it is true. Curd has thousands of bacteria that play an important role in cell building, fighting infections, food allergies and strengthening immunity.
Teeth and Bones
Curd is good for our bones and teeth and there is no mistaking about it. A tablespoon of yogurt when taken daily goes a long way in making healthy bones and white teeth. That's because they have good amount of phosphorus and calcium which play a vital role in keeping bone-related diseases such as osteoporosis and arthritis at bay.
Weight Loss
Since curd has high amounts of calcium, they go a long way in preventing obesity and high cholesterol. The amino acid found in yogurt helps burn fat at a longer rate. Consuming curd is one of the most simple ways to lose weight everyday.
Stress
Curd reduces stress hormones and makes them act calmer. It is also a natural therapy for depression and anxiety. So whenever you are feeling low and stressful, take a bowlful of curd to bring back the cheer to your face.
[sc:mediad]
CURD FOR BEAUTY
Fairer complexion
Forget the whitening branded creams. Take curd orally or apply it on your face to get fair complexion. Make fluffy mask out of yogurt and add some freshly squeezed lemon juice. Apply it on your face once every two days.
For dark circles, blemishes
Curd has been said to treat and prevent discoloration of skin. It is one of the effective home remedies to get rid of dark circles and puffy eyes. Just apply yogurt (after diluting it with water a bit) onto the blemished areas. Leave it on for 20 minutes and wash off.
Dandruff
As curd has anti-bacterial properties, it is great in fighting most type of infections, such as dandruff. It moisturizes your dry scalp, and gets rid of all the dandruff. In addition, it relieves the itch and redness caused by dandruff. Massage some fresh curd into your scalp and let it sit for about 30 mins.
Natural conditioner
Curd is blessed with moisturizing properties. When applied on dry hair, it brings back lost moisture. Apply it to your hair. Leave it on until it dries, then rinse and shampoo like usual.
Anti-ageing
The lactic acid present in curd tackles premature skin ageing well. It also helps improve the skin elasticity. This reduces the appearance of fine lines and wrinkles on your face. So, next time if you are wondering how to get rid of dry skin with lactic acid, use curd.
Now without batting an eyelid, go and pamper your skin and hair with the nature's best gift to us – the curd.