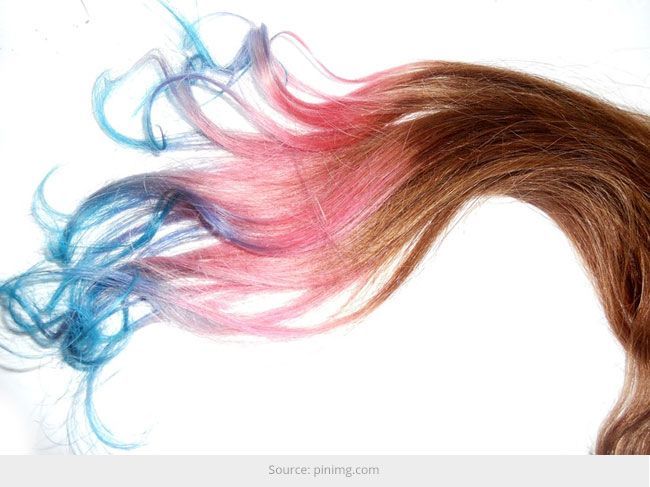 Your teen years are the best time to explore and experiment with fashion and makeup. If you're a teen who has never coloured your hair, then it is time to get wild. You don't have to go in for a permanent colour. There are so many temporary hair colours available in the market. So stop thinking too much about it and start playing with colours! Pastels are especially trendy right now. Gone are the days of shocking pink and neon green hair dyes; it is all about the pastel shades at present. Pale hair colours are soft enough that they are not as shocking as bright neon colours, but bold enough that you will look super cool and trendy with them. Now say goodbye to permanent hair colors. Here are a few temporary ways to color your hair. So what are you waiting for? Get on the hair colour bandwagon and show off the quirky and fun you.
Lavender and Blue
Termed the 'mermaid colours', pale blue and lavender look great on hair. You can mix them up to create an interesting two toned effect as well. You can match your eye-makeup with your hair colour to create a very catchy look. Lavender looks great on straight hair while blue works great on both straight as well as curly hair.
[Also Read: Strawberry Blonde Hair Color ]
Pale Green
Pale green is not a colour that will suit everyone. So give it a try and see how it goes with your hair and skin tone. If you like the result then you should consider making it your signature colour. After all, not many people can carry off pale-green hair colouring. Just remember to keep your makeup neutral if you're going for green as it tends to clash with other colours. Hair chalking is another cool hair coloring trend that is becoming a hit these days – slowly but surely.
[sc:mediad]
Babby Pink
Baby pink works great on pretty much everyone. It's a soft cotton candy colour that is guaranteed to brighten up your day. So you should definitely consider colouring your hair baby pink to chase away the Monday morning blues the next time. The one think to keep in mind when your hair's pink is to make sure that your outfit goes with your hair. Reds, oranges and yellows are all colours you might want to refrain from wearing if you do dye your hair pink. Browns, blacks, whites and blues are all colours that go well with pink.
[Also Read: How to Make Hair Color Last Longer]
Grey
Okay hear me out before you deem grey the 'granny colour'. Of course grey will look horrendous if you colour your whole hair, but if you know how to make streaks on your hair then grey can actually work. You can look pretty awesome and I'll bet that your hair colour will be so unique since no one else would even consider using grey colour on their hair. The trick is to use it right and never go overboard with it.
Now that we've looked at the different pale colours that you could try, let's now discuss the different forms of hair dyes. There is of course the permanent hair colour which might not be a great idea when experimenting with such unorthodox colours. So what's a teen to do? Use temporary hair dyes instead of course! From hair chalks to sprays to gels and powders, temporary hair dyes are available in so many different forms. You can streak your hair or colour just the tips for a totally wow look, and the best part? You can wash them off the next day. So if your school or college does not approve of hair colours, no worries. You can colour your hair just for the weekend, wash it off and turn up at school on Monday with absolutely no traces of the colour left.
As you get older, between work and society's expectations of you, colouring your hair pink or green is something that you can't even dream of. Only in your teen years can you do all those crazy things. So enjoy your teens and make the most of it. Lavender, blue, green or pink, what colour do you choose?