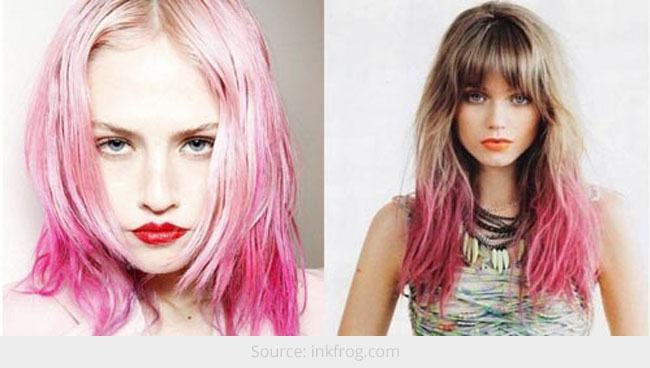 A girls night out and you want to look all chic and hot? No time to colour your hair, or simply do not want to indulge in something permanent. Or, are you bored of that permanent hair color you got done a few months ago? Fret not! You don't have to get rid of permanent hair color anymore, nor do you have to google ways to remove dye from hair. Temporary hair color comes to the rescue, here are five trendy ways to achieve that look. Please read on and get the stylist hair colour you want, because sometimes 'pick-me-up' now is better than 'put-me-on-for-good'!
Heard of colour sprays?
There are tons of them out there, in various hues, shades and colours to choose from; glitter ones too. At the touch of the spray button, your locks would have a new look, a new shade and a new tint for sure. The best part is, although they are temporary; you wouldn't ruin your manicured fingers running your hair through them; he wouldn't know the secret too when he does the same. Such sprays come with a helmet head to keep your eyes and face protected; the sprays are easy to apply and would colour every strand as well. Temp hair colours are trendy and super hair-friendly too, sans the sulphate, ammonia and parabens in them. Popular choices are purple, blues and pinks!
Let's play with gels
Colour gels are another way to make a style statement. They style your hair well and the thick opaque hue brought forth in squeeze tubes allows you to look chic in no time. Styling and dying your hair in one shot- well, why not? Popular colours doing the rounds, matte shades for sure, metallic tones and neon. A normal shampoo wash would strip them off- so easy right!
[Also Read: Hair Color Trends For Spring 2016]
Consider the semi-permanent hair dye
Considering you have one too many nights in a row to hang out, your hair colour should last long and look strong to make an impression. Semi-permanent hair dyes are thus best to use. They come in a plethora of crazy colours to choose from, and would last from two to five weeks sans the flaking!
[sc:mediad]
Hair Chalk
Go color wild with hair chalk sticks. Pastel-coloured hair is a rage these days and the safest bet for temporary hair colouring too. Simple to wear and sans the build-up or stickiness; hair chalks can be applied with ease, and the hair can be brushed thereafter. Even if you do attend a rain party, your hair would not stiffen! Use hairspray over hair chalk, or else it would rub off on your lovely clothes.
[Also Read: Hair Chalking: Coolest Hair Coloring Trend]
Temporary clip-ins
Risk-free, we guarantee! Clip-on hair extensions are the best for a night out, and the next morning, you can simply remove them when done. Do you need shampooing? NO! Clip-on extensions have real hair, and you wouldn't look fake wearing them. Available in a splatter of colours, should you choose to mix and match or maybe go all rainbow. By the way, ombre shades for 2015 – super hot!
Here were 5 best temporary ways to color your hair, for the party this evening and late into the night. Do let us know your choices? Sharing is caring!