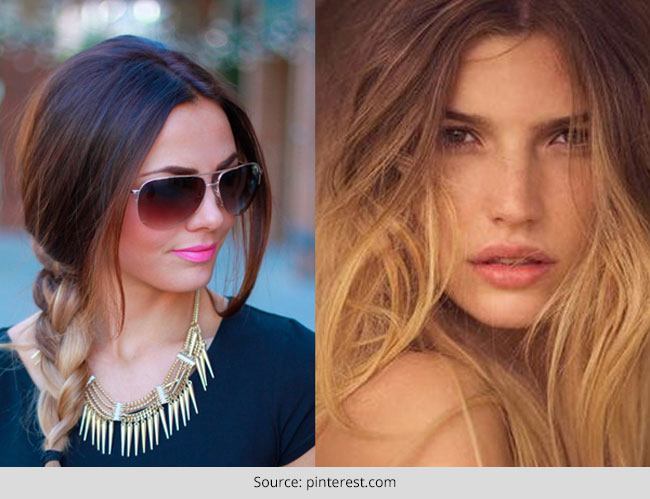 Ombre as a word was derived from French that means 'shadow' or 'shade'. The trend has been ruling the celebrity charts for quite a while now with different names coming out of the same trend. Sombre, Reversed etc are all ombre hair with a certain twist. The essence of ombre hair still remains the same. The hair colour gradates from dark to light. Starting from the roots the hair, colour is darker which gradually gets lighter towards the tips depending on the type of ombre you've decided to have.
What is Ombre?
Traditionally ombre is called ombre when the top of the hair (roots) is darker, with colour becoming lighter through the mid section to lightest at the end. It goes from dark to subtle to light. These days there are a number of ways to ombre dye your hair depending on your complexion, length of your hair, colour of your hair, your workplace, your lifestyle etc. Basically ombre dyeing needs a haircut that compliments the colour. If the hair falls flat or the colour goes unnoticed, the whole point of the entire thing goes missing. Layering your hair cut, a feather cut or nice waves will automatically enhance your colour.
Celebrates with Ombre Hair
It's a pretty celebrated style among the Hollywood stars, Sarah Jessica Parker, Chanel Iman, Rosie Huntington Whitely, Jennifer Hudson, Naomi Campbell etc the trend is classy, is fun and gives you the pep you require for your hair. Its need a little maintenance for what it's worth but it ll brighten your face up like nothing else.
Keep these in mind when you hit the salon to get your shade of ombre hair:
There are different shades and styles to get your hair done, if you don't wish for the bold transformation you may opt for a subtle colour kind.
Chose a shade that compliments your complexion. Also keep in mind your style of dressing, go with something that's you.
You might want one shade, or two depending on your hair colour and what sort you want to get.
Let's not try to do this at home; you will end up messing your hair up. So, visit a professional and work around what will look best on you.
A few basics when your choose your shade – for lighter, fairer skin tones, go for colours like gold, caramel, ash tones and even blondes, for the dusky complexion, opt for copper, violets, browns and for the darker tone, go for deep red and cool ash and even copper.
A few different ombres to go for:
1. From: Brunette to Ash blonde
A very gradating ombre that suits best for wavy hair, it will fabulous if you your hair in layers because the contrast of shades will come out even well. A cool colour, as brown is not too bold or flashy and will look great for a casual and fun look.
Hair that compliments your face will add to the beauty of it all. Pick this ombre to get it right the first time.
2. From: Chocolate brown to Ash blonde
Dark haired beauties have to be extra careful about what colour they ought to have. A beautiful contrast is this one where the colour goes from a dark chocolaty brown to ash blonde. As wonderful as it looks, it needs to be done by a professional to get your hair right and rocking.
3. Subtle Ombre:
Or we like to call it the ombre that's "barely there". Its graduates from dark to light as conventionally done but the light isn't a striking light colour. It's subtle, understated yet there, for all those who want it but want it hidden for purpose.
4. Reverse Ombre
Clearly the name states the obvious, reversing the dark to light to the other way around. Add that transition to your hair colour and make them look bouncier and fuller with this one.
This ombre works or many different levels, it will hide any damages on your ends, the hair looks heavier in your scalp too.
5. Brown to Copper Ombre
A shade for the dark haired beauties, this gradient from brown to copper is very natural looking. Again, not too bold yet very effective looking ombre.
6. From: Black to Burgundy
[sc:mediad]
Rich, jet black colour is what we Indian take pride in. So, get an ombre for your gorgeous black locks. This shade of ombre is beautiful yet comparatively subtle. The burgundy is a good complimenting colour to black and works good on all lengths of hair.
7. From: Black to Blonde
A bold move yet very stylish and interesting look from black to blonde. Two opposite colours work best when done the right way and in the right amount. Too much or too less of it will spoil the feel of the Ombre.
8. Soft Caramel:
A shade of Ombre that suits all skin tones. It's a soft shade that would look good with brown or black hair colour. Choose
9. Fun Ombre
If you have dull hairor hair that has been looking the same for quite long, it's time to have some fun with them try the fun side of ombre where we don't follow a pattern. Random hair is colored, around the face or the ends or streaks. It can be worked around with your natural hair and some highlighting in between.
10. Ombre for Short Hair
Short hair can be tricky sometimes; you've got to be more careful because it falls right on your face. So, pick an ombre that ll definitely suit your style and your hair type. With the options stated above, I'm sure we all have numerous ideas as to how we want it done.
This trend among the many has had a market for long enough. Celebrities have popularised it and brought it to salons where people are happily opting for it. Try he ombre hair and celebrate freedom, celebrate beauty and celebrate being you!