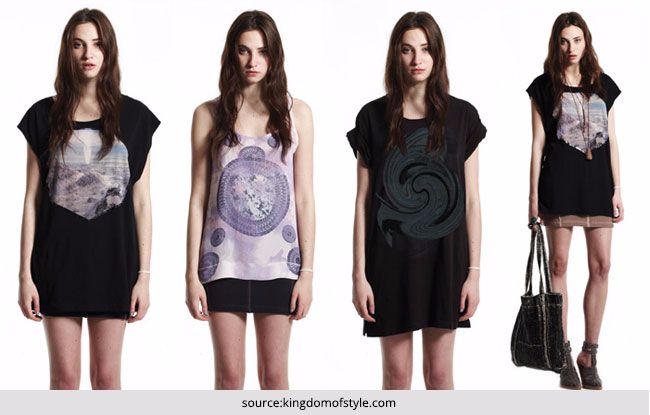 We girls always fall short of clothes don't we? One wardrobe is never enough. But it is not really a feasible idea to keep buying new stuff is it? There are ways by which you can zing up your wardrobe! There are tons of cheap ideas and tricks which can give your wardrobe a much needed new lease of life. Let's read on to know more about ways to make simple outfits more interesting. Here are some easy fashion clothing styling tips:
1. Cuff them up:
You can give a completely new look to your jeans simply by cuffing them. So, if you have a pair of ripped jeans that have been done to death, you can simply cuff them and give them a totally new look. Here's how you can do it:
[Also Read: 3 Easy Ways to Rip your Old Jeans – DIY Ripped Jeans]
2.Get over your oversized:
Yes, we get you. They are comfortable as heck, but you can ruin your entire look with a sweater that looks like you stole it from a hobo. The first and the most important rule of good and comfortable fashion is to have tailored stuff in your closet. A couple of nicks and tucks here and there can even make the simplest of clothes look wonderfully tailored. So, get those oversized cardigans and give them a little stitch here and there.
3.Add some swag to those buttons:
Do yourself a favour and please throw away those basic buttons. Yes, they were a rage in 1800s, but now you need something suave. So, get buttons made of pearl or mother of pearl and bones and those with textures. Nice set of buttons can uplift an outfit really well. So, if you want something cheap but effective ways to give your outfits a little more class, then ditch those plain janes and get the best buttons from the store.
[sc:mediad]
Buttons also look good if they are in cutesy shapes. So, don't just settle down for the normal ones, but check out the ones which come in different shapes like the one below. Some good buttons can really jazz up a boring outfit.
[Also Read: Button Accessories – Who Knew Buttons Made Great Accessories]
4.Trench it up:
Trenches were all over the Fashion Week this time. Nothing beats a classic trench and especially when you want to look all classy, nothing beats the charm of a good looking trench. But wearing a trench over jeans is something most boring people would try. To give a totally new perspective to your fashion, try wearing a trench over a nice mid-knee length dress. The only thing to keep in mind is to ensure that your dress is not too long. A longer dress will reduce the look to something very peasant-like! So make sure your dress length is a little short or a little longer than your trench.
5.The Classic White Shirt:
Every self-respecting fashionista will have a classic white shirt in her wardrobe. While most women would pair it with a classic pair of blue jeans, let's not forget that there several sexy ways to style a white shirt, than just jeans! Here's a simple outfit idea for going out with your buddies – team them up with your Daisy Dukes for a very chilled out look or wear it with a tailored skirt to give more class to your look. Don't forget to add a statement piece to your attire for a dressier look.
The world of fashion and creativity is truly unending. Don't let boring stuff creep into your wardrobe. Remember: There is always room for change! So, don't stop thinking!