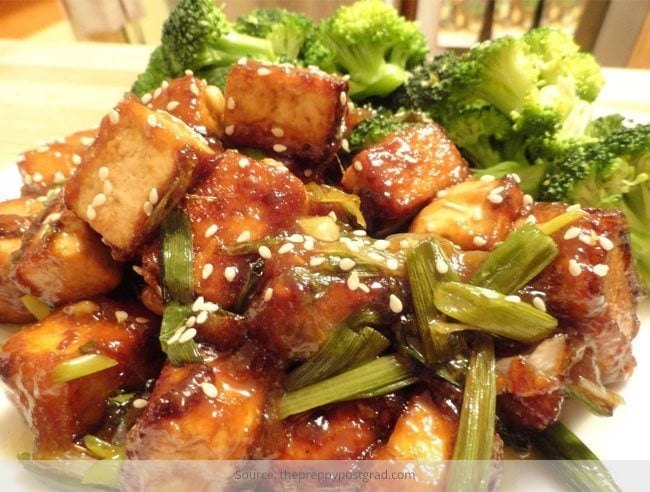 All multi-tasking woman are on the lookout for something that's delicious, good for appetite and healthy too. Since the oily and calorie-packed chole bhature, daal makhani, butter chicken hold no good, is that any reason to feel morose? Chin up you figure conscious darlings as there is something out there for you in Tofu. Made from curdled soybean milk, it is low calorie, cholesterol free dish that looks close to paneer cubes. Pack in tofu for your lunch box or have it as quick bites in the course of the day whenever hunger gets the better of you and see how delightful and light you feel. Not only do you get high quantities of iron, calcium and Vitamin E in tofu, it is a wonderful alternative cooking recipe that will give your experimental tastes a new kick. Why wait for the good things in life honey when there is Tofu out there to get you power-packed health.
[Also Read: 10 Yummy Foods in Latest Diet Chart for Weight Loss]
Health Benefits of Tofu
Tofu for Heart
Fighting cholesterol is a tall task. Luckily, tofu is there by your side. Since it reduces the levels of bad cholesterol, you can smile your way to a happy and healthy heart.
Tofu for Hair
Hair Loss is a common problem we all face owing to lifestyle and food habits. When we consume tofu, our hair locks get the required protein to strengthen and flourish them. Add tofu to your daily diet and get set for Cinderella style locks!
Tofu for Anti-Ageing
The cosmetic market might be flooded with anti-ageing serums and lotions but there is nothing like tofu. It helps retain the skin elasticity and toning the facial muscles thereby preventing ageing. Apply tofu paste on your face and see your face feel glowing and nourished as ever.
Tofu for Menopause
Just like bananas for beautiful skin and hair, tofu is extremely rich in calcium, which becomes important to menopausal women. Secondly, it prevents the bone loss risk and rheumatoid arthritis. This is a good piece of news for women about to hit menopause.
How to have Tofu into your Diet
Tofu is a common type of Asian cuisine. Since it has a neutral flavour you can happily add it into your culinary items. The firm tofu is best to add in grilled and stir-fried dishes, soft tofu is ideal to be added to soups and served in casseroles as toppings, whereas silken tofu is good for puddings and dips. Tofu can also be blended different smoothies for clear and glowing skin. Here is a simple recipe which is easy to make and great for breakfast and/or lunch.
[sc:mediad]
Tofu Bhurji:
Prep Time – 5 minutes
Cooking Time – 15 minutes
Ingredients
200 gms regular tofu or extra firm silken tofu
1 medium onion (finely chopped)
1 large tomato (finely chopped)
1 green chilli (finely chopped)
½ inch ginger (finely chopped)
½ tsp cumin seeds
A pinch of turmeric powder
A pinch of red chilli powder
¼ tsp garam masala powder (optional)
1.5 tbsp oil
1 tbsp chopped coriander leaves
Salt to taste
Cooking Procedure
Scramble the tofu and keep it aside.
Now heat oil in a frying pan.
Add cumin seeds and brown them. Now add the onions and fry.
Add ginger, green chillies, tomatoes and fry till they become soft.
Sprinkle turmeric powder, red chilli powder, garam masala and stir.
Add the scrambled tofu and stir well. Saute for 3-4 minutes and season with salt.
Add coriander leaves and stir them. Serve tofu bhurji with some bread or rotis or as a side dish.
Tofu is amazingly versatile that can be adapted to a variety of cooking methods. All you need is to do is shun your anxieties about it, if you have any, and get started with it. Happy Tofu-ing!