Did you know women are more likely to suffer from knee pain than men? Well, it's a well-known fact that adult women tend to suffer from knee pain but what causes the pain is a different story. Well, there are two reasons behind ladies being prone to knee pains. Firstly, the difference in leg anatomy, secondly, women use their muscles differently than men. Hence, to get rid of your knee pain or to keep the muscles in place, here we are presenting you with the best knee caps for women to use.
How To Choose A Knee Cap?
Choosing a knee brace depends upon the condition of your knee.
If you are suffering from mild knee pain issues, you can wear knee braces that are soft and offer adequate support. Hence this will require trial and error because every person suffering is different.
Ladies suffering from mild pain can go with knee sleeves. A bulky knee cap is only useful when you have gone through surgery or are suffering from terrible pain.
10 Effective Knee Caps For Women
Women can wear knee caps whenever they experience pain or when they are exposing themselves to exercises or chores that pressurize their knees. So dig in to find out the knee braces beneficial for women.
1. Hykes Knee Cap Compression Support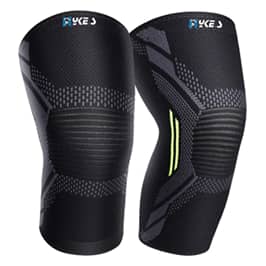 Founded in 2017, Hykes is a preferred brand that is popular for offering Yoga accessories, wrist wraps, ankle support, knee wraps, and other products.
The knee braces offered by Hykes are specially designed for faster recovery from a knee injury or surgery, and to provide relief from knee pain. Moreover, women suffering from regular knee pains can wear them every day under clothing. These knee braces are super comfortable, non-restraining, anti-slip, and offer maximum comfort and support.
Type: Sleeve
Features: Ergonomic suitable, Anti-Slip.
Suitable For Treating: Meniscus tear, arthritis, runners & jumpers knee, ACL, PCL, MCL
2. Kossto Adjustable Knee Cap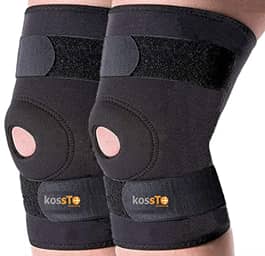 Kossto is one of the most loved brands offering yoga mats, resistant bands, knee caps, lower back brace support, abdominal belt, etc. Kossoto's knee caps are very popular because of their superior design and quality. They are specially engineered to help reduce knee pain related to arthritis, ACL, patella injuries, aching joints, etc. The knee cap is made from Nylon material ideal for offering comfort and compression. Coming with an open patella,  it ensures to offer knee support during all sports activities like running, workouts, cycling, etc. So no matter if you are suffering from knee pain, a knee cap from Kossto can always be on your side.
Type: Strap, open patella
Features: Lightweight, breathable, and flexible
Suitable For Treating: Arthritis, aching joints, LCL MCL ligaments,  meniscus tears, patella injuries
3. JSB Stretchable Knee Cap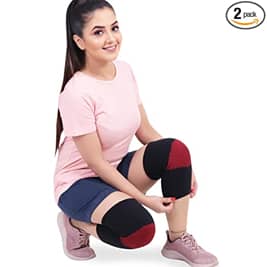 JSB Healthcare is one of the significant Home Health Care brands dealing with a wide range of health care products like Back and Neck massagers, massage chairs, orthopedic supports, and a lot more. The knee cap from this brand has breathable material, is easy to wear, and is beneficial for knee pain. It offers flexibility and compression, gives maximum support, prevents jerks, reduces pain, and protects the knee.
Type: Sleeve
Features: Elasticity, breathable, flexible
Suitable For Treating: Knee pain, arthritis, knee joint pain, prevent jerk to knee
4. Qatalyze Knee Cap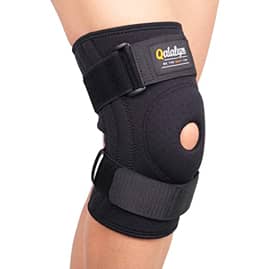 Qatalyze is a brand that offers quality products like Exercise mats, Knee braces, Gym gloves, and slimming belts. Knee Braces from Qatalyze come with an open patella knee belt with soft padding. With such a type of design, it relieves pressure on the patella and offers support through pads. These knee caps are also accompanied by strong flexible springs on each side of the knee to provide side support. Thus if you are suffering from a ligament injury, Acl tear, osteo arthritis, and other knee joint injuries, this knee cap can offer maximum support and comfort your knees deserves.
Type: Adjustable sleeve with open patella
Features: Lightweight, breathable, comfortable
Suitable For Treating: Ligament injury, ACL tear, osteo arthritis, and other knee joint injuries
5. Dr. Ortho Knee Cap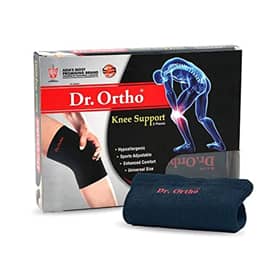 Dr. Ortho is a renowned brand dedicated to offering joint pain-relief products. From herbal ayurvedic oils to cushions and belts designed for pain relief, this brand has got you covered.
Their knee caps are basically made of cotton lycra and are in the form of plaster and patch. Moreover, this knee cap offers unmatchable support to your knees, is soft to the skin, and along with helping in relieving pain, it enhances the recovery rate as well by providing compression and support to the leg.
Type: Knee Sleeve
Features: Anti-slip, Sweat-resistant, Fine Grip
Suitable For Treating: Knee pain
6. Bold Fit Knee Support Cap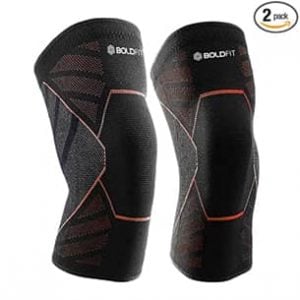 Boldfit knee brand is another trusted brand popular for providing fitness-related products like yoga mats, supplements, home-gym accessories, and whatnot. Their knee braces are made from nylon and latex blend material designed to offer great support while performing physical activities like working out, playing sports, etc. Additionally, this knee cap offers extra support for injured knees and helps reduce pain, thus making ease of movement while walking and other activities.
Type: Sleeve
Features: Anti-Slip, highly durable
Suitable For Treating: Injured knees, knee pain
7. Strauss Adjustable Knee Support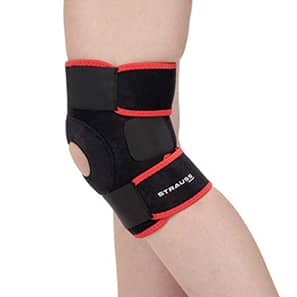 Strauss is a well-known sports company known for sports products. It basically deals with home-gym equipment, yoga accessories, gym gloves, knee caps, etc. Made from Neoprene material, the knee cap from Strauss is lightweight, flexible, breathable, and offers great thermal compression. Additionally, it is perfectly designed for relieving knee pain among women.
Type: Strap, open patella
Features: Lightweight, breathable, flexible, sweat-absorbent, and offers a fine grip
Suitable For Treating: Knee pain
8. Tynor Knee Support Sportif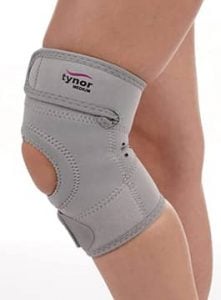 Tynor is a leading orthotics brand offering premium and affordable products. The brand claims to offer user-friendly, comfortable products that offer exceptional user experience. Knee support from Tynor is specially designed for women suffering from weak knees, arthritic knee conditions, sports injury, and post-surgical rehabilitation. This knee cap consists of top and bottom bands that allow controlled compression. Furthermore, it also offers patellar opening to relieve patellar pressure and is perforated at the bottom to offer proper ventilation for comfort.
Type: Strap, open patella
Features: Lightweight, breathable, flexible, sweat-absorbent, and offers a fine grip
Suitable For Treating: Knee pain
9. Fegsy Adjustable Neoprene Knee Cap Support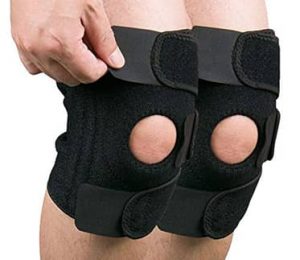 Fegsy is a famous brand dealing in yoga accessories, fitness rollers and bands, wrist strengtheners, and joint caps. Knee wraps from Fegsy are lightweight and adjustable. They are made of neoprene material which is breathable, retains heat, and speeds up the recovery period. Moreover, women who have just gone through surgery or any kind of knee operation could use this knee cap for relieving pain.
Type: Strap
Features: Elasticity, breathable, comfortable
Suitable For Treating: Knee pain, knee injury
10. Tressca Knee Support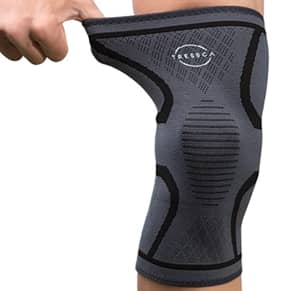 Tressca is a fitness brand offering premium fitness-related products like Fabric resistance bands, sweat belts, knee support, posture corrector, skipping rope, yoga blocks, gloves, and whatnot. Knee caps from Tressca are made from Nylon material which is a breathable fabric that gives maximum comfort and doesn't restrict your mobility. It provides stable pressure across knee joints thus offering optimal support during your daily activities like workouts, daily chores, etc. This knee cap has the capability to absorb sweat, thus keeping your leg odor-free for a long period. Moreover, its anti-slip system ensures your knee always gets the support they need.
Type: Adjustable sleeve with open patella
Features: Lightweight, breathable, comfortable, Anti-slip
Suitable For Treating: Knee pain
Hence these were top Knee caps for women you can rely on when in pain. Knee caps are the safest option to reduce knee pain and improve its function. Females are prone to knee problems and hence should start taking care of their knees at an early age. So try to include a balanced diet and exercise in your routine to keep your body healthy. Also, watch out for your movement because sometimes even wrong movement of the knees can cause knee pain and other knee problems. However, if you have already fallen prey to knee pain, there are many knee braces for females capable of reducing knee pain that is readily available on the market. So make use of this safest option and take care of your knee health.
Things To Take Care Of When Suffering From Knee Pain
Females tend to suffer from knee pains after they cross a certain age. However, if taken good care of, you can get a respite from your knee pain by following the simple things listed below.
Don't take too much rest because it may weaken your muscle or worsen the joint situation.
Do exercise that supports your knee and increases flexibility. Weight-training exercises, stretching, and cardio, can help reduce stiffness.
Don't ignore your weight. If you are overweight, try to reduce some because being overweight will stress your knees in the long run. Hence maintaining an ideal weight.
Wear comfortable shoes. Get yourself a cushioned insole or doctor-recommended soles that will reduce stress on your knees.
Hence these are some of the things you can take care of when suffering from knee pain.
Reviewed by
Dr. Prabhat Reddy Lakkireddy
Registration Number: 39892
Education: MBBS, MS (Ortho), MRCS (UK), FRCS (Trauma & Orthopaedic Surgery)