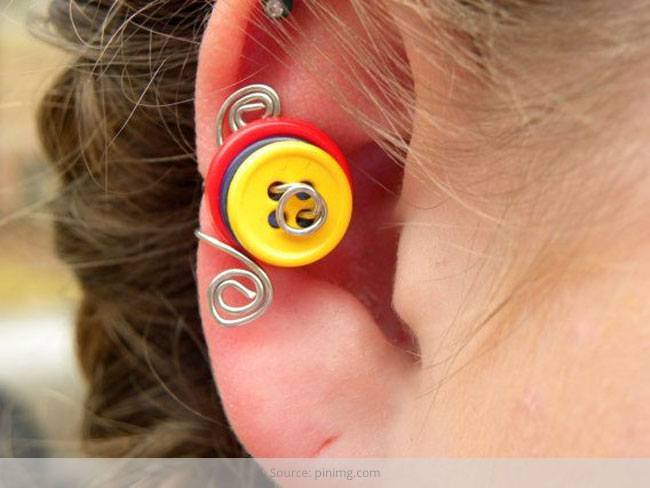 Buttons, those little discs used to fasten your clothes have historically been used not just to fasten your clothes but also as ornaments to show wealth and opulence. In the medieval period, having lots of buttons on your clothing meant that you were rich. Buttons were considered as valuable as jewellery, and historians have noted that there were instances when debts were paid off simply by ripping out a button or two from one's clothes and giving it to repay the loan. Although buttons don't enjoy that kind of significance anymore these days, they are still being used as ornaments, in some very cute and clever ways.
Necklaces
How about making yourself a button necklace? Gather up all the unused buttons you've got lying around (come on, you know you're never gonna use them anyway) and make yourself a pretty button necklace. Be sure to use different textured buttons, from plastic to metal and wooden ones to create an interesting mix. You can also combine different sizes to add more dimension to it.
Rings
Button rings are so adorable. Vintage-looking buttons and big buttons are particularly great as rings. The round shape and the size make them perfect for rings. Check out the below pictures to get some ideas on how you can turn your buttons into rings.
Hair Accessories
Hair accessories can be made cuter and more colourful by adding a couple of buttons to them. Just use some strong adhesive to stick the buttons to hair clips and bands. You can even stitch them onto your hair accessories if possible. Button hair accessories would make a great gift for little girls as they are sure to love the quirky and fun look of them.
Earrings
When you can make necklaces and rings with buttons, then why not earrings? Fabric earrings can be used to create cute button studs. They look super cool and will go perfectly with both long and short hair. You can also make dangler earrings with colourful buttons for a bohemian look.
[sc:mediad]
Belts
Belts with button embellishments are statement pieces. You can use it with jeans to add some colour to your outfit or even use it with a dress to cinch and accentuate your waist. Wide or narrow, button belts look so trendy and cool that once you wear one, you may want more of them to add to your belt collection.
Brooches
Buttons can be used to make brooches to be worn as ornaments with your clothing. You can make elegant brooches with white shell buttons or you can make totally whacky brooches with colourful buttons. Brooches are quite underrated as accessories, so give these button brooches a try and you will be surprised at how much of a difference this humble accessory makes to your outfit.
Bracelets
Of course we cannot forget button bracelets when discussing button accessories. Thick cuff bracelets or loose charm bracelets, you take your pick.
You can also think up of other ways to turn buttons into accessories. With holes for stitching and their tiny size, buttons are very easy to work with. So get creative and come up with some of your own button accessories to flaunt. Now that you know all the different ways in which buttons can be used as accessories, you should try some of these accessories and "look as cute as a button" as the phrase goes!