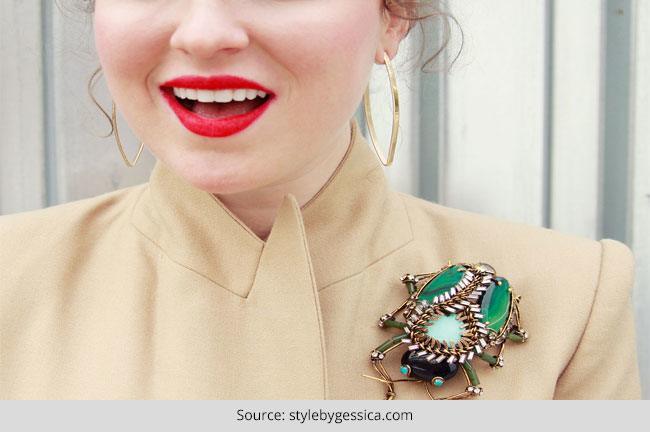 A brooch is a decorative accessory that is traditionally attached to one's jacket or blouse in the lapel or chest region. A brooch can be a fun accessory to sport, particularly if you own unique designs that will make a statement. Let's take a quick look at how to wear a brooch with different types of clothing.
With Ethnic Clothing
If you are looking to wear a brooch with your sari, first consider the colour and design of your sari. Will the brooch stand out and look nice or will it mesh with all the heavy work in the sari and become almost invisible? If your sari is heavily worked, then you may want to skip the brooch. After all, the idea behind wearing a brooch is for it to stand out and add that element of interest to your outfit and if that's not going to be the case, then there is no point in wearing the brooch.
Take a look at how Shilpa Shetty wears a brooch with her bright orange sari. Which of these looks do your prefer?
You can wear a brooch with your lehenga as well, to add a bit more bling to your outfit. As far as the placement is concerned, while it is traditional to wear the brooch at the place where the pallu is pleated, you can get creative and wear the brooch on your waist to accentuate your hips if you want.
With Blazers and Jackets
Brooches look their best when worn with blazers and jackets, as they pop out and look arresting on the dark color background. You can get trendy and have a cluster of brooches pinned to your jacket to make a statement. Or if you're wearing it to work, keep it elegant with a brooch that looks professional and not too risqué.
With Floor Length Dresses
Brooches go very well with sophisticated party gowns and dresses. Place them where you want the eyes to go. The rich fabric of evening gowns and the plush colours provides the perfect canvas for a crystal brooch to shine and dazzle. Here are some creative ways of wearing a brooch with dresses.
With Sweaters and Cardigans
Fabric brooches look great with sweaters and cardigans. Don't be afraid to go over-the-top with big flower brooches and any other whimsical design that catches your fancy. Big brooches work well on sweaters and do not look gaudy, which otherwise is a risk with other fabrics.
[sc:mediad]
Here's a quirky felt brooch worn with a turtle neck sweater.
If you're going to wear a scarf or stole around your neck, then be sure to pin a brooch to keep it in place. This is a super stylish look and will definitely make a cool statement.
Here are some celebrities who have totally nailed the brooch look.
What do you think about Sarah Jessica Parker's over-the-top flamboyant, brooch? Like it or hate it?
If you currently do not own any brooches, you can actually fashion some yourself recycling your old jewellery and other such trinkets around the house to create some very unique brooches that will truly reflect your taste and style.
A brooch is worn to grab attention and make a statement. So go ahead and unleash your creativity and create some truly awe worthy looks.