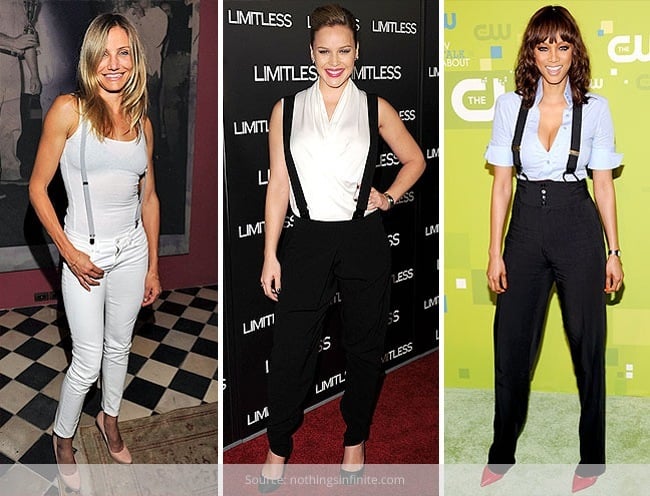 Suspenders got a bad reputation after being abused for years by overweight bankers using them to keep their pants pulled over their bulging tummy. This made them look uncool and so this practical and quite stylish accessory was ignored and shunned by the later generations. Well, we are here to tell you how cool suspenders can be and how to rock them. When worn the right way, suspenders look super stylish and carry an old world charm.
Suspenders for Men
Suspenders are primarily a men's accessory. But it has moved on from being exclusively male to a unisex accessory that both genders can wear.
Men can wear a pair of nice leather suspenders with their tuxedo. Did you know that tuxedo pants are not even supposed to have belt loops? Suspenders were considered to be the only acceptable means of holding up your pants. So the next time you're man is wearing a tuxedo, ask him to put on a pair of suspenders with it. But beware, if he takes off his jacket some time during the day, we can guarantee that there will be women noticing and drooling over him. There is something about suspenders with formal wear that just screams of masculinity and pheromones.
Apart from the obvious tuxedo, men can also wear suspenders with casual clothing. Pair it with jeans and a casual checked shirt for a country boy look or opt for a V-neck tee shirt and suspenders. Both looks are super cool without looking too dressed up.
Suspenders for Women
Okay, so how can women wear suspenders and make it work? It is a predominantly male accessory after all. But like all other things that were exclusively male and then later ended up being unisex (like pants), suspenders too can be made to look utterly adorable and feminine.
Pair it with a pair of shorts. This look is so cool and stylish, it's hard to get it wrong. Just make sure your shorts are a not too figure hugging. You're aiming for a casual day-out look that does not look skimpy or made up. So loose-fitting casual shorts with a tee shirt or shirt will work well with suspenders.
Look effortlessly stylish by donning on suspenders but letting them hang at the sides instead of going over your shoulders. You can try this look with jeans or trousers. Just make sure your pants fit you well enough to keep them in place, as we will be using the suspenders more for their look than for their practical use.
[sc:mediad]
If you're feeling adventurous, you can even go in for bright neon-coloured suspenders that are in contrast to your outfit and stand out.
And of course you can wear suspenders with your formal work wear. This is a classy look that breaks the monotony of wearing the same old formal work wear while still keeping your overall look professional.
If you're planning to wear suspenders with formals then make sure they are good quality suspenders. Cheap suspenders will kill the look and make you look dorky. Also, while you do not need to have a six pack to wear suspenders, you should not be too flabby around your tummy and waist region either. This is because, since the suspender will run down in a vertical line from your shoulders to your waist, any flab will show up by making the suspenders form a slightly curved line instead of a straight one. And that is something we want to avoid at all costs.