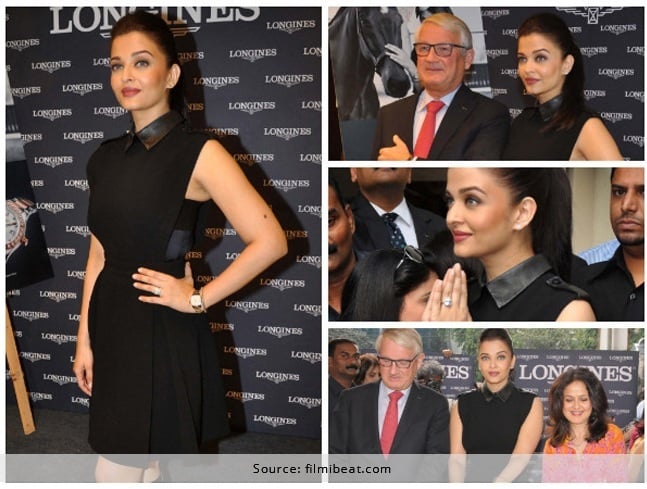 Aishwarya Rai Bachchan has recently stunned every admirer hers and tightlipped every critic of her by appearing in an exquisite Gucci black LBD for the inauguration of flagship store of Longines Boutique at a suburban Mumbai on 4th December 2014.
We offer you an exclusive post where I've shared Bollywood actresses who have rocked in Gucci.
One thing we love the most about this woman is her confidence. We really appreciate the way she took the criticism when she had gained weight post pregnancy. While everyone was displeased due to her nonchalant attitude towards the weight gain, we had a strong confidence in her. We always knew that whenever she decided to put down those extra pounds, she would do it.
Well, this is not the first time that she stunned everyone with her slim avatar, earlier too she had done it. If you remember her in box office hit item song, 'Kajra re' from Bunty Aur Babli movie then you must have seen her tummy in the song. Only a few months, the Bachchan bahu again appeared in Yash Raj Productions' Dhoom 2 where she could give a run for money to all the supermodels on the planet.
The actress had paired her Gucci LBD with her Longines Watch, Gucci knee high boots and solitaire and had finished her look with a sleek ponytail and matte lipstick.
By the way Ash had worn the same dress which was once worn by Emma Stone. Who looks better? You decide and let us know your views!
Just as Ash stunned everyone in her Gucci LBD, there are other Bollywood actresses who have pulled off Gucci at ease, just as Freida Pinto.
Even though this actress has worn Gucci several times before, this time the girl just rocked in this tailor-fit white Gucci suit with black lapels, which she worn to attend 'Chime For Change: The Sound Of Change Live' Concert at Twickenham Stadium in London. She had accessorized her look with gold and coral necklaces and coral clutch and Gucci Margot shoes.
It would be criminal not to discuss about Sonam Kappor's Gucci moments especially when this blog is about Bollywood celebs who rocked in Gucci.
[sc:mediad]
For the launch of Stardust cover, the fashion diva had worn an Azuline silk georgette satin Gucci dress, which she had paired it with a black leather broad belt.
She had accessorized her outfit with a metallic necklace from her mother's collection and black patent pumps and a vintage 1973 bag, all from Gucci.
Kareena Kapoor decodes her style statement in this Gucci outfit, as she appeared in Art preview of Ashiesh Shah Architecture + Design held in Mumbai.
The Begum had paired her black stretchable high waist pants with black crepe wool silk jacket which she had accessorized with a matching leather wide women's belt.
Hope you enjoyed this post on Bollywood actresses who have rocked in Gucci!