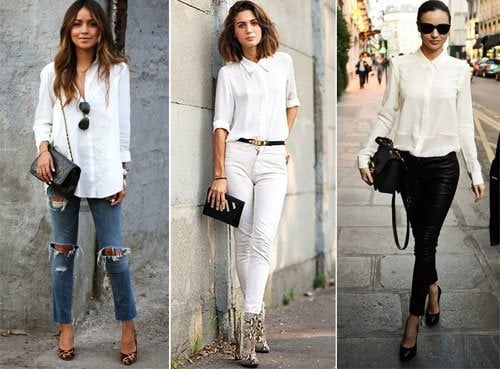 Often touted as the staple favourite yet the most boring outfit in any women's wardrobe, a white button-down shirt hangs in everybody's closet. The plain white versions are available in many styles, lengths, and materials and can be styled in countless ways possible. Whether you are headed out for a night party, planning a lazy summer day or running errands, a button-down shirt can practically go with anything. White Button Down Shirt Outfits will look classy, sexy or casual, depending on how it is styled.
How To Style A White Button Down Shirt
Here are our hot 8 styles by which you can sex up your boring button-down shirt classily.
1. Stylize your white button down shirt with slim-fitted denim
There is hardly anything that cannot be paired with a pair of good-fitted denim, and a not so surprisingly classy white button-down shirt. They are big guns of any closet and make up for a classic style statement. Finish your look with a high bun, jeweled neckpiece, bold red lips, nude stilettos and duffle bag.
2. Layer it with a tank top underneath
Layering up your white button down shirt with a classic camisole, all while tucking in your shirt and buttoning it up half way is a great way to style up this classic.
[Also Read: How to Wear a Camisole]
3. Oversized button-down shirts as a bathing suit cover up
One of the chicest ways to wear a white button-down shirt in summer is to wear it in an oversized way, over a bathing suit as a cover up. You could also team an oversized button-down shirt with a pair of hot shorts and casual sneakers. Undo a few top and below button for an easy-breezy summer look!
4. White out the whole look!
[sc:mediad]
Sport an all-white look by wearing white jeans/pants, with a white button-down shirt. Wear solid colour accessories and you are all ready to brave the day sun in style!
5. Don the maxi skirt vibe
Wear a white button-down shirt with a striped, printed or any single-colour maxi skirt. Make sure your skirt is just touching your ankle bone, giving you ample of height and a sleek effect. Belt the shirt, wear your bright coloured peep-toes, carry a sleek string clutch and flaunt this sophisticated summery look with elan.
6. Suit yourself up
Try the white button-down shirt look by layering a tailored blazer and paint combination on top to get a very ultra-polished look. You can make this look strictly official by sporting a high rise neat ponytail, solitaire earrings and loads of oomph! A tuxedo jacket with flared pants can also do the trick.
7. Go sporty!
For a super feminine and super sporty look with a white button-down shirt, just wear a comfortable pair of sneakers, slim-fitted denims or khaki pants along with a jaunty baseball cap. Looking chic and effortless has never been so easy!
8. Shine ahead in offbeat details
Pair your slim-fitted button-down white shirt with motorcycle jacket and leather pants. Complete the look with an oversized leopard clutch and studded platforms and shine on in a new fashion-forward light!
Think you can nail the white button down shirt look in your own unique style? Do share with us in the comments section below!