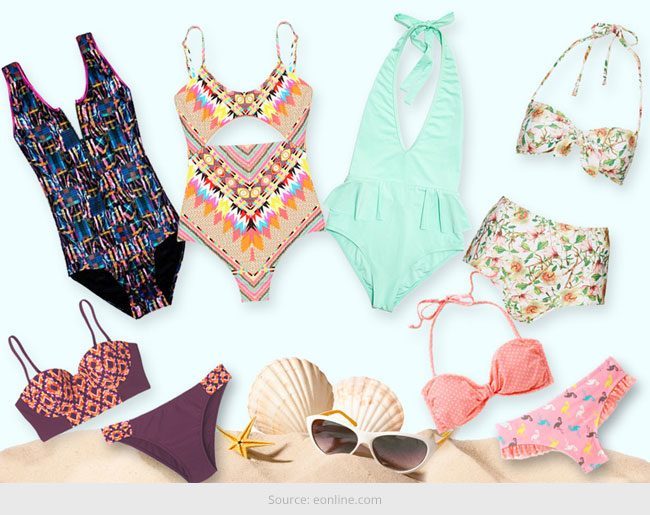 A recent newsflash post took most of us PYTs by surprise- the land of Kamastura has had the moral police across the nation talking about why women and girls shouldn't wear bikinis to the beach – anywhere in India! We aren't here to spread propaganda and to start a fight, but fashionistas across the nation would surely agree that we could still bake our cake and eat it too. Here are a few ways to wear your bikini at the beach or a public pool and yet keep the unwanted attention away- take that moral police!
1. Bright bikini top
What do you do if you have a bright bikini top? The answer is simple – wear it as a bra below your sheer shirt or overalls. Heads would turn for sure, but because you've worn it in style and not for anything else *wink*
2. Self-tanner to the rescue
Should you fancy the bikini with a sarong and not want the dirty eyes and attention over you; go tan. The tan lotion can be easily wiped off, even when it touches your delicate fabrics and you'd look a million bucks too.
3. Tease with Boyshorts
Bikini tops with Boyshorts turn on the man who romps the sand and the sun with you- make it boyish and sexy.
4. MTV 90s Spring Break style
Bring back the golden 90s in style and flaunt them wearing your bikinis that too. A skimpy bikini suit with Pandora leggings, why not?
[Also Read: Lingerie Brands]
5. The rodeo bikini babe
Heehaw! Summers are here and a statement on the beach has to be made- white half-rodeo pants and your bikini in the same shade- sexy, sassy, wild and superhot!
6. Lady GAGA inspired
Daring much – bikini tops in unique clam shell designs with midi-dresses or skirts that shine- hot as hell for the evening at the beach.
7. Fishnet see-through
Make it hotter for the nights; have a party to attend at the beach or the pool and would like to be well covered up too – a see through fishnet shirt with your black bikini top underneath and ripped or faded denims would make a statement!
[sc:mediad]
8. Flower power
Let the flowers do the talking while under them stays your bikini top. Not too hot to handle and quite feminine for the daytime beach soiree.
9. Boyfys shirt
Sorry boys, but a girl's got to do what a girl's got to do- give us your shirts please. Wear your bikini top under his shirt- he can go topless for all we care *LOL*
10. Patriotic and boho
Prove a point and be sassy too; the beach is all yours and you'd be looked upon with utmost respect. A patriotic crop top with printed bikini lowers should be the deal then- worth the wear this summers at a private pool party.
11. Rhinestone fashion
Grab a terra-cotton silk slit skirt and pair it up with a pastel shaded cotton shirt, under which you wear your bikini top with minimal boho-chic embellishments. Trendy and haute for the beach fun!
12. Sari tales and the bikini top
Go all desi with the firangis around- drape the delicate garment around your bikini top as though you've worn a quarter-sari or the half one!
13. Palazzos to pair with
Casual evening out with family, friends or with someone special- dress to kill or impress- wear palazzos with a netted top and your bikini top underneath the top.
14. Long skirts with bikini tops
A printed bikini top with a self-coloured long skirt this noon would be so fine! Keeps the skin protected from the harmful UV rays of the sun and let's you flaunt your chic fashion sense too.
Well, we girls have an endless list of wearing our bikinis to the beach or at a privy pool party- it's now your turn boys, show us what you got! Beach wear for women has always got all the attention especially when seen sporting them at the sands.