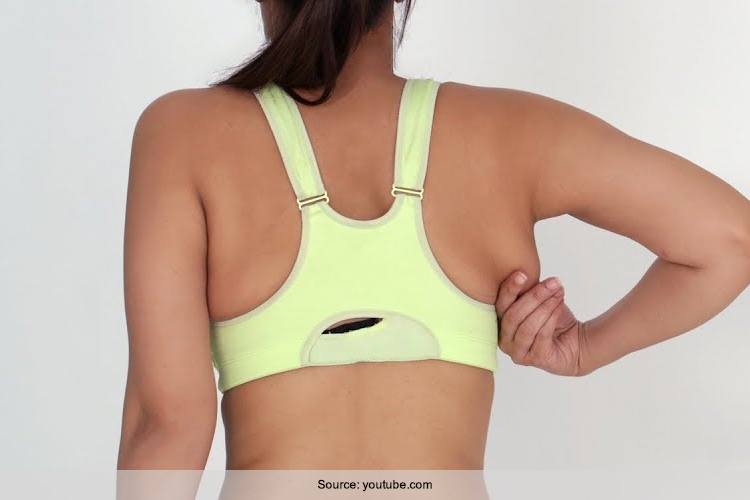 BRAs are 'Most wanted' supports. These bare necessities are needed not just to support your front, but also to balance out your back. Back? Yes…after all, which female will like back fat sticking out under her clothes. So what you need are The Best Bras For Banishing Back Fat.
Now the bras that hide back fat are smart enough. They are specifically designed with the goal of smoothing out your back. In fact, back smoothing bra would be the best definition. They do a good job by creating a more even appearance. Good to your like!
Since bras are an everyday wear, you've got to feel confident in them. Only then can the confidence show up on your face, isn't it?
Research by Sainsbury's has an interesting finding. It reveals that back fat is now one of our top body hang-ups. Thankfully, High Street stores have created figure-fixing bras to get over this troublesome area.
Now let's go and identify some fashion ready hi-street best back smoothing bra and back fat shapewear that will neither disappoint you nor your lover.
1. The Bra-llelujah By Spanx:
A word or two about Spanx – it is more about "tight" constrictive shapewear. But HURRAY! This bra is the comfiest bra you'll ever put on. It's SMOOTHWEAR, not shapewear.
This is one of the Best Bras For Banishing Back Fat which smoothens out any fat on your back, sides, and even shoulders. It thereby gives you a smooth look without any of those frustrating bulges.
The second thing is that this best bra for back fat is so comfortable that you'll barely feel like you're wearing one. WOW is the word.
Other details: it is 91% Nylon, 9% Spandex, soft-touch fabric inside and outside the cup
Have a look how this best back smoothing bra looks.
Front Closure: Saw the clasp on the front? It is a front-closure bra, with a back which is 100% smooth and seamless. So there is no unnecessary pulling and tugging at the back. It not only looks good on you, it is also more comfortable and easier on your back. And there are no uncomfortable metal hooks. Yipee!
Smooth Back: It is got to be 100% smooth since this back smoothing bra has a front closure front. Spanx cleverly designed this bra with a broad belt. It means the wider the band, the lesser the bulging at the back. The fabric of the bra should be soft and stretchable, which minimises any spillage.
Large Straps: Ah! So much for extra comfort. Since you are getting a fully smooth look, the elastic straps fit most women.
Please Note:
If you are a tall lady then this bra might not be the one for you. The straps are not adjustable here. But if your height is 5'9″ or under, it should fit you perfectly.
Eye-Popping Video –
Regular bra (left) vs. the Bra-llelujah (right).
2. Wacoal Basic Beauty Bra:
This best bra for back fat is for the ladies with a large bust line. Kudos to Wacoal which makes a great underwire T-shirt bra. In fact, it is called the Basic Beauty Contour T-shirt Bra.
It's got a perfect shape which minimizes bulges in the back.
3-hook closure with a wide band
Fully-adjustable straps
Gives a seamless finish and is super comfy.
3. Warner's Women's Cloud 9 Underwire Contour Bra:
This is also one of The Best Bras For Banishing Back Fat. It reduces the side spills.
Full-coverage bra
Super soft fabric
Back-smoothing panels
Front-adjustable shoulder straps
Hook and eye closure at back
4. Bali Women's Comfort Indulgence Underwire With Lace Detail Bra
The fabric of this best back smoothing bra is soft while the back panels are wide. So goodbye to ugly back fat bulges and good luck to back fat shapewear.
Silky smooth lining for added comfort
Cups are nicely lined with a smooth fabric
Hook and eye closure
5. Vanity Fair Beauty Underwire Bra
This back minimiser full figure underwire bra shapes and supports the sides and back.
It helps to reduce the bust line and smoothens back fat.
It is a great choice for plus size ladies.
6. Bali Front-Close Shaping Underwire Bra
Comfort is the king or Comfort Revolution? Both when it comes to The Best Bras For Banishing Back Fat.
Bali Women's Comfort Revolution Front-Close Shaping Underwire Bra has two things you need to be glad about – front closure and comfortable straps. This makes you feel super comfortable and confident!
And yes, it also makes you feel pretty, although it looks like a sports bra at the back, it does a good job at shaping and highlighting your cleavage.
Tips To Minimise Back Fat:
Take it or leave it – even the best bra might not give you a 100% smooth look. Fret not. With these tips, you can look flawless! Go ahead and check them out:
Wear a Camisole: When you wear a cami under your shirt, it covers your whole back. This way, your whole back appears smooth.
Scoop and Swoop: Ah! The S factor here means your breasts are well covered by the cups of your bra. Your bra will fit better, in the 'Scoop and Swoop' and you will face lesser issues with fat distribution.
Go for Longlines: You must be aware that a longline bra has a wide band. The more the thickness of the band covering your back, the lesser are the chances of back fat. It is advisable to go for bras that have at least 3-hook closure. You know what – some bras have up to 6 hooks. In a way, the more hooks, the merrier it is for you.
Did you find this article on The Best Bras For Banishing Back Fat informative? Do you want to add any best bra for back fat to this list? Do share your inputs in the comments section below.