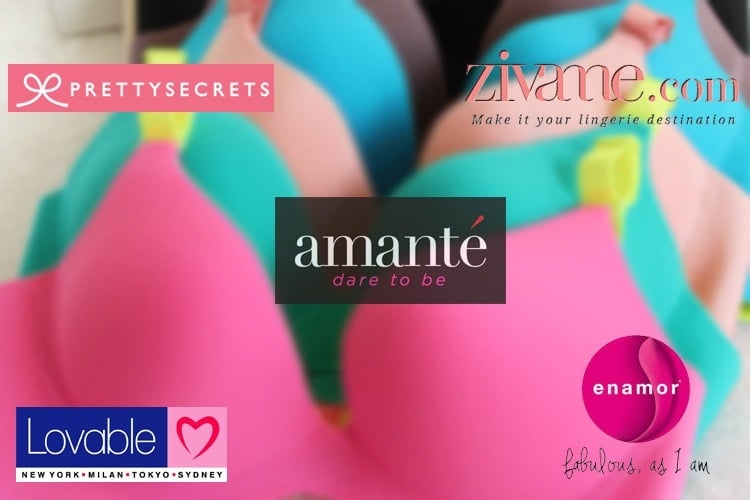 Over the years, women are getting more confident in terms of selection of their lingerie and as a result they have stopped compromising with the ordinary products. And they are also becoming bold and confident while choosing the favourite part of their clothing i.e. lingerie. Hence, Indian market is slowly accepting lingerie as part of its lifestyle and Indians are gradually opening up to the under explored space of online lingerie portals. With advancement of Indian women and the growing online shopping business more and more lingerie brands are entering the online space.
Lingerie is Rs 15,000 crore market in India. Two-thirds of it is in the unorganised sector and the rest – a whopping Rs 5,000 crore – in the organised sector, of which online buying is just a fraction. According to reports, innerwear as a category is the highest growing market in the women's apparel segment growing at 15% year on year.
Observing immense growth prospective in a solid business model, online retailers always keep in mind the three key points-Variety, accessibility and rate to keep an affluent lingerie sale online.
[Also Read: Top Lingerie Brands]
You may worry whether the bra you choose fits you or not? Or what if the size vary? Etc. To answer you, all these lingerie brands on online also have a size calculator that helps you identify your right size for a perfect fit.
FashionLady lists down top five online lingerie brands in India. Zivame and pretty secrets among the rest are the online portals where you can buy various other brands lingerie from.
1. ZIVAME
Launched in 2011, Zivame has become a popular online lingerie store in a short span of time. It is a one stop shop, where you find collection of all the lingerie brands existing in India. From bras, panties to sportswear and nightwear, the online store keeps all in its stock.  Besides, you would love the fabulous discounts here applied on every day wear to the world class brands.
CEO Richa Kar founded the company after her international consulting experience in retail led her to realize that lingerie in India is an underserved and unorganized category with mass appeal. Richa believes in building awareness around how change should happen from lingerie being a necessity to an indulgence in fashion.

2. Clovia
An online lingerie website that has grown home to all lingerie lovers. Giving close cut competition to other lingerie brands, Clovia mostly focusses on comfort and intimate lingerie. Not only wearing it, but experiencing it is important is what Clovia lives by. Colourful to sober, every colour can be found here in the best of designs.
Neha Kant, the Founder of Clovia wanted to bridge the gap between Indians and reaching out to intimate lingerie. With the help of her husband, she built Clovia, only to become one of the most successful e-commerce platforms for lingerie.

3. AMANTE
'Love yourself' as its tagline says, Amante is the most adored lingerie brand among Indian women. Also available online for purchase, the lingerie brand is owned by MAS Holding (South Asia's large supplier chain of Intimate wear).
The lingerie brand was launched in the year 2007 in India. There are two specialities of the lingerie at Amante that includes use of excellent premier fabrics and the latest international trends.
It is currently present in over 40 main cities in India including Delhi, Mumbai, and Bangalore. It also has over 40 factories across Sri Lanka with clients such as Victoria's secret, Marks & Spencer, Triumph, and Calvin Klein among others. The makers behind the classy, fashionable and comfortable brand Amante are working on the brand to add a little more glamor and sensuality.
The brand Amante will provide bras in Padded & Wired, Padded & Non – wired, Non-padded & wired and Non padded and non-wired.
This panties brand in India provides styles such as Low rise, briefs, value packs, and Bridal.

[sc:mediad]
4. ENAMOR
Enamor is the most loved lingerie brand among women in India. Especially, a piece out of its Hourglass collection of shapewears is the one to strive for!  You can also find subtle nightwear as well as bottoms, leggings, shorts and pyjamas.
The lingerie brand was a joint venture between Barbara of France and Gokaldas Intimate-wear Private Ltd. Company, launched in 2003. Besides online, the brand is also available across more than 1800 multi-brands outlets in India and also sold through distributors nationally.
It is the best fitting lingerie with most appropriate fabric laces and embroideries.
Yes, you look as fabulous as you are in Enamor! We think!
Enamor collection consists of Bras, Panties, Nightwear and Shape-wear.

5. LOVABLE
Cheap and best is how 'Lovable' could be described. The lingerie brand is known for its comfort fabric and low price range. 'Lovable's Daisy Dee brand is also a good brand among the women buyers. Since 1987, the lingerie brand has been catering to the women's needs.
'Lovable's products are also available in the multi-brand outlets such as Lifestyle and Shoppers Stop. With changing views, the modern woman believes in treating themselves with power and comfort and so the stylish lingerie has become the essential part of their wardrobe and lifestyle.
The lingerie brand Lovable, only offers the range of bras, panties, and sportswear.

This Indian bra brands list consists of top brands and portals that offer a wide range of inner wears for women. Different types of bras and different types of panties are available to choose from.
Which brand do you like to wear? Do let us know. Hope this article on top 5 online lingerie brands helps you find your perfect fitting lingerie.