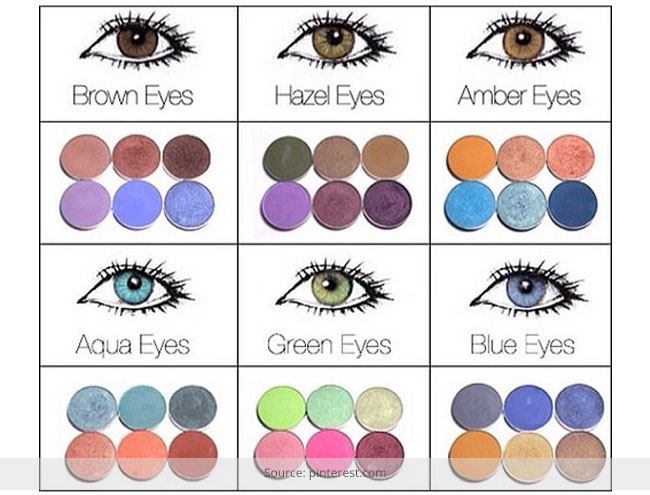 "There are no rules when it comes to makeup"
While it's a foolhardy step not to follow rules in makeup; this ideology arguably suits the makeup professionals. So, let's just stick to the basic rules for the time being especially when it comes to eye makeup. With such an array of eyeshadow colors, beginners may get overwhelmed in picking the right shade. Although we have an easy info graphic that explains Best Eyeshadow colors for different eye colors, we have decided to make an elaborate one to make it more interesting for our readers.
So let's look at some eye shadow ideas for different eye colors.
As I have already mentioned in my previous post how it's essential to pick the best eye shadow that complements skin tone and hair color; it's equally important to consider different eye colors as well. And this brings us to the color theory. Continue reading!
Eye makeup colors are also categorized into primary, secondary and tertiary. While primary shades (red, yellow and blue) are responsible for creating every other color in the spectrum; secondary ones are made by blending equal amount of any two primary shades. For instance, green is formed by mixing blue and yellow. And tertiary colors are formed by mixing a primary shade and its adjacent secondary one, such as red-orange and blue-green.
[Also Read: How To Apply Eye Shadow]
The reason why I am discussing about color theory is because this color wheel will give you the basic idea and help you pick the right shade.
There are complementary shades that are completely contrasting such as blue, orange, violet and yellow. You can also go for such shades for your eye shadow i.e. by pairing your eye color with a particular eye shadow. For instance, blue eye shadow looks great with brown eyes.
Eye shadow for different eye colors
If you have blue eyes..
Blue eyed beauties usually have fair skin tone. Since blue is a naturally cooling tone, you should pick a warmer pigmented eye shadow that sets your eye makeup ablaze. Celebrity makeup artist Marina
Gravani prefers applying gray-brown or silvery colors on celebs with blue eyes. And if they have deep navy eyes then she avoids applying too much of shade on the lids.
[sc:mediad]
Take this as a thumb rule – if you have blue eyes then avoid applying any kind of blue eye shadow, as it will wash out your makeup.
Recommended shades for blue eyes – rich warm browns, soft taupes, peach, greys, gold, bronze, champagne, yellow-beige and copper.
You can try out Maybelline New York Eye Studio Color Tattoo in Tough As Taupe, Urban Decay Eyeshadow in Midnight Cowboy, YSL Pure Chromatics 4 Wet & Dry Eye Shadow and Chanel Illusion D'Ombre Long Wear Luminous in Vision.
If you have brown eyes..
Women, who fall in this category, have the widest range of options especially when it comes to choosing eye makeup. Reason being, brown is neutral because of its earthy elements and can be effortlessly paired with an array of shades. These women can pull off almost any eye shadow, provided they have played it safe. Professional artists recommend warm bronze and peach shades as go -to pigments for such eyes.
Recommended shades for brown eyes are golden browns, blues, bronze, greens, navy, greys, purples, teal, burgundy, etc.
[Also Read: Best Eyeshadow for Grey Eyes]
You can try Sonia Kashuk Monochrome Eye Quad in Textured Taupe, L'Oréal Infallible Eyeshadow in Taupe, BareMinerals Glimmer in Queen Tiffany and Jouer Powder Eyeshadow in Toffee.
If you have green eyes..
Celebs with green eyes swear by taupe eye shadow, as these warmer pigmented eye shadows are more flattering than ashy brown. Taupe eye shadow that comes with sparkles can bring out the golden flecks on the irises. And to make it more appealing, you can simply dab a bolder color on the center of your lids. If you've fair hand on makeup then go for vivid colors and play with them artfully.
Recommended shades for green eyes are Sepia, golden browns, warm taupes, rust, deep purples, soft peaches, pink, gold and soft violets.
You can try Dior 5 Couleurs Eyeshadow Palette in Stylish Move, Stila Eye Shadow in Poise, Eyetouch Eye Shadow Blingtone Trio in Purple Haze, Chanel Illusion D'Ombre Long Wear Luminous Eyeshadow in Emerveille.
So those were the Best Eyeshadow colors for different eye colors. Hope this helps!