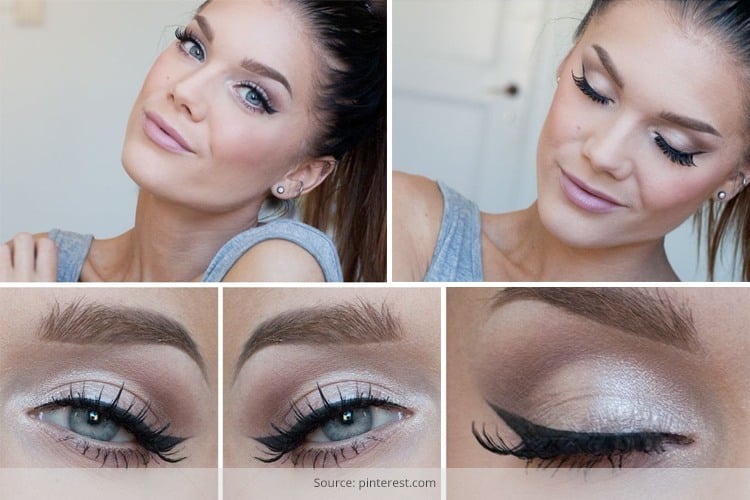 While most of us may have gone berserk and bonkers reading the saga of 50 SHADES OF GREY, let's notch things up a little more this time. Kink is in and for the festival seasons too, which is why here we bring to you the myriad ways of dolling up in the best eyeshadow for grey eyes, brown or black with chic touches.
Let's look at some party wear and everyday eyeshadow makeup tutorial using grey eyeshadows
Now don't be afraid to dare a little, grey eyeshadow in fact is a shade that talks of sensual mysticism and haute royal touches too.
A Touch Of All Things Matte
What we like about the matte touch is that one could wear it while the sun shines bright or at early dusk too. And the other thing we love about matte, it never gets too loud or too much per se to flaunt. So, matte grey is one best eyeshadow for grey eyes, especially on the crease, is a must-try!
Greys For Brown Eyes
Most Indian women have brown eyes, from dark chocolates to the light ebony touches. And pairing the look with a touch of grey, brings about a sensual touch. Irrespective of the ensemble you wear or the event you have been invited to, a touch of grey for brown eyes is versatile and haute!
[Also Read: Glitter Eyeshadows is the Trend]
Greys With Purple Touches
Fancy a little purple on those lids with the mesmerizing grey platform? This is your venture to flaunt, and do so in style. Grey and purple combo makes for a sexy mix and they match the shimmer statement accessories too. Learn and apply the same from various everyday eyeshadow makeup tutorials online.
[Also Read: Best Makeup For Blue Eyes]
Dark Is So Sexy With Grey
Grey eyeshadow and a Wiccan dark touch to the lids this Diwali, brings out the oomph sexy diva in you. Try the look out with your own creative style, flaunt it with sarees and anarkalis, or a chic lehenga, and go booming hot this festive season!
Smokey Greys For The Eyes
Constructive smokey touches and not the smoke left behind that pollutes the eco system around, smokey eyeshadow for grey eyes, for the evening parties at Diwali with office friends should be your fashion statement this 2015!
[sc:mediad]
Light Grey Touches When Hanging Out With In-Laws
Diwali is a time when families gather to meet and greet, and MIL would want her DIL darling to be at her best dressed too. Too loud with greys and MIL may not be happy; wear your greys if need be, but with a touch of glitter and shimmer along with light hues and tones!
Greys With Aqua Blues
Roses and red and violets AREN'T blue, your eyelids are! Yes, with a touch of grey and a little blue eyeshadow to mix and play with, you could be the aqua princess at the gathering this weekend! Fancy much the look, try emulating it with practice from now!
Black And Grey
Ooh the deadliest of all combos and Lucifer's daughters' fashion statement too, the combo of greys with black can be a mystical deal to flaunt. Focus more on the crease line with greys, and top the lashes up and down with three strokes of dark kohl too!
[Also Read: Different Types of Kajal]
Purple And Grey
A little prune touch to the shades of grey would be a nice experiment to try this weekend, and to prep up those eyes for the Diwali look this time. Masquerade your gorgeous eyelids like never before, and wear them with neutral coloured outfits for the eyes to be the centre of attention!