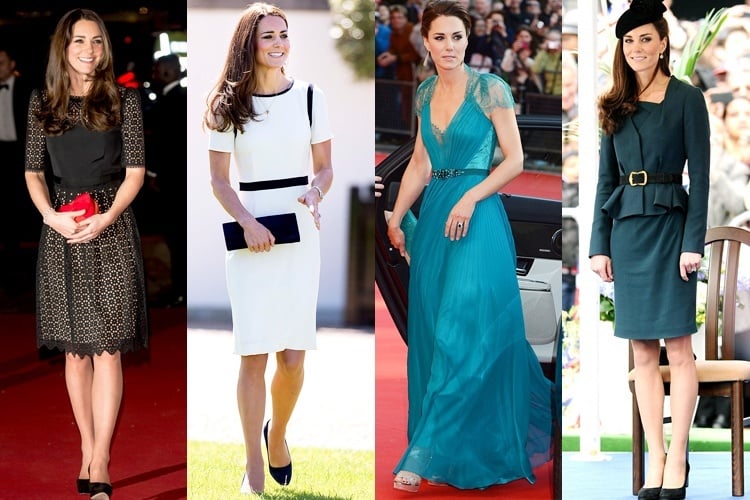 You may not be born into a royal family, but it does not mean you cannot dress up like one! Whether its Halloween or theme party, or simply if you like waking up to a regal looking new you, try to emulate a princess-look! Yes, princesses loathe or embrace fashion whole-heartedly and so can you but make sure you do it in a classy, elegant, put together and effortless manner.
Let's see how easy or difficult it is to be Dressing like a princess
From Princess Diana to Kate Middleton, their rich and graceful demeanor has put them on a fashion pedestal. If you are a real princess on the inside and wish to do the Princess Dress Up, then read on, all you aspiring princesses!
[Also Read: Suede Dress]
Princess Add-Ons
Add sharp diamond encrusted sparklers or pearls to top off your structured outfits.
Wear Necklace Backwards
You could get creative and wear a pearl neckpiece backwards so it highlights your back rather more so if you're wearing a backless dress.
Hold a Clutch With Both Hands
Carry along box clutch or an envelope clutch, preferably in solid hues or with a hint of bling.
Invest in Fancy Hats
Dressing like a princess definitely will want you to have a couple of these in your wardrobe. Gift yourself hats or fascinators that flatter your face and personality. The English hats look fancy yet formal.
[Also Read: Kate Middleton Hats]
Own a Few Lace Ensembles
Impart an air of elegance by sporting lace dresses or blouses, they look ultra-feminine and polished.
Well – Fitted Chic Dresses
Pick branded or designer wrap dresses in solid hues or fine prints. They give you the look of an hourglass figure.
Wear Unique Necklines
Make way for sailor or peter pan necklines in your dresses, maxi or tops. Do you see that it's not really difficult to get into the habit of Dressing like a princess.
Dress Moderately
Careful dressing up is the key. Do not wear revealing or extremely tight or short or plunging attires, if you are wearing loose on top, you can have a fitted bodice on the bottom. Remember to enhance one feature. Knee-length skirts or little above the knee look great; however say good-bye to short-skirts. As they say, leave a little to the imagination!
[sc:mediad]
Get Yourself Some Princess Gowns
Befriend flouncy gowns which give out a careful careless demeanor, besides they are understated and elegant too!
Add a Touch of Fur
Fur adds a hint of touch-me-not poise. Fur stoles, shawls and coats are a must-have in your closet.
Continue reading on more ideas on how to dress up like a Princess.
Buy Few Princess Style Dress Suits
Dress suits are an important part of your closet, they are usually well cut and minimalistic. Tailored clothing is ideal for you.
Simple Patterned Dresses in Bold or Monochromes
Sheath dress or patterned dresses with structured coats look oh-so-refined. Checked, plain, gingham, zebra or hounds tooth print can make a statement.
Own a Few Designer Coats
Coat dress is the way to go especially if you belong to the cold climes. They spell classiness and chic from start to finish, and while you are at it don't forget to finish off your look with stockings and boots!
Wear Turtle Necks with a Belt
Embrace high collared dresses, they look rich, formal and high-end! Also try to wear the Turtle-neck dresses with a wide belt to emphasize your waist, it looks sophisticated and regal.
Get into Vintage Dressing
Vintage dressing can work in your favor. So get yourself some vintage dresses, blouses, coats, shawls, gloves and accessories.
Go Casual Too
Just because you chose to go the princess route does not mean you cannot wear casual wear. Get yourself a pair of well fitted jeans, boots and a fine wool sweater and stoles in dark, solid, pastel, neutral or jewel toned hues.
[Also Read: Kate Middleton Casual Dressing Styles]
Say Hello to High Heel Shoes
Pumps, stilettos, wedges, sky-high shoes, boots in leather, suede have to be your go-to footwear. Steer clear of flats.
Opt for Natural Makeup
Go for natural make-up, princess's make-up doesn't overpower their face enough to enhance the features. Of course, make sure you are manicured and pedicured at all times. As for the haircut, you must have a well styled look to match you look, hair almost always washed, cut and styled. Preferably in soft curls, straight neat pony, or a French bun.
Go grab the spotlight at tea parties, derby and formal occasions! Hope this article on how to dress up like a princess is helpful.