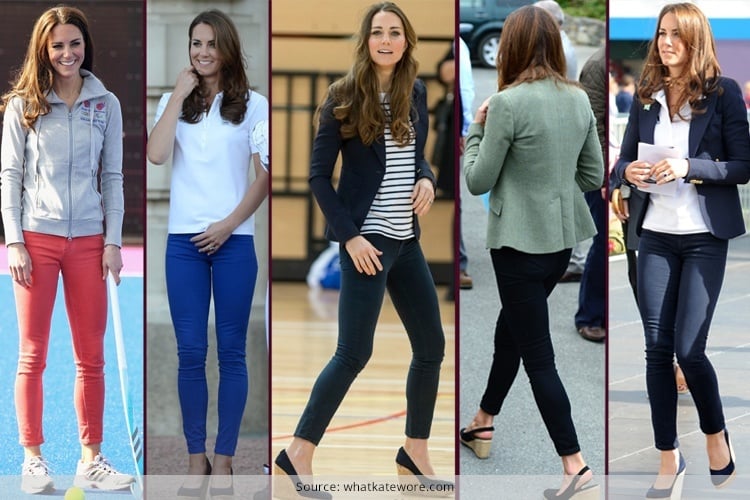 She is one princess whose outfits are always on point! Whether she is wearing a dress, a coat or even jeans-this woman makes anything and everything look good. Though she was from a middle class family and now is living a dream, she was someone who has an inherent fashion sense. Never has she been seen in something we would call a fashion faux pas!
[Also Read: Kate Middleton And Her Royal Appearances]
In fact, Kate Middleton is one woman who has made even jeans a style statement and women all around the world mimic the way she wears jeans! Isn't that amazing? Something as simple as jeans, yet she makes it look like royalty. Let's get some style cues from Kate to make jeans look royal and regal.
Be Thrifty
Yes, you have to be in gowns and expensive dresses all the time, but that does not mean that you have to focus only on the high end brands. When it comes to being thrifty, Kate is the best person to learn from. The Duchess has been known to wear the same pair of jeans for over three years now! Well you know the reason why-because a good pair of jeans can actually last for a really long time and if you are comfortable wearing them, then no harm done in continuing to wear them!
Have Your Favourite Pair
Kate Middleton's favourite jeans that she is seen wearing on several occasions. The key is to be comfy and wear it anywhere and everywhere. Don't be afraid to have your favourite too. It doesn't need to be too expensive either!
[Also Read: A Complete Insight on Kate Middleton's Apparel Designers]
Be Casual Not Scruffy
The best quality about Kate is that even with her jeans, she manages to look casual and regal. Her forte is giving anything she wears a royal touch! So at the recent rugby arena she visited, she paired her favourite pair of jeans (again!) with a casual knit sweater. Not only did she look amazing, her casual ensemble was also very appropriate for the occasion. The key is to balance your various accessories so that you don't end up looking scruffy!
[Also Read: Recycle Old Jeans]
[sc:mediad]
She Can Make Jeans Look Good Anywhere!
That's one thing that the princess does with quite some flair. She manages to make her jeans look good almost anywhere! So if once she is seen wearing a casual pair of jeans for some sporting activities, the other time she will make that work at an outdoor activity or concert. Her fashion sense and her jeans are very much versatile!
Look For Fit Not Labels
As we talked about before, Kate Middleton is very thrifty when it comes to fashion and clothes. She has a lot going on in her wardrobe, but she sticks to a particular vision only and is consistent about it. She even repeats her outfits if she thinks it worked out the best on one occasion. Her motto is to look for a good fit and also to make sure that her jeans are exactly the same length-they graze her graceful ankles. Her favourite brands include not-so-expensive brands like J brand 811 and she usually wears them in navy. Recently she has also started wearing colourful options from the same brand. The aim is to be comfy and look amazing at the same time.
[Also Read: Top Outfits Worn by Kate Middleton]
Don't be afraid to rock jeans like a royal! If Kate can rock J brand so can you!