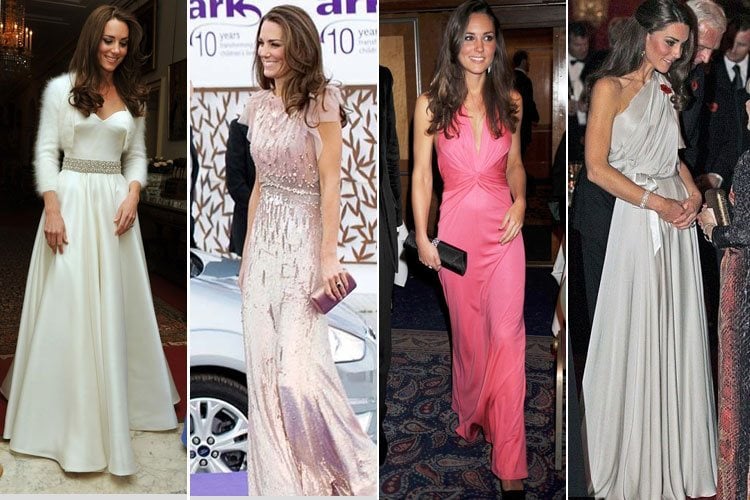 Kate dear Kate delivered her second baby – Princess Charlotte. Ya we know about it. The baby got recently christened and baptized at the Church of St. Mary Magdalene. That's nice to hear. But what would you be keen on watching? The Duchess and her baby or Kate Middleton's absolutely lovely figure-flattering gowns.
Well, you see the gowns Kate wears in her public appearances are not dirt cheap. Each of her long flowing gown cost her husband, the Prince of Wales a whopping sum. Such is the price hubby dears have to bear to make their better halves look gorgeous and royal. But it would be unfair to accuse dear Kate of unnecessary extravagance on her costumes. She deserves every bit of attention given her royal stature, doesn't she?
[Also Read: Hats off to Kate Middleton 's Style]
Now get yourself a cup of coffee as we take you through some of the precious gowns worn by the Duchess at sky-rocketing prices. And yes, let us also find about out the designers who masterminded Kate's gown creations.
Emerald Green
Hey, doesn't she look straight out of a picture postcard? Kate is stunning in this £2875 gown that she wore to the Olympic concert in February 2012. The lace panel at the back is a treat, the hair have been done up neatly and in a bun. As for the shoes, her Jimmy Choos are a good £460. Shall we get up to bend down on our knees as a matter of appreciation for the gown?
Designed by: Jenny Packham
Cost: £3,335
Princely White
Long flowing hair locks complement Kate's long-flowing gown equally well in this red-carpet occasion. The lilac belted gown is priced at £2,246 and the full skirt and pleated bodice make her stand out in a unique way given her slim figure. Once again, it is silver coloured Jimmy Choo shoes dressing up her feet at £460, and a silver clutch in her hand priced at £295.
Designed by: Alexander McQueen
Cost: £3,001
Black Night
Given her princely status, Kate Middleton ought to spend something on maintaining her figure. Fitness fanatic that she is, Kate showed off her well-toned muscular arms in a £4,000 black velvet strapless dress designed by her favourite couture label, A.McQueen. The full-length gown clung to her every curve with total ease and perfection.
[Also Read: A Complete Insight on Kate Middleton's Apparel Designers]
In order to complement the gown with a frilled sweetheart neckline, Kate sported a diamond-and-ruby collar-style necklace which was presented to her as a wedding present by a mystery admirer.
[sc:mediad]
Designed by: Alexander McQueen
Cost: £4,000
Grey Wonder
Kate has a sense of dressing that sometimes reminds one of Lady Diana in bits and parts. Lady Middleton's costumes are so well-structured and flowing that they leave one speechless. Have a look at Kate's grey halter-neck dress worn by her at the Starlight Children's Foundation charity event.
Designed by: Issa
Black Melody
The royal lady Kate Middleton, who turned 30 in the year 1992, celebrated her birthday at the film premiere of Steven Spielberg's War Horse. She was dressed in her slim-contoured, floor-sweeping gown done by one of her British designers.
Designed by: Alice Temperley
Most of Kate's gown creations are customised to the occasion and the mood. Surely, she deserves full marks for her elegant wardrobe, be it her 'just married' gowns or 'just became a mommy' ones. The ambassador for Britain has come a long way from her singlehood days. Let's hope she keeps stunning us every now and then with her mesmerising affairs with gowns.