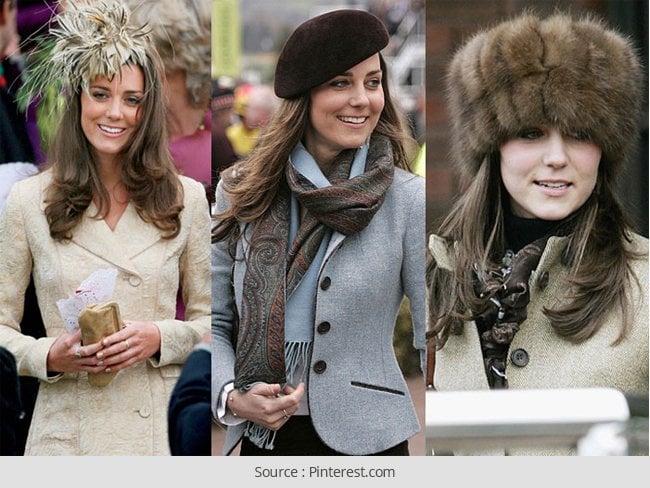 Kate Middleton is known for her long curls, which she frequently styles up with her varied array of fanciest fascinators, hats and fascinating hair pieces. She still maintains a sense of individual fashion identity that expresses a royal style while differentiating her from the crowd.
 Headgear is a covering device for the head and we all use headgear for either protection from sun, dust or rain or decoration or as a fashion wear. 
In 2012, the Duchess of Cambridge was announced the 'Hat Person of the Year' by Grazia UK.
As per Grazia, UK –
The Headwear Association granted this much coveted accolade for the wonderful concoctions Kate sported on her head in 2011. The Duchess received over 90% of the public's votes, being rivalled only by Rachel Zoe, who got 4% of the votes.
We take a look back at Kate Middltoen's top five elegant headgears ever.
The Glitzy Red Hat
The Duchess of Cambridge dazzled in the red cocktail hat for the Diamond Jubilee celebrations. Kate appeared in an amazing red Alexandra McQueen dress with a matching Lock & Company hat.
Kate's floral tilted hat with red maple leaf (Canada's national symbol) was a huge hit but it is not the first time, Kate has worn a similar kind of headgear twice. The red Sylvia Fletcher hat she chose for the Diamond Jubilee celebrations was the same one she wore for official Canada Day celebrations. She accompanied her same red hat with a crème coloured dress, which gained huge commendation from the crowd.
[Also Read: How To Wear A Beret]
Stylish Feather Fascinator
Kate donned up her funky feathered headpiece with a camel coat and black scarf at the launch of a new lifeboat "Hereford Endeavour" in Wales. The bird like hair pin had safely clipped her curly hairs with a silver alligator clip for maximum hold. Kate carried this vintage yet very young look with a funky touch, saying goodbye to her simple wavy hair look. You will get similar designs of hairpin in the market made of goose feathers, ostrich, rooster, stripped feathers, and a centerpiece made from the vintage costume jewellery.
With Twists and Turns
Kate opted for a black fascinator highlighting black swirled fabric on the top while attending the June 2005 marriage ceremony of Hugh Van Cutsem and Rose Astor.After ditching her jewellery, she still managed to look pretty with the vintage style sassy fascinator. The classic net texture with springy feathers and ribbon on the top added some bling to her outfit.  There is no denying that this kicky black fascinator looked so graceful on her.
A Classy Heart
In 2006, Middleton chose a Philip Treacy hat with her red Armani coat at the Sovereign's Parade, Royal Military Academy Sandhurst.However in the past, Queen Elizabeth also wore the similar kind of purple hat with ribbons in June 2009 to visit the Culloden Battlefield in Scotland. It seems that the grand-daughter in law was trying to make an attempt to impress her royal family by sporting this wide brimmed hat with heart shape ribbon on the top. She repeated the same hat while attending the Remembrance Day ceremonies with the queen and other members of the royal family in London.
Super Chic Beret Style
Kate donned a jovial brown beret and a scarf at the final day of Cheltenham Festival in 2007.The classic beret is a must in every girl's wardrobe. Show your hairline or place it in front of your ears and have fun while figuring out what looks best for you. Modernize this vintage cap with drop earrings and a neck scarf like Kate.
Which of Kate's top five headgear's you love the most? Do let us know.