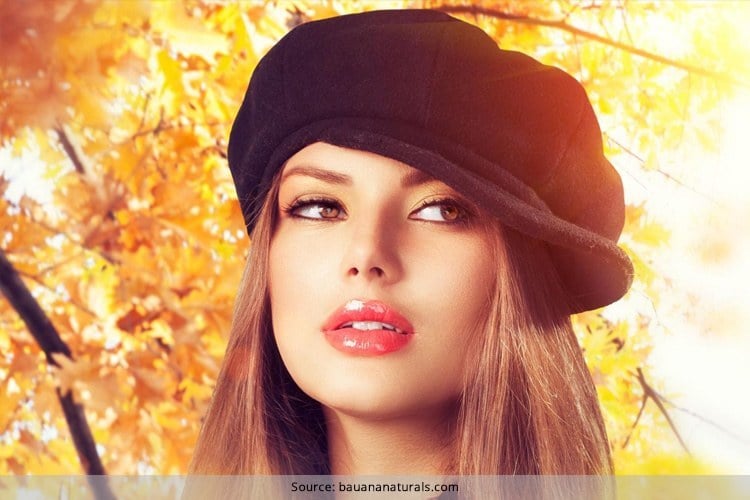 The onset of winter witnesses hats popping up on heads everywhere to protect the hair from the cold harsh winds. Men do have the upper hand regarding ways to adorn hats. However women do take a sartorial dare with it and adorn it well to enhance or give an altogether new dimension to any outfit. Amongst all hats, beret is that soft and flat French originated hat which remains eternal favorite hot fashion news.
[Also Read: HATS-off to the Bollywood Ladies]
Beret Styles You Must Know
With a chic and glamorous look, berets can be easily styled into varied forms to get a new look each time. For those feeling lost, check out the various ways beret styles and how to wear a beret.
With Hair Down And Framing The Face
This beret style works great if you have natural locks, waves or curls to flaunt. The beret is used effectively here to accessorize the hairstyle. By leaving the hair down, it frames the face well. Place the beret now an inch or two past your forehead and hairline and slightly pulled back to get a slouchy demeanor. Not only does it look extremely stylish and chic but also adds a slight mischievous and ever so sexy impish feel to your personality that is bound to draw green eyes from all. Any outfit blends well with this style.
Wearing The Beret Tilted To a Side
The beret is rarely worn sitting directly on top until one craves the typical and stereotype French painter appearance. Tilting it to either sides to varying degrees lend it the vintage 50s or 60s vibe to your personal aura. Scope of versatile look is enormous here by trying various beret styles.
Get the hairs tied to a nice ponytail or a style with most hair tied up. Tilt the beret to one side and allow it to cover one side of the forehead generously. Letting loose few curls or some long waves completes the Femme Fatale look.
For a change simply untuck the brim and adorn the beret, mushroom style. Your look is bound to remind everybody of the 50's era. Smooth it down way down the ear to create a new style.
Worn with loose hair of any length and tilted at different positions to different degrees is bound to leave you experiment each time for a brand new innovative look.
Hair Tucked Inside The Beret
If you find yourself faced with a time crunch for shampooing your hair, allow the beret to come to rescue. With almost all hair in, tuck the brim under. Now tilt to side covering the forehead or ears or even tilted backwards to ooze that sexy glamorous vibe. For women with long hair, beret is a wonderful boon. Being roomy and slouchy, it easily accommodates all your thick tresses in the style you dressed it into. Wonderful feeling is the liberty of taking it off at will and being confident that the hairstyle is intact.
[Also Read: Fedora Hats and their Styling]
Beret And a Low Updo
Updos should be positioned such that either it is completely inside the beret or hangs just the end of the beret. Giving the updo a slight tilt for a sideway show off looks really glamorous. While tucking the updo inside the beret, one should remember that the beret does not look overstuffed and should not actually mess the hairstyle. Berets look best when they have lot of room inside free and ooze off a slouchy look.
[sc:mediad]
Berets With Side Braids
A beret worn stylishly sideways with side braids of different styles like French braid, herring bone braid, fish braid etc can cut years away and lend a youthful glow. Having bangs, locks etc covering forehead evenly or sideways adds to the careless glamour of the look. Without compromising on the fashion quotient, the style oozes a classy, chic and laidback aura. For a fresh look, replace braids with sidepony tail.
Accessorize Your Beret
Try changing the plain Jane look by accessorizing the beret! Any plain dull look can be jazzed up by adding a brooch, flower pin, sequin or even a bow to the hat. Play with different angles, positions and adornments to decide what looks best on you. Sometimes, bold and sassy earrings, preferably danglers, do the job equally well.
On retrospection, you will be surprised to discover that the beret actually functions like multiple hats in one. It's amazing how a simple beret can be molded into so many different looks and styles to enhance diverse outfits. No other hat offers such versatility. This fall, get yourself couple of colorful berets and create your own fashion statement!