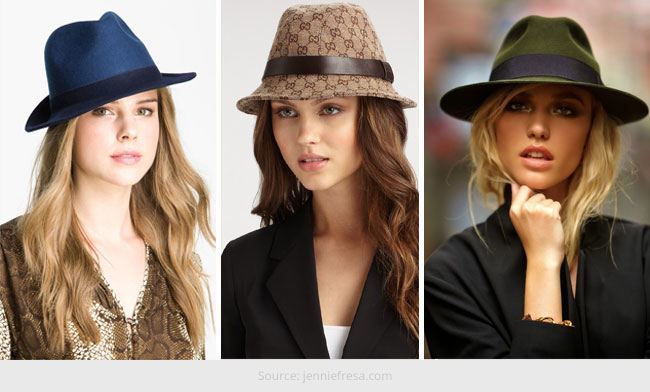 If you thought Fedoras are only for the spring and summer, then it's time to refresh your fashion updates. Though this headwear is a popular men's accessory, thanks to the retro vibe and the style trends many brands and fashion designers are advocating Fedora hats for women too.
There are Fedoras that are specially designed for racing events. This gives women a chance to stun onlookers with the style quotient, color and design that generate sophistication, grace and elegance.
[Also Read: How To Wear A Fedora]
On the social celeb scene, plenty of actresses and fashion designers have been spotted wearing Fedora hats including Nicole Richie, Sienna Miller, Lindsay Lohan and Victoria Beckham. They not only look cool but equally elegant. Since they are available in a variety of colors and materials such as felt and wool, they help you stay perfectly warm and hot! Gear up with this fashion fever – the Fedora Hat and go stun everyone.
Types of Fedora Hats
Fedoras are extremely fashionable and useful for just about any occasion. A Fedora hat can be worn to work or as casual attire. There are so many style and color options out there in the market and online that it would be difficult choosing only a single design. Here are a few of them to show you the subtlety and sauciness of a Fedora hat:
1. Cord-Tassel Wool Fedora
Made from wool and finished with a twisted cord and two-some fringed tassels, this lightweight imported Fedora is a head-turner for sure.
2. Faux Suede Band Wool Fedora
Laid-back style has its own charm, just like this faux suede Fedora. Finished with a tonal faux suede band, it helps you steal the limelight effortlessly.
3. Nine West Angora Fedora
This soft Angora Fedora from Nine West is ideal for matching your jeans and tees with.
[sc:mediad]
Deciding on a Fedora
Finding the right Fedora hats for women is not a tough job. What is tougher is making your wardrobe look complete with it. Indeed, the right hat can help you pull together an outfit with utmost ease. There are many options that you need to consider when selecting the perfect hat.
The first thing you need to select is the style of the Fedora hat you want. There are a variety of options available, such as small brimmed, large brimmed, and more. Deciding on this would help you narrow down to what you want. A large brim is good for summers, as it helps keep the sun out of your eyes. The smaller brim looks great with a variety of hairstyles.
After you are through deciding the Fedora brim, it is time to consider color. Some of the brands available offer wide options in colors, though making a decision on color can be a daunting task. You need to know what you plan to wear the hat with as the kind of outfit you wish to wear should ideally match your Fedora pick. Though it need not be of the same color as your top, the hat should preferably be of a complementary color.
Now that you are done with choosing the brim size and color, how about considering the embellishments too. There are many options to choose. Point is do you want a simple ribbon on your hat or something to match your rhinestone pair of shoes? Just as in the case of other items (read accessory) in wardrobe selection, the extras on the hat you choose are as important as the main outfit. Remember the ribbon, flower or fur on a Fedora is not removable. It is there for good so you should think of the permanent things in the hat around which you have to customise your wear.
Remember, fashion is all about upgrading in such a manner that it helps bring out your personality to the forefront. So when you go on a Fedora hunting spree, be confident and think how the hat and you are 'made for each other.'