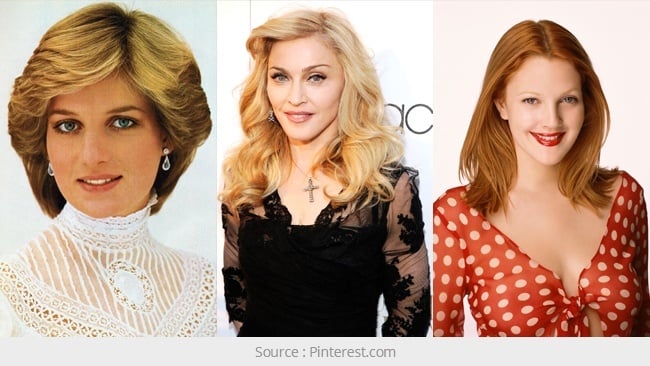 There is no world without fashion! Every decade has its own history and so did 1980's and 1990's era. Where love for fashion exists, there would definitely be the followers of the fashion trend setters.
Here are five female fashion icons from 80's and 90's who have had their fashion influence all over the world. 
1. Princess Diana
People's princess, Princess Diana was undoubtedly the most influential style icon of the 80's. True to her royal image, she ensured to look her best day after day. While in 80s, she had her brushed fringes, minimal eye make-up and suits that eventually grown into short blonde curls and designer gowns in 90s.  Later, the Princess of Wales realised that clothes played an important role in crafting an image to be loved by her people.
Vogue.com said about her –
Once a naïve 20-year-old with huge public responsibilities, Diana grew from being a girl struggling with protocol—and some disastrously too-old eighties notions of establishment formalwear—to becoming a wildly popular young mother and, eventually, into the sleek, confidently stylish independent People's Princess the whole world loved.
[Also Read: 90s Shoes]
In a book 'Diana, fashion and style', her style was described as –
Diana, Princess of Wales, has often been called a 'fashion icon' and has been credited with almost single-handedly reviving the British fashion industry…Susan Maxwell, who brought out an illustrated biography of the Princess of Wales as early as 1982, declared: 'For the first time, the Royal Family had in their ranks a woman whose age, size, coiffure and taste reflected the mass of the market. Because she was beautiful, others wanted to look like her.
She had been spotted in many of Catherine Walker's designs, however her choice for wedding gown was David and Elizabeth Emanuel wedding dress, having poufy-leg-o-mutton shoulders inspiring many would-be brides then. Her wedding dress was made of British-woven silk and had a 25-foot train.
Designer duo David and Elizabeth Emanuel said in their book 'A Dress for Diana'.
In the end, the design process was quite simple because it was just the three of us. She was terribly excited to be trying on huge bouffant petticoats, satin skirts and boned bodices.
Another big fashion moment of her life was when she appeared in Greek designer Christina Stambolian's LBD dress to a Serpentine Gallery benefit event, just when the news of her husband's infidelities was on air.  The next day, every front page was devoted to Princess Diana.
2. Madonna
'Style Chameleon' as Madonna is best described, she is the true icon of style evolution over the years. Be it sporting lacy finger-less gloves, ¾ length black leggings, rah-rah skirts or statement tees, the Italian-American singer/ dancer introduced many of her trademark looks in the early 80's.
Be it punk, androgynous, hip-hop, geisha, western or military looks, Madonna has tried it all, transforming herself one after another. By the mid 80's, Madonna became a fashion icon by having appeared in wearing navel-baring miniskirts, iconic cone bras and Gap jeans. However, her corset look became a prominent fashion in the early 90's. She has always set fashion trend much before it's time. With her designer collaboration, she is also known to have boosted the career of many upcoming designers be it Gaultier, Dolce & Gabbana, Donatella, Givenchy, Alberta Ferretti, Badgley Mischla and Olivier Theyskens. Appearing on fashion magazines and attending runway shows came so obvious to her after her success.
Huffington Post says about Madonna –
No one has transformed herself like Madonna. The Michigan-born pop star has had about as many looks as she has records. Her ability to constantly reinvent herself and her music has helped to secure her status as an icon, and she has influenced a generation of copycats.
Madonna has looked to fashion icons of the past to create a persona. She copied Marilyn Monroe's look for her video "Material Girl', Marlene Dietrich for androgynous look for her video 'Express Yourself' and Horst P. Horst for the video 'Vogue'.
3. Jane Fonda
More than fashion, Jane Fonda is a fitness icon of 80's. She is the political activist, writer, fitness expert and an actress. Her look in the movie 'The China Syndrome' that consisted of shirts with big collars, the flicky hair, earring hoops and power suits got her famous among fashion circuit.
When one thinks of leotard, leggings and warmers, one thinks of Jane Fonda's fitness video 'Flashdance' in 1983. Since the release of the video, the three L's became a part of every fashionistas' closet. Yes, she was the woman behind the trend of dance wears. They are popular even today.
[sc:mediad]
She went to become pretty lass in dresses to androgyny in pant suits to again lady in evening gowns in her wardrobe of life. She likes to keep it simple yet very stylish.
Her Style Evolution
4. Cindy Crawford
The supermodel of 90's, Cindy Crawford is looked up to by many aspiring models. For the American model, suits were her signature style, which are still popular today. She walked the runways throughout the 80's and 90's. Because of her successful modelling career, she got work in television and films too.
Like yesteryear legend Marilyn Monroe, Crawford too got a mole above her lips that had eventually became her trademark.  She was sought after by fashion magazines and even got on many covers during her career span. Having being a face of many fashion brands, the model turned actress went on to be on the cover of Vogue, ELLE and Cosmopolitan among many others.
For the style icon she became, Cindy Crawford got to host MTV's House of Style for about six years. The quality that distinct her from her counterparts was the talent to dress up well.
5. Drew Barrymore
Sweet, simple and grungy was how actress Drew Barrymore could be described in the 90's. She imposed an image of a hippie girl, who liked to don a peppy loose jeans over a t-shirt and over-sized leather jacket. Yes! It was her who made having a leather jacket in one's wardrobe a must have whether it is in the trend or not.
Design house 'House of Holland' also dedicated it's S/S 13 collection to Drew Barrymore circa 1990 look-a-likes.
Drew Barrymore was the style icon for her minimalist yet grungy way of donning fashion.
I wonder who is your favourite fashion icon of 80's and 90's?