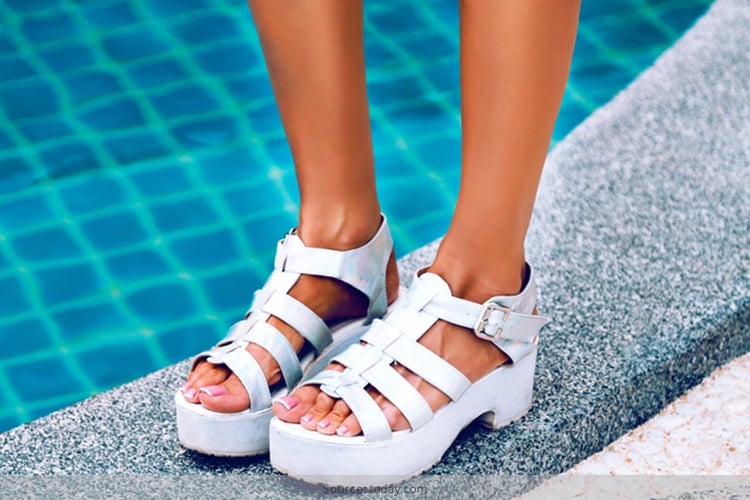 You adored them as a kid in the 90s and you pleaded hours together to get those 90s shoes styles but somehow your parents never relented. 90s shoes trends were the bomb and for months you would save just to lay your hands on those chunky platforms. Thankfully these are coming back in fashion and it's time you take them out and let them feel the 21st century air.
[Also Read: This '90s Fashion Trend We Simply Cannot Get Over]
Most of the popular shoes in 90s are doing a big comeback and a lot of high fashion brands are bringing them back to the runway which is proving to be a great comeback for these styles. Some of the popular shoes in the 90s were also sports sneakers, well we think sneakers never go out of style. So, let's go back in time and check out some 90s shoes brands and give ourselves some real flashbacks!
Popular shoes in the 90s
The 90s were an amazing time for style and fashion. Shoes were especially very popular with the young crowd and so there were a lot of fashions and styles that were coveted.
Platforms FTW!
Tall girls were everywhere and they were towering- thanks to the platforms they wore. Well, you can blame some of this platform influence to the Spice Girls. They were the celebrity shoes in 90s that everyone followed.
Platforms are coming back to fashion again and you can see them in many of the runways now.
Doc Martens
Previously invented by a German doctor by the name of Klaus Martens during use in the Second World War, the Doc Martens became synonymous with the grunge fashion scene during the 90s. They have returned again and are mostly seen on art majors.
Skechers
Though Skechers are still in the market, they have gone through a major overhaul now. Gone are the days when Skechers used to be worn by celebrities, and these days they are usually worn by people who want comfort and proper cushioning in their day to day life.
Here is what the Skechers of the 90s looked like (Definitely not worn for comfort, as demonstrated by Christina Aguilera)
Leather Double Strap Sandals – Birkenstock
Zara now manufactures these leather double strap sandals, but previously these were made exclusively by Birkenstock. Worn mostly by the fashionable crowd, the Birkenstocks were comfortable and easy to wear. They made a comeback in this year's Coachella when a lot of people wore them. Here are some Coachella looks with Birkenstocks
Even Rosie cannot live without them, hers are not Birkenstock though-She is wearing Givenchy.
Adidas Sambas
Ooh the Sambas were love-especially for those who love being athletic. The Sambas were worn everywhere, even if you aren't that athletic kinds. The Sambas haven't gone out of fashion now and are still being worn, mostly by off-duty male models and occasionally females too.
[sc:mediad]
The iconic Samba
Rihanna looks fly in her pair
Kate Moss dresses up in some Sambas too
Jelly Shoes
How can we forget these delightful shoes! Considered as one of the most popular shoes in the 90s, the jelly shoes were not only favorites with kids, but they were also equally popular with adults. This popular style flourished mostly during the rainy season, but people weren't afraid to wear them during the winter too-Yes, such was their popularity with everyone. The good news is, you can still find these jelly shoes everywhere. But the bad news is, nowadays jelly shoes are only manufactured by the high end brands. So if you still love jelly shoes, you will now have to spend a bomb!
These jelly shoes from Neiman Marcus are worth Rs. 4500!
So, here's our list of popular shoes in the 90s. Let us know which ones you still lust for.