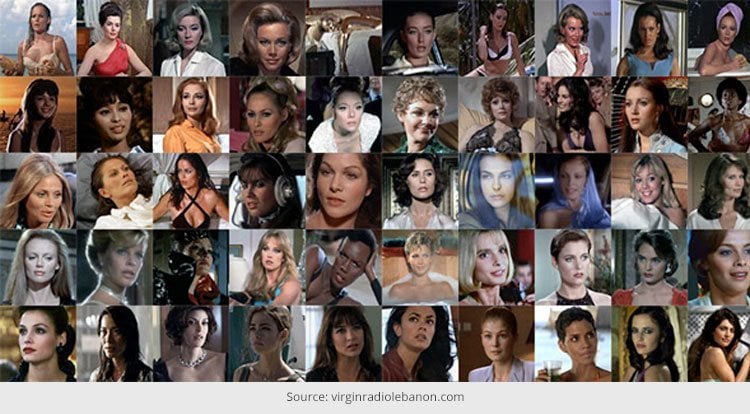 The James Bond Franchise is known for three things: swanky gadgets, evil villains and the sexy Bond girls. We all know that the suave Mr. Bond is a lady's man; his love trysts have been forever framed in celluloid form. Over the years, the Bond girls have evolved. At first glance it may look like these Bond girls have nothing much in common. They are all of different heights, with different hair and skin colouring. But then when you look a little further into what all the Bond girls have in common, there are five things that leap out at you.
1. Confidence
Of course, all the Bond girls are confident. You can't be a Bond girl and be shy. It is all about being confident, taking control and doing a fabulous job at being a sex siren. The Bond girls own their sexuality. They know the effect they have on the male species and they don't hesitate making the most of it.
2. A Smoking Hot Body
If there was a prerequisite to being a Bond girl it is that you have to have a smokin' hot body. Every Bond girl there ever was has been a hot bombshell. The Bond Franchise is aimed to appeal to the male population. So this means there are a lot of car chases, some dangerous fight sequences and a sexy woman with a great body all packed into two hours of nonstop action.
[Also Read: How to Look Hot]
3. Womanly Allure
Make no mistake, although they are referred to as Bond 'girls', there is nothing girly about them. These Bond girls are all woman, with womanly allure and a woman's needs. They are the perfect match when it comes to Bond's experienced lovemaking. There is nothing demure or unsure about their moves, they know what they want and they are not afraid to get it.
[sc:mediad]
4. Some Killer Moves
While it is no secret that the Bond girls are there as eye-candy, it has to be noted that they have some killer moves up their sleeves. In the Goldeneye, the character Xenia Onatopp played by Famke Janssen, is a sadistic assassin who ruthlessly kills anyone standing in her way. In Dr.NO, the character Honey Ryder played by Ursula Andress, is a strong and independent woman who takes revenge against her rapist.
5. A Complex Character
Despite the clichés that comes with being a Bond girl, the characters are much more complex and have a lot of depth. They have a past, they have their own agenda and while they might invariably find themselves seduced by James Bond, it does not take away from their complex characters. For instance, played by Carole Bouquet, the character Melina Havelock in the Bond film For Your Eyes Only, seeks revenge for her parents' murder. And in the more recent Casino Royale, Vesper Lynd is a very complex character who is faced with some very tough decisions to make. But through it all, she never turns to Bond for help, but rather strives to work through her troubles on her own.
We wonder what the future holds for the Bond girls. If the recent Bond movies are anything to go by, then there seems to be more room for character development and a backstory for the women than just being Bond's sex kittens. But no matter what changes or not, the allure of the Bond girl is something that is not going to go away anytime soon. Their beauty, their confidence and their raw sex appeal is something that will leave the men asking for more.