One of the most exciting ceremonies in an Indian wedding is no doubt the Mehndi Ceremony. The womenfolk singing songs, the sweet smell of ginger tea served to all guests, the blushing bride who sits patiently while a mehndi artist painstakingly etches beautiful designs.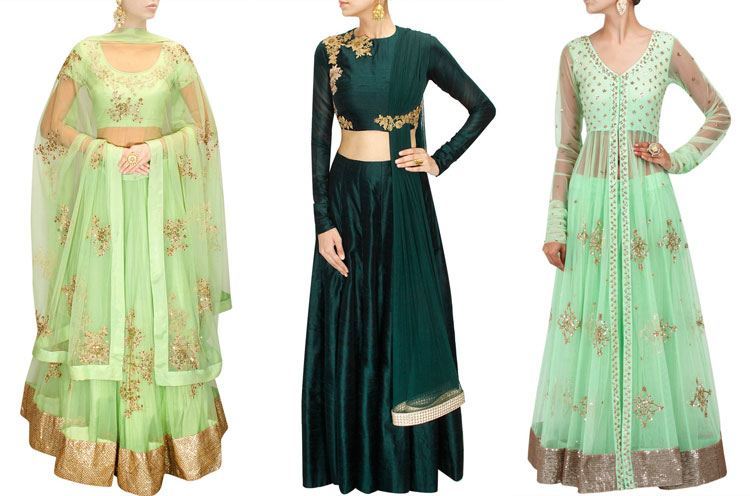 Not only is this a very special ceremony, but there is a great significance of mehndi in Indian weddings. For you see, the mehendi is a sign of a married woman and they say that darker is the colour of the mehndi, more is the love her would-be husband would be showering on her!
Though mehndi designs have changed over the centuries, the ceremony as a whole hasn't changed much. Different designs have been incorporated, but the patterns and the areas where the bride would have the designs drawn remains almost the same. Though the ceremony usually lasts two to three hours, it is a messy one and the bride needs to ensure that at the end of the ceremony, she is comfortable and has not messed up an expensive dress. Let's take you through some of the outfits that you can wear for your mehendi ceremony.
Here are some ideas for what you can wear while applying mehendi.
Short Lehenga
This is a new trend that is fast catching up with the brides this season. This is a lehenga lie any other, the only difference being that it ends a little below the knee. This gives the bride a lot of relief from chugging along a heavy lehenga and also makes it easier for the mehendi artists to apply mehendi on the brides. What's great about the short lehenga is that you can make it in a way which is not heavy and as such it can be much easier to handle it and also wear it on multiple occasions.
[Also Read: Mehndi Artists in Mumbai]
Go for Bright Colours and Multi-coloured Attire
All Indian ceremonies are one of a kind-they are fun, vibrant and very colourful. So being the bride, you should definitely have the best colours. Wear colours that are bright and get them in most styles. Though there are several colours you can choose from, don't be set on a single colour alone. You can choose combinations too. Pastels are very in now and you can mix and match beautiful pastel pinks with greens and blues. Remember, it's your mehndi, and as long as you can take care of lighter colours and not smear them with mehendi, wear whatever colour you want!
[Also Read: What to Wear to a Sangeet Ceremony]
Shorten Them A little
Well, you should be traditional, but that does not mean you have to be laden down with a heavy lehenga or ghaghra. Recent trends show that more and more brides are going with clothes which make them most comfortable and also make it easier for the mehendi artists to make their designs. You can even wear a pair of shorts! Just make sure that you infuse some bit of creativity in your ensemble so that it looks like an Indian wedding!
[sc:mediad]
Check out this very unconventional look from a bride:
Wear a Slit-Skirt
If you are one of the daring kinds, you can easily wear a slit skirt and combine it with an Indian choli or blouse. Again the slit skirt makes it easier for the mehendi artists to make their designs since most of the brides have mehendi way up to their knees.
If you are attending a mehendi ceremony and do not have to worry about your clothes getting stained with henna or as a bride yourself, the function is just a formality, you could wear something more trendy yet stick to the theme. Below are some dresses to wear at mehendi functions. Take a look.
[Also Read: Mehandi Party]
The list of different varieties of clothes that you can wear for your mehendi is endless. Just make sure that you are comfortable and everything else will fall into place!