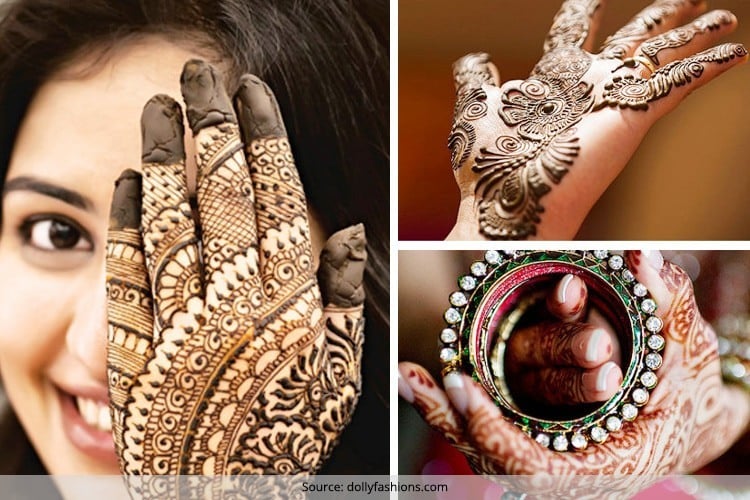 Talk of Indian rituals and no wedding is complete without mehndi. This is one such tradition in our country that enhances the flavour of any wedding. Such is its prominence that it is commonly applied during festivals and occasions such as Karva Chauth and Teej too. Mehndi is not only considered as an auspicious token of matrimony but is also believed to bring in good luck.
Today, usage of mehndi has taken a quantum jump from being used for weddings to common celebrations. This is where professionally trained and experienced mehndi artists come in. To make mehndi application turn memorable, we bring you the top mehndi artists based in Mumbai.
[Also Read: Mehndi Designs For Kids]
1. Veena Nagda
Veena is a mehndi artist that has been seen in just about any celebrity wedding that took place in Mumbai. Such is her workmanship with mehndi that it has beautified most Bollywood brides and high profiled ones, such as the Ambanis, Shilpa Shetty, Karisma Kapoor and Twinkle Khanna. Her forte lies in the unique designs and embroidery-like styles that make her mehndi stand out of the crowd.
2. Geeta Patel
Over 20 years of experience in the field makes Geeta, the Mumbai-based mehendi artist the most preferred one. She excels in wide variety of Arabric mehndi designs Indo-Arabic mehndi designs, traditional mehndi designs, zardozi mehndi designs, floral mehndi designs styles, and more. Geeta works with her daughter-in-law Purvi, who also is a trained artist in bridal mehndi for 10 years.
3. Pawan Arts
Pawan Arts has fifteen years of experience in mehndi art making them one of the stalwarts in this profession in Mumbai. They are trained specialists in Indian, Arabic mehndi designs and Mughal mehndi designs styles of art. Such is their merit and expertise that they have diversified into henna tattooing as well as cut work. Pawan Arts is an example of innovation in their field.
4. Jayshree Maru
This mehndi artists in Mumbai has to her benefit more than ten years experience in the art of henna application in Mumbai. Such is her hold of this profession that Jayshree is an award winning mehndi artist who has displayed her fine skill at weddings and other festivals too.
5. Jyoti Chheda
Great work is often prize winning. Same is the case with Jyoti Chheda who is a reputed name in Mumbai-based mehndi artists. She has won several awards in the field of mehndi design and innovation and has excellent ratings when it comes to client satisfaction. So, no matter whether you seek bridal or festival mehndi art, Jyoti is a name to reckon with.
[sc:mediad]
6. Usha and Ekta Shah
Both the mother and daughter duo have impressed Bollywood celebrities at their high profile weddings with their mehndi designs. Such is their talent that are well-recognised both in India and abroad. The inimitable designs they make is a blend of traditional and modern look. This explains why they have worked with famous celebrities such as Aishwarya Rai, Kajol and Nita Ambani to name a few.
7. Rahul Sonavane
Skilled in mehndi art, Rahul has fifteen years of experience in decorating the hands and feet of celebrities. He is known for his combination techniques of contemporary and traditional art. This makes him an ideal choice for designing henna tattoos for events and private functions.
[Also Read: 10 Top Makeup Artist In Mumbai]
8. Asha Savla
Asha Savla is a popular name in Mumbai known for its excellent designs and artwork in various forms of henna application. Her books have inspired many mehndi artists and she has a learning academy that teaches many prospective mehendi artists. Her designs are a mix of traditional and modern mehndi art work.
9. Nirmala Asthana
A trusted name in Mumbai city at wedding and festivals for none other than her mehndi designs, Nirmala is god gifted when it comes to designing portraits and beautiful religious motifs with henna.
10. Kamaljeet Mehndi Artist
Last on the list of top 10 mehndi artists in Mumbai is Kamaljeet. He is known for the intricate motifs that make his piece of art stand out. Another good thing about him is his affordability in his creations.
[Also Read: Mehndi Artists in Pune]
Now that we have familiarised you with the top 10 mehndi artists in Mumbai, contact them for your requirements. The best thing is to visit their independent websites to get detailed information about them.