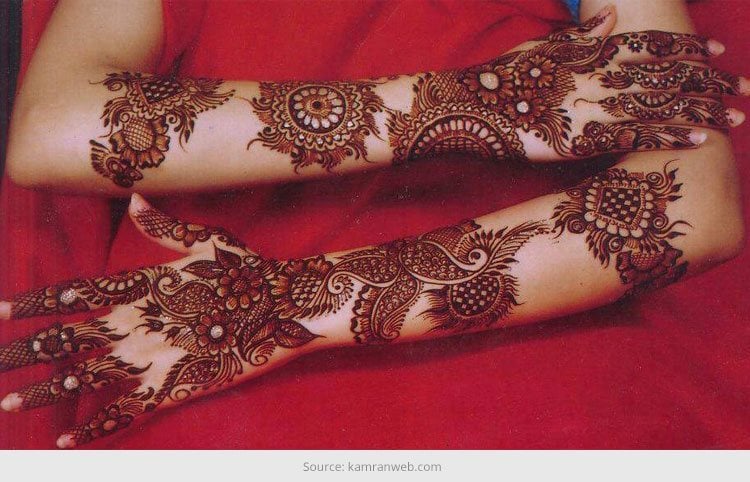 Mehndi is traditional approach of adornment in India, and a marriage ceremony is incomplete without its application. Even in this contemporary world, brides look forward to the mehndi ceremony. Nowadays, it is quite ubiquitous and gaining popularity all around the world. The henna used in mehndi gives a unique colour and smell which is admired by all. Also, mehndi has been proved to be beneficial to health.
There are many talented mehndi artists in Pune, and their intricate art is purely admired by one and all. With the growing temptation and trend, mehndi artists continuously improve their skills and look forward for innovation. To make your mehndi ceremony hassle-free, let me introduce you to the finest mehndi designers of Pune.
[Also Read: Best Mehndi Artists in Bangalore]
Below are the best mehndi locations in Pune. Please be noted that the prices are high to low
1. Rujal Mehndi Designers
Address: 368/4, S/7, 2nd floor, Behind Kirad Hospital, Ramprasad Building, Jawaharlal Nehru Rd, Nana Peth, Ganesh Peth, Pune, Maharashtra 411002
Phone:099600 53538
With 20 years of experience, Rujal mehndi offers exclusive variety of mehndi designs to enhance the beauty of the bride. They provide service to minimum of 5 people and onwards and the bridal mehndi package starts from INR 4000. However, they claim to be flexible in terms of price and required number of minimum people. You can avail their remarkable service for wedding, teej and other festivals. They also provide home service for mehndi application for special occasions and are definitely worth a try.
[Also Read: Best Mehndi Artists In Hyderabad]
2. Anmol Kala
Address: 600, Guruwar peth, Opp. Mith Ganj police chowky, Pune , 411042
Based in the city of Pune, Anmol Kala is a reputed mehndi design location with more than 22 years of experience in this field. Their exquisite designs tend to have a central theme and are designed within a square, rectangle or circle. Motifs like paisley, tendrils, stars, vines, leaves, flowers are used for intricate decoration. Their henna art is sure to impress one and all. Anmol kala mehndi parlour also conducts classes so that people can learn this traditional art at a price which is worth a try.
[Also Read: Best Mehndi Artists in Chennai]
3. Shaheen mehndi Art
Address: 2064, Jaan Mohd. Street, Near Ambedkar Hall, Camp. Pune – 411001.
Contact No : 9922760694 | E-mail: [email protected]
Shaheen Mehndi Art offers unique and ravishing designs at a quite affordable price. They specialize in elegant and stunning bridal designs. They can integrate any style and can create beautiful customized designs from traditional Indian bridal mehndi designs, Arabic and Pakistani to contemporary design with glitter and coloured gems. With over 15 years of experience and innovative thinking, they have undoubtedly mastered this art. You can avail their services for special occasion such as wedding, Eid, Diwali or raksha bandhan.
4. Mehwish Mehndi
Address: C-9, Priyanka Society, Kate Pimple Road, Pimpri, Pune-411017
Mehwish Mehndi is the ideal choice for your big day. They provide high quality mehndi with stunning designs and outshines when it comes to bridal mehndi. You can choose from various irresistible options like glitter and diamante mehndi or traditional classic mehndi, punjabi mehndi or can go for something new and innovative. They interact with customer to understand their expectations and desires. Avail their services in order to attain delicate and exquisite mehndi designs at a good price.
[sc:mediad]
5. Ravi Mehndi Art
Address: Vishal Mega Mart, Fatima Nagar, Fatima Nagar-Wanwadi, Pune – 411040
Phone: +(91)-20-39618377
The much sought after mehndi artist in Pune, Ravi mehndi commenced this incredible art and traditional service 15 years ago. Today, there are more than 8 branches in Pune, and is also spreading across Indore. They believe in amalgamation of tradition with modern technology. They always seek for innovation and creativity in designs. Ravi mehndi art is customer focused and their services are very affordable.