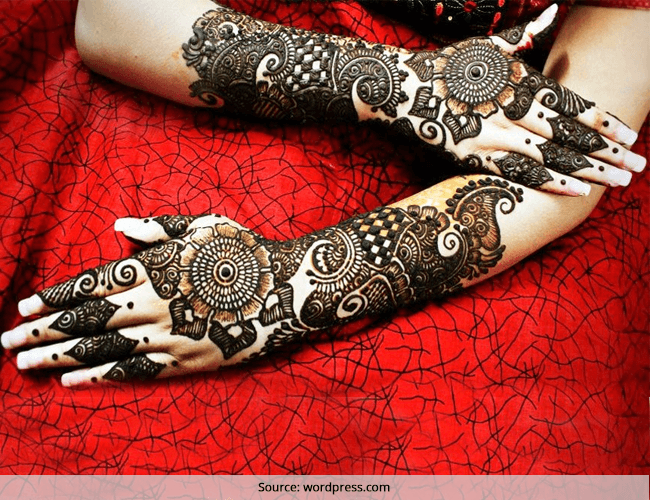 Although traditionally henna designs are more of a North Indian tradition, in recent times they have become an integral part of South Indian celebration as well. Chennai, being the melting pot of cultures, has embraced the art of Mehndi with much enthusiasm. As far as weddings are concerned, Mehndi and Sangeet ceremonies have become the norm, with almost all South Indian brides opting for intricate mehndi designs for their wedding day. Needless to say, this has led to the advent of many independent bridal mehndi design artists and salons offering mehndi services cropping up all over the city. This can be a little overwhelming for anyone looking for a good mehndi artist. With so many Chennai mehndi designers, how can you be sure you picked the right one? Definitely not an easy task, but we're here to guide you.
[Also Read: How To Make A Henna Cone]
We bring to you best mehndi artists in Chennai, with information on which type of mehndi designing they specialise in and their price range.
Priya from Priya Mehndi Arts
Priya Mehndi Arts can be described as the one stop destination for all your Mehndi requirements. With a myriad of Mehndi styles under her belt, from traditional Indian mehndi styles to Pakistani mehndi designs to the much more exclusive Indian African Sudani style, Priya is the person to go to if you want something unique and different. She specializes in bridal mehndi designs and provides services for Mehendi ceremonies and parties. So if you're looking for professional mehndi artists who can work on a large number of people, then look no further. They offer attractive party packages that will fit within your budget.
Ayisha
Ayisha is one of Chennai's most celebrate Mehndi artists. She has a wide clientele, with people from other states and even from overseas vying for an appointment with her. With fifteen well-trained artists under her watch, Ayisha can offer unparalleled service when it comes to handling a large number of people. Apart from the traditional mehndi designs, they also excel in some of the more unique styles such as the Mohalai, Indo Mohalai, and Bathick mehndi styles. But be warned that you have to book them well in advance as they are always in demand. While they are a little on the pricey side, you can be assured of great results and it will be money well spent.
Manisha Modi
With over twenty five years of experience on bridal mehndi, Manisha Modi is easily one of the city's finest mehndi artist. She is a natural when it comes to different mehndi styles (such as Bombay, Arabic, black, and shaded styles). She also specializes in distinctive techniques such as Jardosi, Hiramoti and Gharchola designs. Needless to say, she is a much sought after Mehndi artist with a happy clientele that includes many celebrities. She makes the henna paste and cone herself, and assures that all her products are a hundred percent safe, with no chemicals or dye mixed in. So one does not have to worry about any adverse side effects or allergic reactions.
Here are some exquisite designs from her collection.
[sc:mediad]
Shingar Mehndi Arts
Apart from Henna, Shingar Mehndi Arts offer temporary and permanent tattoo services as well. They specialise in Indian, Arabic mehndi designs, Indo-Arabic, Shaded and coloured mehndi styles. They are also experts in contemporary mehndi designs and do a good job of applying henna tattoos on shoulders and arms. With many different packages available, you can pick and choose one that suits your need and fits within your budget.
So there you have it. Our hand-picked best-of-the-best mehndi artists in Chennai. So if you want to book a Mehndi artist for your wedding or for a party, go ahead and contact one of these guys. You can be rest assured of excellent service and amazing results.
[Also Read: Indian Bridal Mehndi Designs: Their Substance in Indian Weddings]
Note: All the mehndi artists listed here are in very high demand, with clients booking them as early as six months in advance in some cases. So if you want to book one of them, you will need to do it as early in date as possible.