Pakistani mehndi is a fusion style of mehendi art which has been developed by incorporating some elements of Indian and Arabic styles. The Red/ Orange henna is generally used in Rajasthani Mehndi, but Pakistani ladies mostly use black Mehendi to make floral and Arabic style leaf patterns on their hands and feet. They use black Mehendi for outline and red mehendi for inner designs.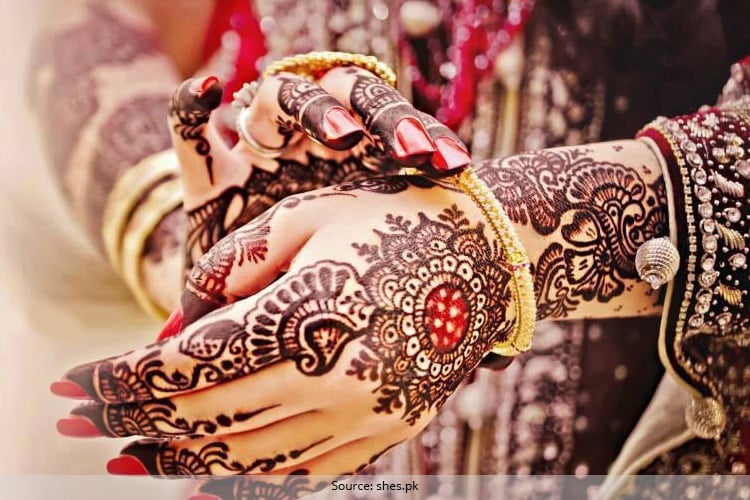 On important occasions like Nikah or other wedding ceremonies, ladies make beautiful elaborate patterns such as net- work, mesh work, parallel image designs and many more. Some of the common motifs are peacock, paisleys, leaves and flowers.
Here, we have showcased carefully chosen 20 latest Pakistani mehendi designs for you. As the wedding season is just around the corner, these designs will surely come handy to get an idea about Pakistani mehndi designs if you are interested in applying Pakistani mehendi on your hands and feet.
1. Pakistani mehndi designs mostly include elaborate designs on the palm and back of the hands. Beautiful swirls and curls make the mehendi look classy and unique.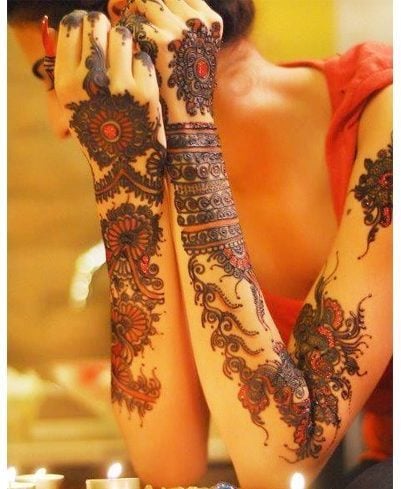 2. Mehandi designs is one of the most essential parts of Indian/Pakistani weddings. Beautiful intricate designs look great on every bride's hands. As mentioned above, the colour of the mehendi can be chosen according to your skin colour. However the red pakistani mehndi is most popular among brides; it looks fabulous along with entire wedding dress and jewellery.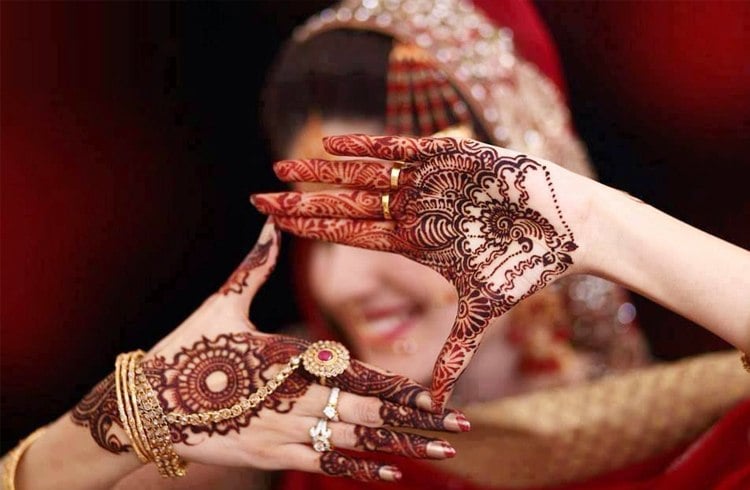 [Also Read: Karva Chauth Mehndi Design]
3. You can also use other accessories to enhance the beauty of the mehandi designs like crystals and beads to highlight the curls and swirls of mehendi.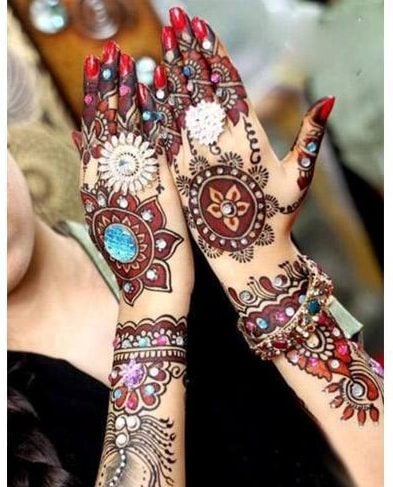 4. This is yet another stunning latest mehndi designs; you can apply it for festivals like Eid, Diwali etc. Stylish Pakistani mehndi designs are applied on hands and feet for every religious functions.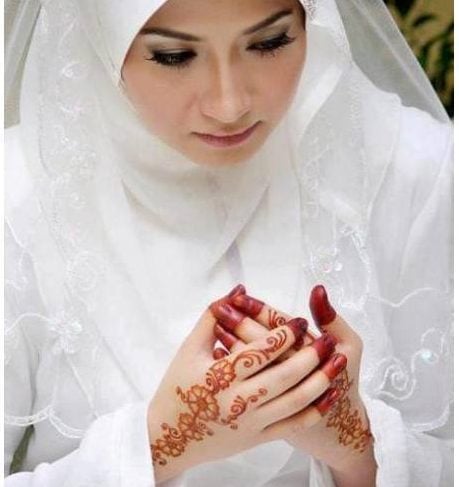 5. This latest Pakistani mehndi design covers palm and fingers; you can also use traditional jewellery to highlight the back of the hand.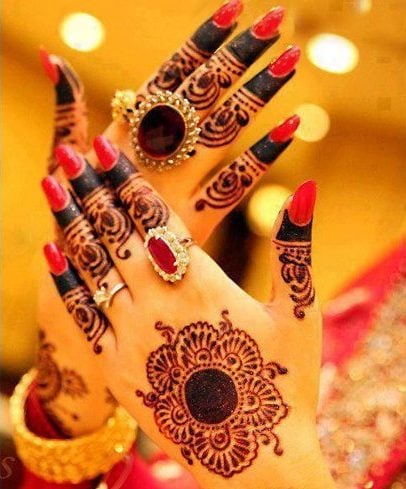 6. This Pakistani mehendi design is simple yet pretty, this design is good for those who are learning to apply mehendi and looking for some cool and stylish mehendi designs on their own.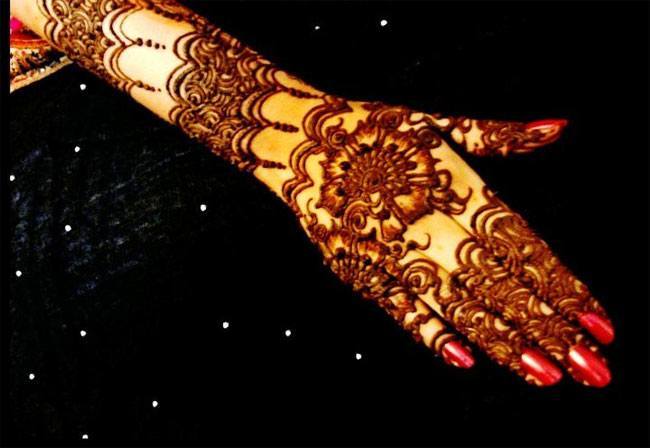 7. If you love those intricate designs and patterns, this mehendi design will definitely take your heart away. These intricate and complicated patterns are perfect for Pakistani wedding ceremonies.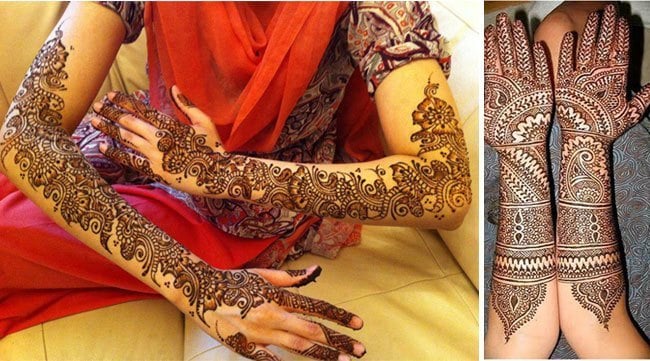 8. Have a look at this beautiful hand decorated with lovely Pakistani mehndi designs. Traditional motifs and patterns are accentuating the beauty of her hands.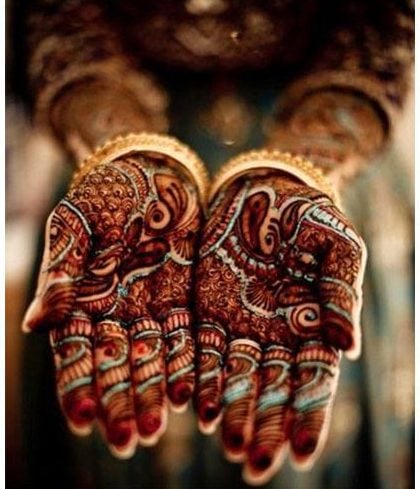 9. Below is another elegant and stylish design of Pakistani Mehndi art. The beautiful colour of mehendi and the stones embellishments are giving it a magical touch. Floral patterns on her palm are looking superb.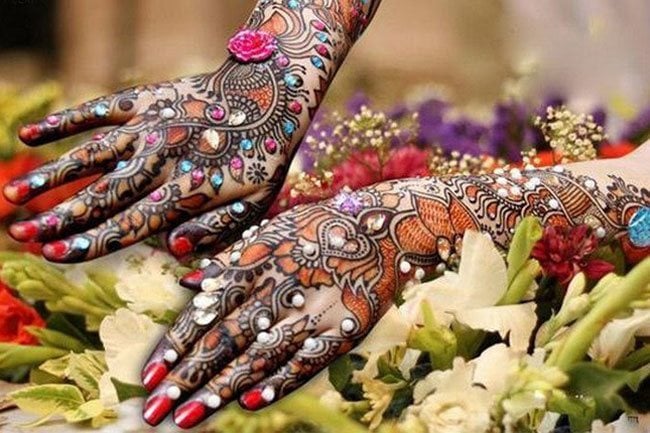 10. If you believe that simplicity is beautiful; this bridal Pakistani mehandi will surely steal your heart. Bride's hands and legs are looking so pretty with those floral motifs and simple leaf patterns of mehendi.
[sc:mediad]
Try to stick to a theme when you choose to get mehandi done on both your hands and feet. In this way, both will look similar and not extremely vague and different.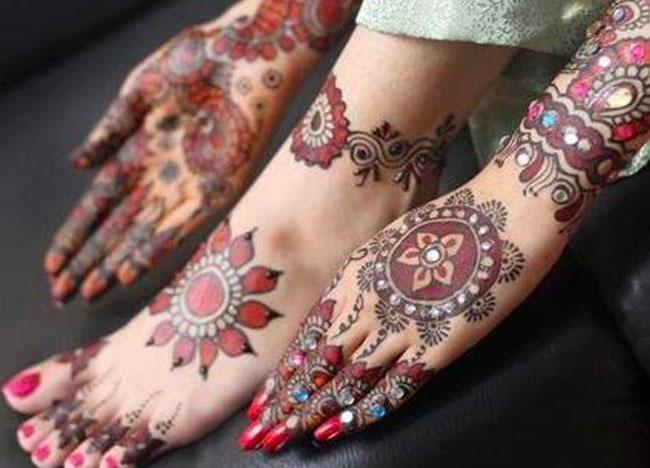 11. This type of latest Pakistani mehendi designs is very popular among young girls. You can easily make these patterns even if you are not a professional mehendi artist.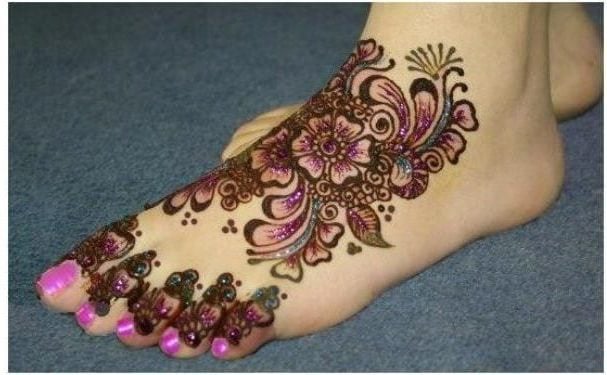 12. Below is another example of simple Pakistani mehendi design for hands. It looks very stylish and fresh; you can flaunt this mehendi for various wedding functions like sangeet or engagement ceremony.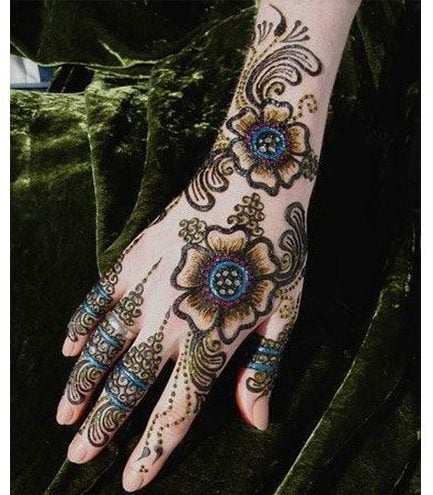 13. Pakistani bridal mehendi designs can be used to accentuate the beauty of your soft hands and legs. Try these types of mehendi pattern for a unique and elegant look.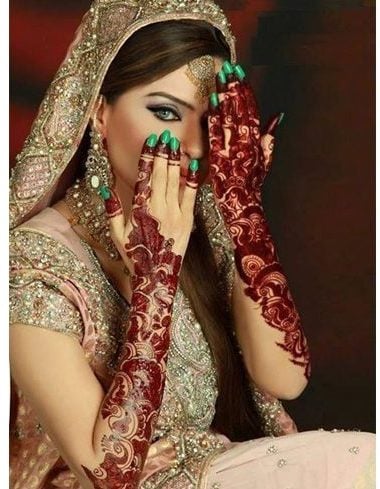 14. If you think Pakistani mehendi art is all about intricate and complicated floral motifs and spiral patterns then think again because this mehendi design might prove you wrong! This design is a combination of some easy-to-draw geometrical patterns and floral designs.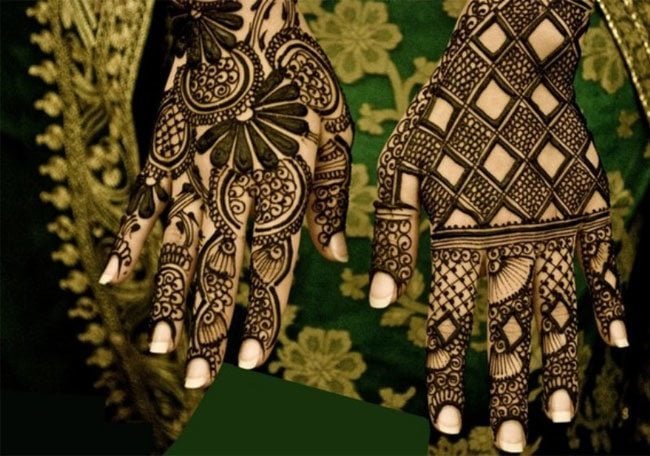 15. This is yet another beautiful Pakistani mehendi design which has intricate patterns and traditional designs. The overall look created by all the lines, swirls, floral motifs and patterns make this design elegant and classy.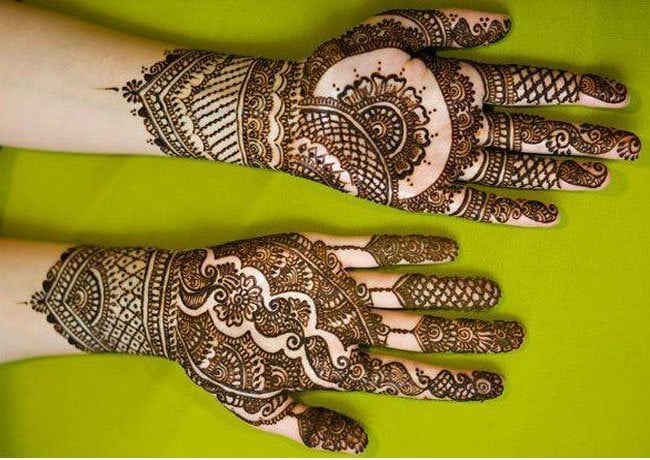 16. Some Pakistani mehendi designs are not so difficult to draw; you can decorate your hands with this type of designs without any big occasion as well.
17. Pakistani mehendi is not just for hands, there are several types of designs for feet and other parts of body too. Generally the similar kind of patterns and flowers are made in hands and feet both.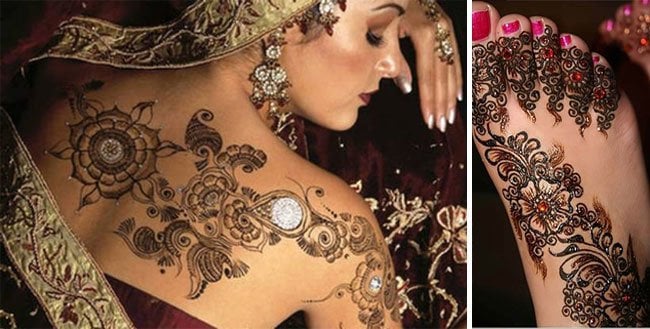 18. While making mehendi patterns on feet, the colour of the mehendi should be chosen very cautiously according to your outfit and sandals. For example, red shade of mehendi should be applied on bride's feet to match her flashy sandals and bright nail paint.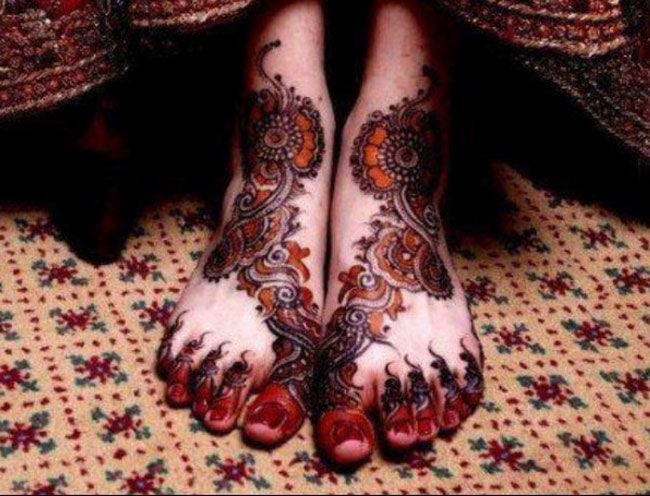 19. Mehendi patterns don't just beautify your feet, but they can actually be used to decorate the portion slightly above your feet, Traditional anklets on mehendi adorned legs look so stylish and beautiful.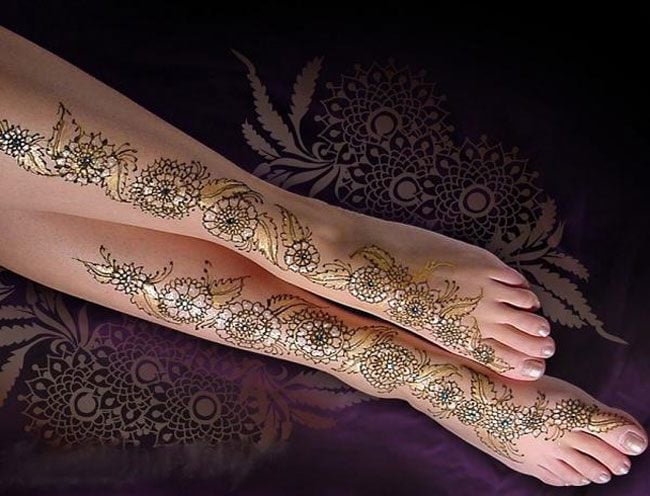 20. This type of Pakistani mehendi can also be applied on special occasions like Karva-chauth, Diwali and Eid. Marwari and Arabic mehendi art has been blended together so well in these designs.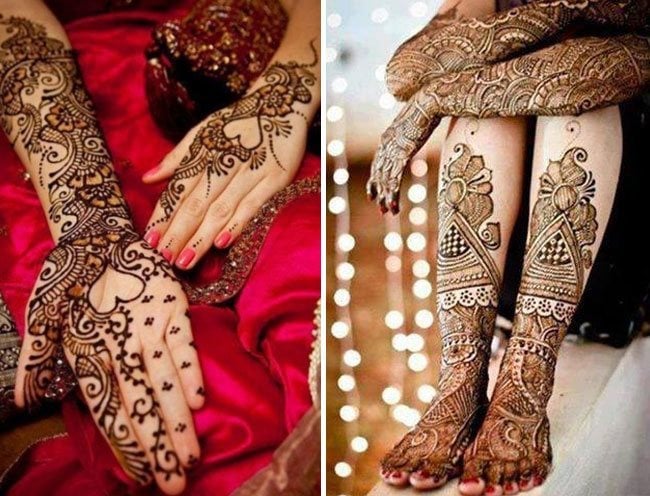 21. This elegant mehndi design adorns the hands in gorgeous motifs. The intricate designs and details make this style a classy choice for brides.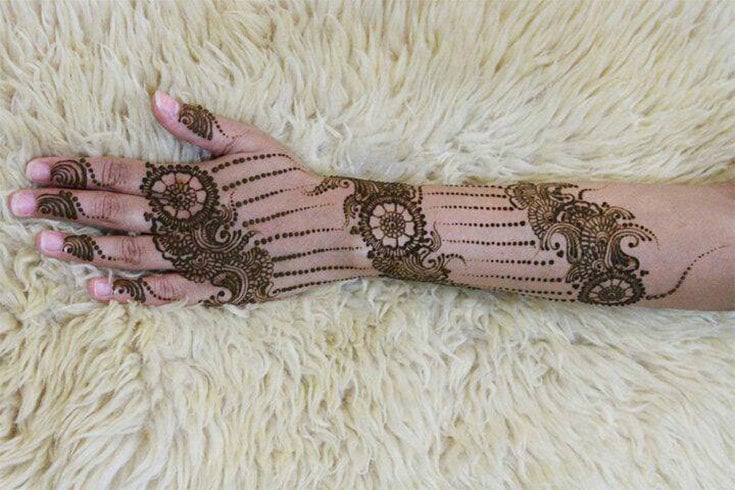 22. The netted design accentuates the hand with weave patterns and shading. The small motifs make it interesting design to try out. Such Pakistani henna designs are perfect for any girl.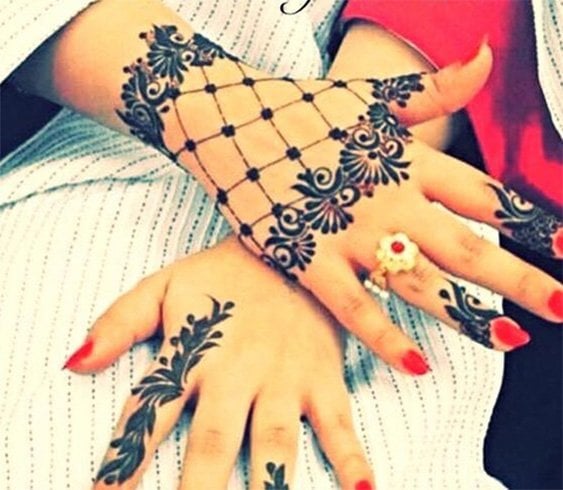 23. The intricate of this bridal mehndi is stunning with array of motifs. The contradictory designs between the hands and palms give depth to this Pakistani bridal mehndi design.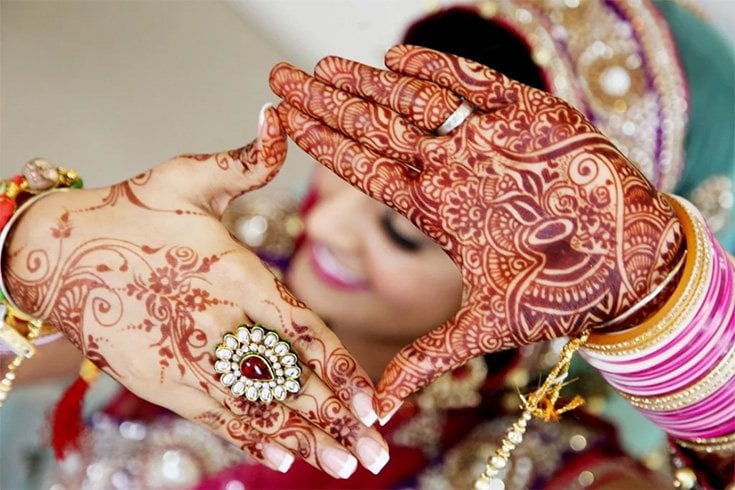 24. The latest mehndi designs are all about shadings and fillings. Motifs at the centre of your hand can look amazing with your wedding silhouettes.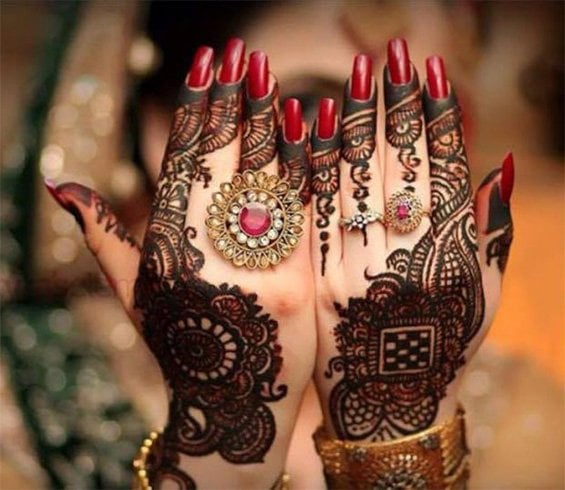 25. Thick mehndi designs are a big favorite for most brides-to-be. Most of the latest mehndi designs have coats of motifs spread over both feet and hands.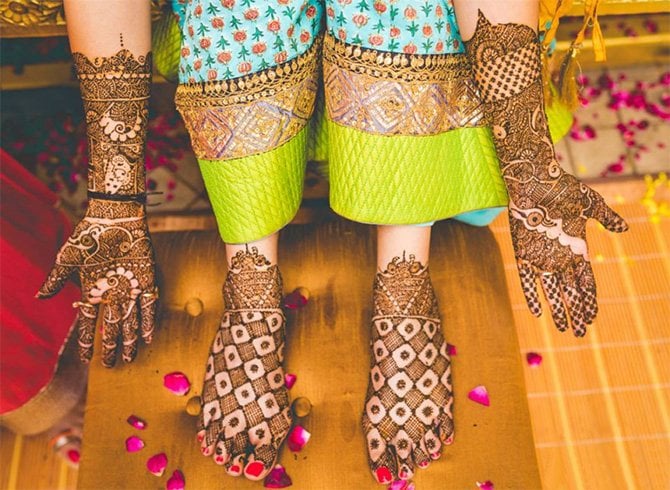 Images Source: pinterest