All Ganesha devotees, particularly women, have reasons to smile. No we are not referring to Ganesh Chaturthi that is observed on an annual basis. Or the Ganesha rangoli that decks up the homes to usher in happiness and prosperity. It is the Ganesh mehndi design that decorate the hands of ladies.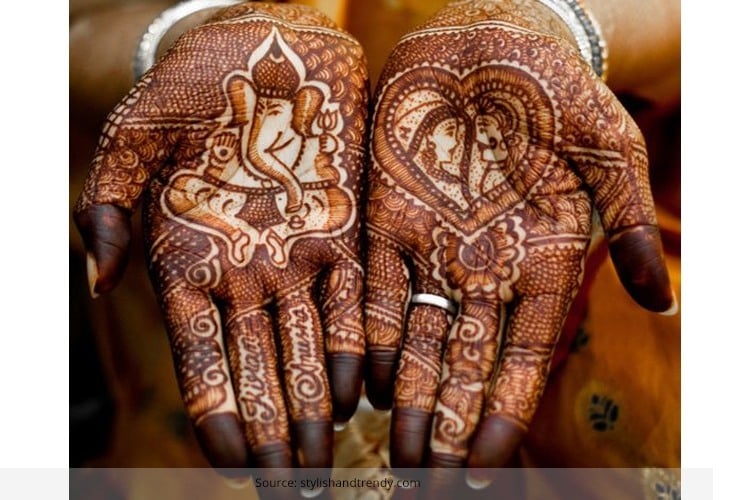 Lord Ganesha sitting on your palm in the form of mehndi pattern has a unique effect of its own. It can applied by a would-be-bride as well as college going girls to respect their linkage with the Hindu God. The sparkling mehndi colours that are used for decoration on hands and fingers further enhance the impact of ganpati mehndi designs images. Such is the beauty of Ganesh Mehndi Design that it can be used on shoulders and back as well. You can also design Ganpati on full hands till the elbow.
In the Hindu tradition, we have seen pictures of marriage parades, wedding palanquin, musical instruments and performers playing customary tunes. One of the key beauty practices followed in Indian wedding is portrayal of sacred pictures, such as om, swastika and Lord Ganesha. The whole hand of the bride is decorated with excellent outlines and no part of the hand or arm is left clear.
[Also Read: Mehndi Artists in Bangalore]
What does Ganesha symbolise?
Images that represent various deities such as Ganesha are meant to bless the married couple with happy wedlock.
The Ganesha symbol on its own is to watch out for. Such an immense range of benefits it brings that it virtually serves as a guiding force in life.
Ever saw the combination mehndi design which shows the bride and the groom, the lovely Ganesha and the elephant? All are crafted so beautifully in red paste that there is no denying the solid impression one gets of the gorgeous henna paste.
Lord Ganesha is the most revered Hindu God who brings good luck. A sign of inspiration and creativity, the beauty of the Ganesha idol and its complex designs is such that you would love to keep looking at it in the form of unending faith. Pay your best form of worship as you step into a new phase of married life by getting ganesh mehndi design.
[Also Read: Ganesh Rangoli Designs]
Mehndi in Indian weddings
Since the time of its birth, mehndi has taken on wider role in the context of the Indian marriage. Today, it represents prosperity and good fortune as well, quite similar to Lord Ganesha. That is why a special day is kept aside called 'mehndi ki raat' in theme-based and normal weddings. Friends and family members, irrespective of their class and status become witness to this ancient popular tradition.
[Also Read: Mehndi Artists in Hyderabad]
Derived from the Sanskrit word 'Mendikha', mehndi is a paste made from turmeric which is widely used in weddings and even festivals such as Teej and Karva Chauth. With time and evolving trends, mehndi designs have grown from being simple to ornate.
Mehndi is made by grinding dry henna leaves into a fine powder using water. The semi-wet paste is put into cones for application on hands, feet and other body parts of women. Even matchsticks are used sometimes to make the dots on the mehndi pattern. Once the paste dries up, it is gently removed so that the stunning mehndi patterns on the skin can show up.
Professional mehndi artists are experts in drawing floral designs, abstract and geometric patterns. Some ladies prefer hiding the name of the husband within the mehndi design. That is the beauty of this art!
[Also Read: Mehndi Artists in Mumbai]
Most Indian weddings are started with a Ganesh Puja that symbolises good luck and prosperity.
Wearing a mehendi design on the hand is also like having a good luck with oneself always.
Now this Ganesh mehendi design trend on the back is more like a temporary tattoo which will fade over-time.
Ganesh mehendi designs are mostly done on the upper arms for brides with dulha – dulhan mehendi on the palms.
Always make sure that mehendi design is created using a very lightly cut cone so the design looks intricate and a lot of detailing can be done inside it.
Elaborately created designs need patience. Designs such a Ganesh, need to be created perfectly else it can look bad once the henna is dried and scraped off.
Now this Ganesh henna design is more-or-less created in the Arabic Mehendi style.
Make sure you get mehendi done by a professional, especially if it is for the bride or her mother. Detailing needs to be perfect!
These days, many pregnant women are also looking to have Ganesh mehndi design created on their tummy as a good luck for their baby.
How beautiful is this ganapati mehendi design where its drawn on the hand but carved onto the fingers? What's better than looking at god all day.
This traditional mehendi design involves every aspect of tradition into the design and stands out. A must if you're the traditional kinds too.
This Indian mehendi design with both the palms drowning in spirituality is a simple yet deep gesture. Mehendi art has much more depth than you'd think.
This beautiful mehendi design for Indians is a pleasure to see. Mostly coming from the Indian roots, this design is a cherry on the cake.
The latest mehendi design of this year is this ganapati design on the back, which will be a stunning design to team.
So get ready to don Ganesh mehndi design on your hands and feet and say Ganpati Bappa Maurya!
[Also Read: Ganesh Rangoli Designs]