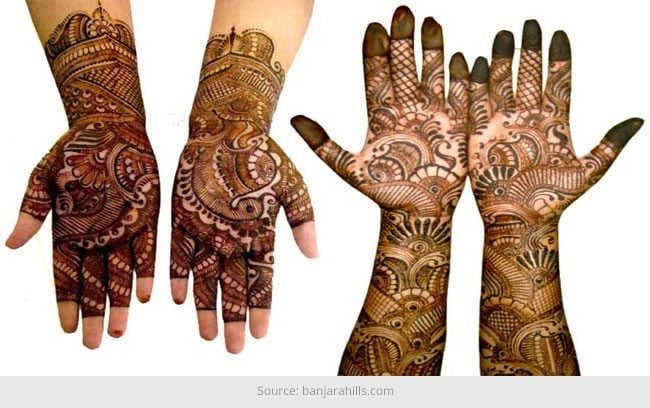 Henna or Mehndi is a top priority for a bride. Not only is it a symbol of her being married, but mehndi designs are also beautiful addition to the entire bridal look. Though the art is thoroughly famous all over India, the intricacy and the beauty of the mehndi designs can actually be perfect only when it is done by a professional. There are some extremely popular mehndi artists in Hyderabad, who would be perfect for your wedding day. Read on to know more:
1. Fatima Ajani Mehendi Designer And Beautician
Fatima Ajani is basically a beautician but she also works on all Bridal mehndi designs, including all types-of Indian, Arabic, contemporary Mehndi designs. Her parlour started in the year 2004 and since then has been one of the most popular mehndi studios in Hyderabad. She is from Maharashtra and had learnt the art of mehndi design in Nagpur.
Rates and Booking: There is a lot of rush in her store, so you have to book at least one week prior.
She charges Rs 300 for hands (Any style of Mehendi)
For Bridal Mehndi– She charges Rs 3000 for both hands and legs
Address: Plot No 503, Fortune Emerald, Military Dairy Farm Road, Old Bowenpally-Bowenpally, Hyderabad – 500011
Open all days from 9am to 9pm
2. Noorjehan Mehndi Designer
Noorjehan was always very creative as a designer and so she decided to convert her hobby into a profession. Now, she is a professional mehndi artist and has been 15 years in the field of professional mehndi design. She specializes in Marwari mehndi designs, Dubai, Arabic, Indian, and black mehendi design. Besides herself, she also has a group of 10-12 designers in her team who help her out during the peak wedding seasons.
Rates and Booking: One month prior but she also takes in urgent bookings
She charges Rs 500 for hands (Any ordinary style of Mehendi, depends on the level of designs. For instance, Indian mehendi designs which have kings and queens or some special style will be more expensive)
For Bridal Mehndi– She charges Rs 5000-10,000 per head (depending on the style and level)
Address: 302, Cresent Apartment, Begumpet, Lane Beside Airtel Office,Near Chiraan Fort Club, Hyderabad – 500016
Open all days from 12pm-12am
3. Sushma's Mehndi Designs
Sushma is famous for her Indian mehndi designs and has a wide and extensive clientele in the city. She has a Facebook page as well and you can contact her by email. Her designs include contemporary designs, Arabic mehndi designs and Indian designs.
Address: Doctors Colony, Saroornagar, Telangana, Hyderabad
[sc:mediad]
Her Facebook page says she is open all day!
4. Anil Mehendi Art
One of the leading bridal mehndi design artists in the country, Anil and his group have been trained and are from Rajasthan. However, this has not stopped them from taking their creativity and passion far and wide. They specialize in mehendi for all occasions including Bridal and baby shower as well as other local occasions. They do not have a store as such but they have a small counter outside Bikanervala where they take their orders.
Rates and Booking: They do not have a system of booking and you can just call them up for their services
Their minimum prices is Rs 50 for hands
For Bridal Mehndi– They charges Rs 1,500 to Rs 3,000 per head (depending on the style and level)
Address: Anil Mehandi Art
Bikanervala,Road No.1, Banjarahills, Hyderabad.
The above are some of the best Hyderabad mehendi designers, who can help you when you are planning your perfect wedding.