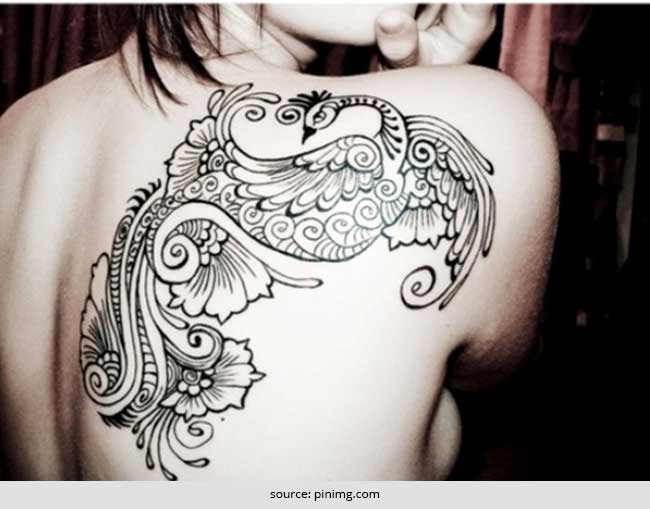 Animal motifs have always been an integral part of mehndi designs. These tribal patterns not only make the mehndi look beautiful, but they also add an Indian oddity to this timeless body art. While we have shared an array of mehndi designs earlier, in this post I offer you exclusively top 10 beautiful peacock mehndi designs for your inspiration. Do have a look!
Among all the animal motifs, peacock is the most beautiful design as it is attributed with beautiful blue and green feathers. The national bird of India is the epitome of grace and exquisiteness and therefore it makes the mehndi design look all the more beautiful and attractive. Not only Indian but even Arabic mehndi includes peacock motifs and not to mention even women in the west prefer peacock tattoo designs.
Let's go through top 10 beautiful peacock mehndi designs and stay inspired!
If you find it difficult to draw the outline of the bird, especially its face with its beak and eye, then here is an ultimate option. Peacock feathers are the most beautiful among all other feathers, and you can easily illustrate them just like the above image. This peacock feather mehndi design looks best on the back of the hand. You can give a try!
This is an ideal and simple mehndi design for beginners. While the outline of the bird is clearly illustrated, the inside pattern is also simple and easy to be adopted. Here is a quick tip – Instead of directly drawing the peacock motif with mehndi, you can first try the design on a paper to ensure you get it right on the hand.
Here is a contemporary version of the typical peacock mehndi, where the beautiful feathers are substituted by the dragon's tail, thereby making it more creative. It's beautiful and less complicated to give it a try.
If you prefer to give your style statement an edge then you can ask your friend who has a fair hand in art to create this simple mehndi design on your shoulder, especially when you have a party with a western dress code this peacock design will be the best to opt for.
[sc: mediad]
While there is no hard and fast rule that foot mehndi designs are only preserved for brides; we can apply mehndi on foot also for fun. For new age fashionista, here is a fabulous foot mehndi design flaunting a peacock feather. Apart from the feather, the anklet design in beads makes this foot mehndi design look all the more lifelike and attractive. For this you will have to wear capri or 3/4th trouser to flaunt your state-of-the-art.
Peacock motifs can be illustrated in different types, but usually there are two common types used in mehndi – a peacock flaunting its magnificent spread feathers and the other is a peacock with its feathers curled beneath it. Mehndi artists usually prefer curled peacock pattern that comes with a curved face followed by an oval body which is filled up with intricate designs.
Now here are some more intricate beautiful peacock mehndi designs for your reference, provided you have a fair hand I mehndi designing.
This peacock on your back looks like the perfect design to put on and flaunt while wearing a backless outfit. The beautiful modified incarnation is the much needed hype.
See how only the feathers of the peacock are designed to make the hand looking more mesmerizing than a bunch of real peacock feathers. This peacock feather mehendi design has more poise than you'd think.
This arabic peacock mehendi design has been woven into the peacock with such ease and we are loving every bit of it.
A simple peacock mehendi design for hands is this one, that replaces the usual circles and mangoes with a peacock on the hand. Rating in the top 10 mehendi designs of peacocks, it is a must try.
Hope you enjoyed these top 10 beautiful peacock mehndi designs!