Adorning our hands with mehndi designs or the practice of applying temporary henna tattoos is ancient body art. A paste made of crushed leaves of the Lawsonia inermis or the Henna plant is used to beautify different body parts in the form of exquisite designs. It enjoys a huge popularity in the Indian subcontinent, Middle East, and some parts of Africa too!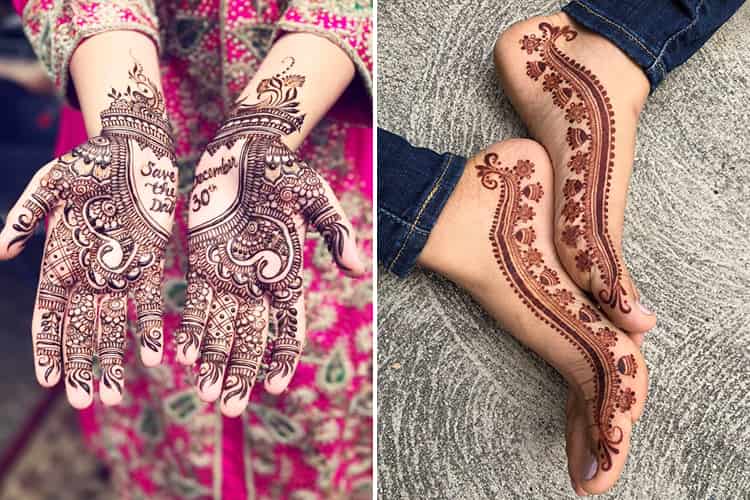 The importance of mehndi designs cannot be ruled out in the Indian context. No celebration or occasion is complete without adorning your palms with some beautiful mehndi designs comprising of roses, peacocks, names or alphabets.
The art of mehndi allows you to experiment with your creativity and then the fun is never-ending. The excitement continues long after the mehndi has been applied. Excited to know about some super hot, interesting and intricate mehendi designs that are topping the popularity charts this year? Read on!
Here Is The List Of Trendy Mehndi Designs:
There is never an end to beauty and craftsmanship when it comes to mehndi designs. The unlimited options will definitely make you keep asking for more. So, come closer to your screen to go through some trending mehndi designs of 2021 we have cherry-picked for you.
1. Desirable Designs For The Minimalist Diva:
If you believe that beauty lies in simplicity. Then these mehandi designs are perfect for you. Neat and clean lines, a bit of shading and cable work and everyone is going to admire you.
Don't you wish you had an actual version of the flowers in the mehndi design in your house – something you could feel lovingly? Aww…how romantic!
A bit of jaali work around the wrist and a huge flower pattern sitting pretty on the back of the hand is enough to show how beautiful a woman's hand can look. Agree?
Elegance is written all over this mehndi design. The use of glitter makes this henna pattern look all the more fun and glamorous.
2. Exotic Designs Inspired From The Arabian Nights:
These exotic henna designs can trace their origin to the Middle East as they are distinctly different from our desi designs. While our traditional mehndi designs adorn the whole hand including the palms and wrists, these Arabic ones focus on the palms only and are less elaborate.
Though the Arabic style is simple, it consumes less of henna and dries up faster. One more thing – vines and dots are an integral feature of these designs, which makes the mehendi all the more mesmerizing.
This exquisite design features a beautiful paisley pattern running from the opposite side of the elbow right until the first finger.
This lovely design running in a diagonal vine-like pattern on the first finger of both the hands conveys balance and fair play. What say?
Doesn't this intricate mehndi pattern remind you of a hand-crafted embroidery work on a bed sheet or cushion? Truly par excellence!
3. Romantic Designs For A Dream Bride:
In spite of the best jewelry and attire, no Dulhan can look gorgeous on her D-day without the best of mehndi on her hands and feet. It is a matter of culture and heritage, you see.
When the mehndi on a bride's two hands says "I won't give up on you", "So don't give up on me" it is the most lovey-dovey message etched on bridal hands. Complemented by a couple shot in the center of the palm, and a palki with the bride in it and a rath with the groom in it etched on the inside of the elbow, the mehndi design is nothing short of a fairytale wedding.
Mehndi Mubarak to the bride, of course! Paisley motifs, a web of intricate designs woven like magic right until the elbows and half legs of the bride are proof of the fact that mehndi can be a moony affair.
[sc:mediad]
We never knew saying 'I Do' will look so ravishing when written in the form of a mehndi design. With rhomboid-shaped jaali mehndi work on the hands and fine intricate workmanship decorating the mid-elbow, are bangles (either glass or gold) needed at all?
4. Traditional Designs For The Indian At Heart:
From being nature-centric to serving an ode to history, there are so many ways in which you can associate mehendi with the fine things in life.
There is not an iota of doubt that Taj Mahal is the most beautiful and timeless symbols of love. When created in the form of henna designs, what you get is a phenomenal impact.
This bewitching design replete with 'phool patti' motifs running diagonally across the index finger accompanied by a thick band of jaali work across the wrist symbolizes marital harmony and prosperity.
Two birds cuckooing on one hand and two flowers on the other tell a tale of nature represented in a beautiful ambi design and surrounded by lovely floral patterns, lines, dots and jaali work.
5. Designs To Make Him Ask For Your Hand:
Time to reprint the beauty of nature on your hands and arms via mehndi design. He will not be able to take his eyes off you if you wear the designs shown here.
Mehndi on hands can be as simple as a delicate floral pattern in the center of the palm. Not important to dress up your hands all over with mehandi.
Floral outlines, a little bit of jaali work and swirly patterns on the fingers are a nice mehndi design to wear to your workplace to social gatherings.
This henna design will surely woo you. A birdcage on one hand and three free birds on the other surrounded by a leaf-like pattern. Takes you one notch closer to the beauty of nature.
6. Designs To Have The World At Your Finger Tips:
Let fingers do the talking when it comes to expressing your creativity with mehndi designs. For ladies who want to keep the attention hooked only to their dainty fingers, this one is for you.
What is impressive about this mehndi design is that it draws the world of attention to your delicate fingers. It looks like a jewelry pattern running across each finger. It's time to give your boring rings some rest now.
This exotic mehendi design will make you revisit the age of Cleopatra! Seems so regal. Look at the two artistic clusters linked on the back of the hand through cable-patterned lines, going all the way up to the index and ring finger.
This is sheer poetry – with mehndi pattern only on the fingers and the thumb, not all over the hand.
7. Mehendi For Happy Feet:
Just as our arms and hands, even our legs steal the show with some stunning mehndi styles. Make sure your footwear matches your mehndi style for legs.
Do you still need "payal" on your feet when this mehndi pattern give your feet a designer makeover? Your feet will definitely transform into a show-stopper!
Is it some 'imarat' design or extensive embroidery on a fabric? Whatever be the case, this mehndi design is very neat, striking, and extravagant.
This mehndi sketch on the legs revolves around a bird (saw the beak?). An ornamental bird can definitely make your feet ultra pretty and super happy.
8. Designs To Etch Your Beloved's Name In Style:
Now, this particular trick helps you customize the mehendi design and make that someone special feel extra "special". Oh yes, this is a great way of adding romance to the traditional body art. Let's check out a few examples.
[sc:mediad]
Words convey a lot, even if there are just two. Like for instance, this mehndi design. Either A is the initial of the bride and T is of the groom or vice-versa – but look at the heart-to-heart bonding of these two alphabets.
No prizes for guessing who the bride is, and who is the groom in the mehndi design shown below. This mehendi design is perfect for you if you are having a fairytale wedding. It is creative and priceless.
The message is clear "Save the Date". Are you going to the wedding? Haha, we are just kidding. But no harm in gate-crashing. That way, you can see the bride and this absolute creative rendition of mehndi on her hands.
9. Adorable Designs For The Delicate Darlings:
Today's kids have other things to keep them hooked – not just Pokemon and Popeye, but cool-looking and pretty mehndi designs as well. Check out how.
What are these two lovely-looking birds doing here? Telling the kids to love nature, and feed birds. The leaf-like pattern as a wristband will make the little one wearing this mehndi design become a head-turner so early in life.
Ooh my my…how to draw flowers is amply shown here. Three big ones and the rest are miniature ones to adorn your little one's delicate hands. So when your pretty daughter is ready in her polka frock and booties, let her hands also look no less than that of a princess.
This is a nice floral pattern in vine form for your cutie pie. A tip – get this mehndi design done on only one hand of hers, not both.
10. Magnificent Designs To Feel As Proud As A Peacock:
Hey, peacocks are not just to be admired in parks, but also in awe-inspiring mehendi designs. Which is why getting a peacock mehndi done should be your top agenda.
This is a lovely presentation of a peacock. It's breathtakingly beautiful. The foliage, the feathers, the vine, the bootis are a celebration of nature in full bloom.
Love peacock feathers? This mehndi design will fulfill your desire to get as close to a peacock through this truly artistic wonder. Wear a diamond rock on one of the fingers and let your hands steal the show.
This mehndi design shows a peacock in its full glory. Hats off to the mehndi artist to have beautifully captured a peacock's beauty and regal elegance in its splendor!
11. Hottest Designs That You Must Wear This Year:
It is the season of flowers – big ones, really big ones, small ones, medium ones. Take your pick and the mehndi design will be your floral dream come true.
Never knew how charming flowers can be. It is like revisiting the Mughal Garden. Take a look at the pic below and you will know how enchanting floral motifs can be.
Don't keep your feet on the ground, because they are too pretty. Or else how will you show the whole world your flower power?
Rose Mehndi? Wow. With a bunch of roses making a mehndi pattern in contrasting colors, see how good they look when worn with modern outfits.
Preparing for a sangeet? Get this mehndi design done and you will be ready to rock the dance floor.
With foliage running across the wrist to the thumb, one thing is for sure – there is never an end to beauty and its expressions. Be a cynosure of all eyes by wearing this design on your hand.
Simple Tips To Make Your Mehndi Steal The Show:
Ask any lady keen on getting mehndi on her hands and feet and she wants the color to be the darkest. Here are some valuable tips for first-timers:
Leave henna on your hands/feet for a longer period to get a deeper color. Allowing mehandi to dry for 7-8 hours is ideal but if you can keep it on for 12 hours, nothing like it.
Never wash your mehndi with water. Just scrape it off by rubbing your palms together.
Apply a mixture of lemon juice and sugar on your mehndi frequently to enhance its hue.
Heat a few cloves over a tawa and run your hands over the fumes coming out of it, but do it carefully. This also does its bit to darken the mehndi.
Check the expiry of a mehndi pack. Though an expired pack of henna does not pose any health hazard, the color may fade faster.
Have any queries on the mehndi application process? Read the last section below.
[sc:mediad]
FAQs:
Q. How long does henna last on hands?
A. Generally one to three weeks.
Q. What should be done to get a dark color of mehendi?
A. Apply a mix of lemon juice and sugar on the dry henna design. Also, avoid contact with water for a few hours after application.
Q. Does having dark skin come in the way of getting a good color of mehendi?
A. This is a misconception. Skin color has very little to do with the hue of the henna. Use the best henna pastes to get good results.
Q. What about mehndi application after-care?
A. Apply natural oils like coconut oil or olive oil on the henna stain. This will moisturize the skin area as long as the mehndi stain stays.
Q. Why mehendi gives a red color on hands and feet?
A. Mehendi has a strong pigment called Lawsone. Now, this has a tendency to temporarily stain our skin.
Q. How to remove henna?
A. Apply toothpaste on the henna stain, let it dry, then rub it gently and wash.
Hope you enjoyed reading this blog on the latest mehndi designs ruling 2018-19.
Write in and tell us your favorite designs from the above list. You can also share your mehndi ideas and tips with us. We would love to hear from you!