Mehndi designs are a popular favorite of women all over the world. The fact that one can draw their imagination on their palm makes it so desirable! The back hand mehndi designs come in both simple and intricate designs. But, most back hand designs start from wrist to index finger or middle finger.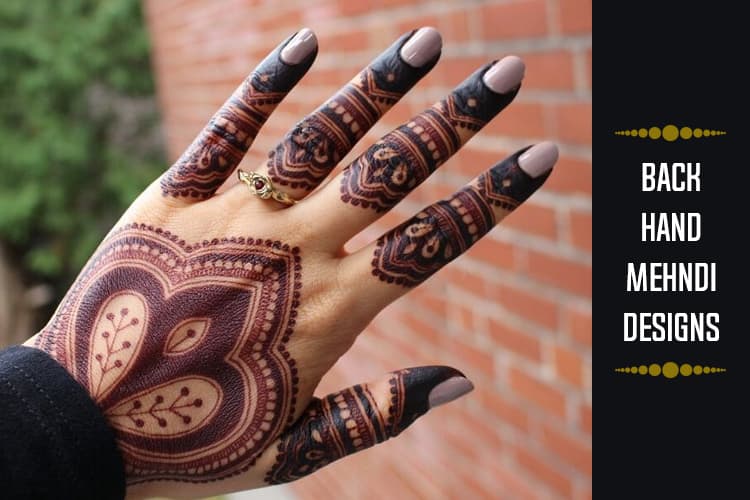 Here Is The List Of Back Hand Mehndi Designs:
Whether you are looking for a reference for a bridal occasion or simple inspiration for your next hand artwork, we've got a bunch of mehndi designs for you to try. So, let's check out our top seven back side mehndi designs and save these for the future. There is something for every mehndi lover out here!
1. Simple Back Hand Mehndi Designs:
The simple Arabic mehndi design is ideal for beginners. Some easy mehndi patterns are floral, spirals, globule works, and leaves. The floral back hand mehndi design is great for the upcoming festivals.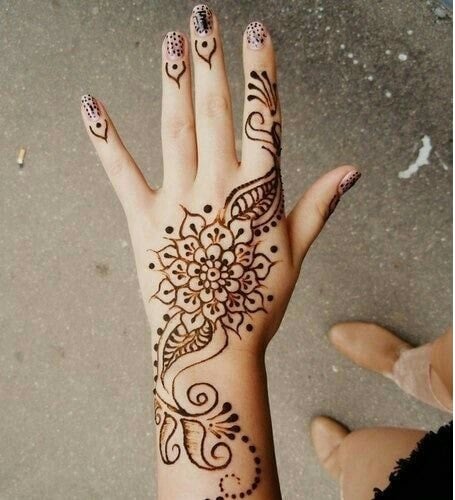 This is a perfect back hand mehndi design that you can try out for Ramadan. This design is ideal for children and adults, alike.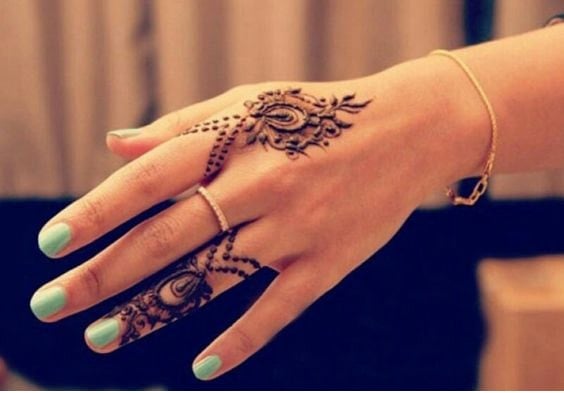 2. Full Back Hand Mehndi Designs:
This is an Arabic-style mehndi design which looks gorgeous on the back of the hand. The long curvy pattern starts from wrist to the tip of the middle finger and all the way to the wrist. The minute details look stunning!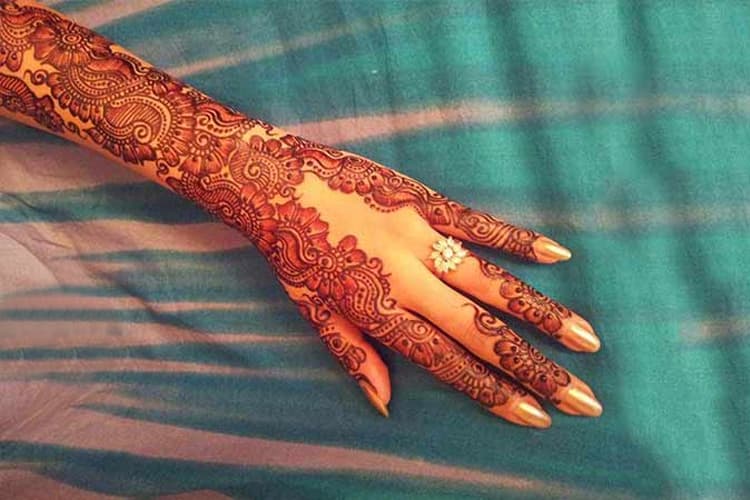 The mehndi designs of the back hand in the image below are intricate and appealing. And we cannot help but notice the netted-dotted pattern on the palms! This is a wonderful back hand mehndi design for all family functions and festivals.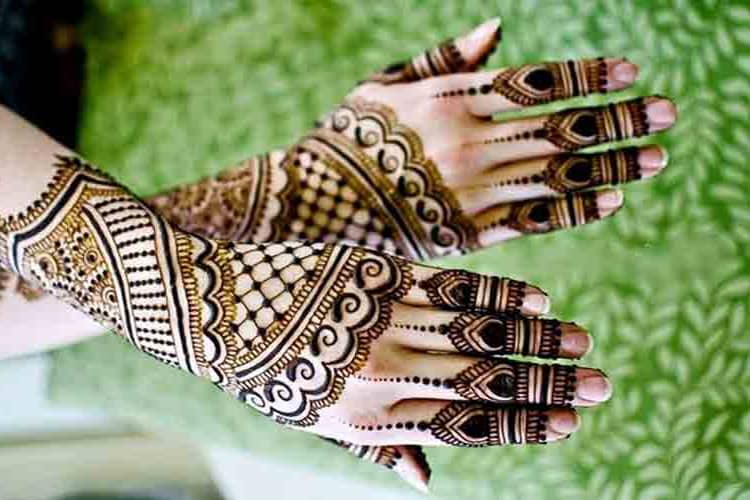 You wouldn't think twice before switching a traditional peacock motif for a cute crab. Instead of birds, try a henna butterfly split between two hands.
[ Also Read: Tikki Mehndi Designs ]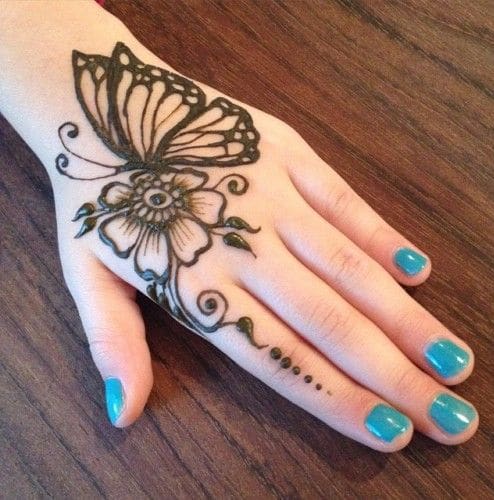 3. Latest Mehndi Designs For Back Hand:
This is another example of how mehndi design is an embellishment. This is quite a simple, yet intricate design! Lots of criss-cross designs along with small leafy designs used for decorating the fingers. This modern mehndi designs for back is ideal for small family functions.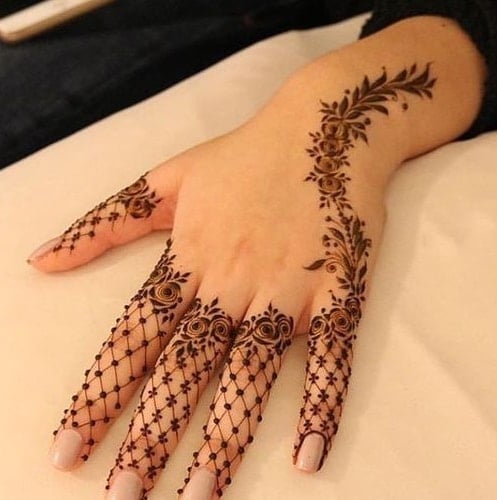 The mehndi design starts from the tip of the pinky finger and runs till the wrist area. This is quite a simple design, yet the end result is wow! Lots of leaf patterns and spirals are used to complete the look! The distinct black mehndi has added to the beauty of the mehndi design.
[ Also Read: Rose Mehndi Designs ]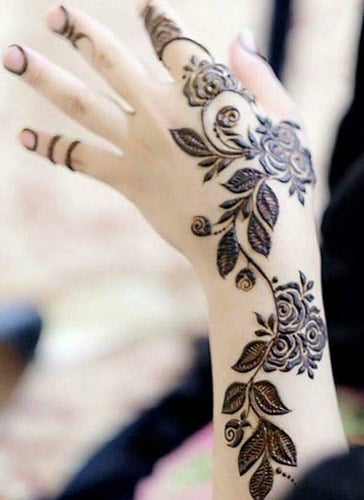 Instead of covering your entire back hand with mehndi design, try some only on the wrists to imitate a bracelet. This is ideal for the traditional Indian bride who can effortlessly slip into Western silhouettes without a sweat. They can work with such neat patterns.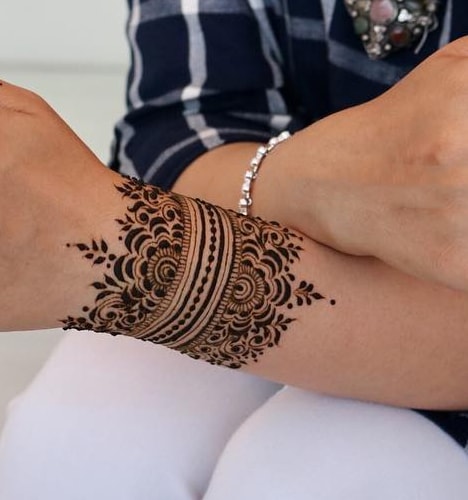 4. Easy Back Hand Mehndi Designs:
This easy mehndi design is glamorous. The big floral patterns are attention-grabbing. All the intricate detailing, like shapes and patterns, are something we would love to try right away! This is an ideal mehndi design you can try for weddings or other traditional functions.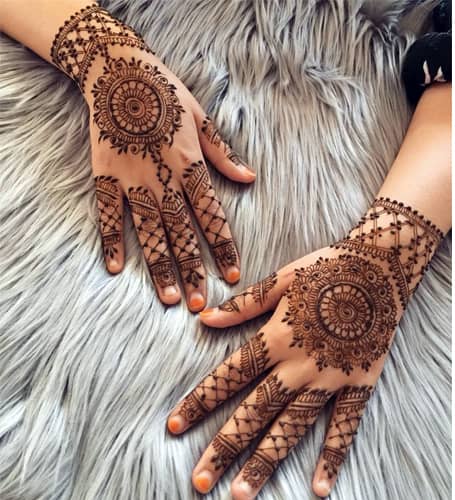 In an age of over-sharing, no hand accessories can get the job done quite like a back hand mehndi design. The beautiful designs with elaborate detailing in your mehndi become the center of attention. Better make sure your mehndi is paired with a sparkly ring.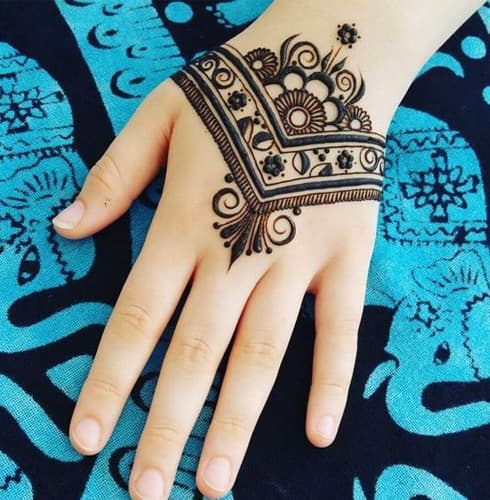 5. Arabic Back Hand Mehndi Designs:
Arabic mehndi style can never fail to impress us and there is no exception to that either! The back hand mehndi designs are gorgeous, yet neat.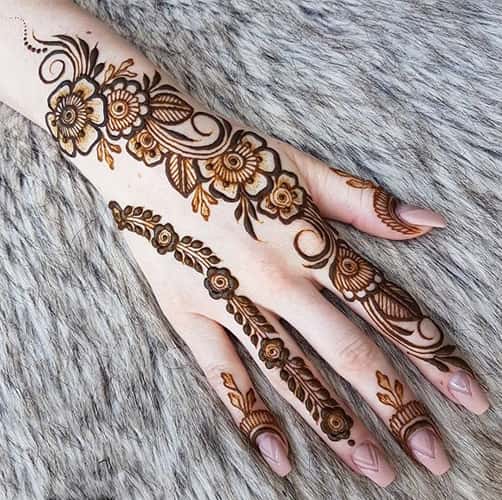 [ Also Read: Finger Mehndi Designs ]
Do you notice the thick outlines along the palms adding beauty to the design? More to it are the floral patterns along with creeper and leaf designs to complete the look!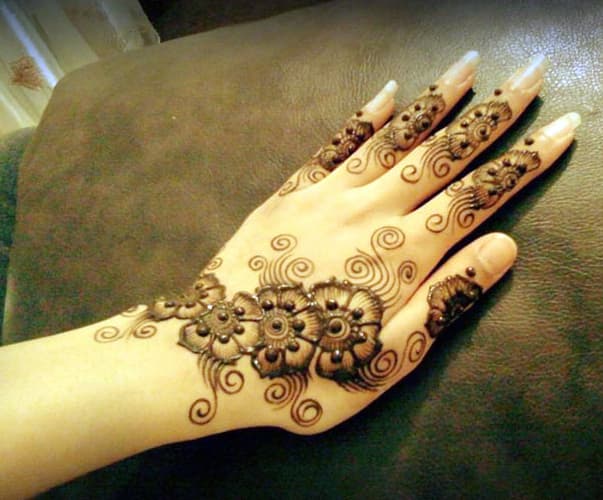 6. Beautiful Back Hand Mehndi Designs:
The beauty world is having an affair with back hand mehndi designs and no accessories can stop it. After seasons of complex mehndi designs dominating it, the pendulum is swinging back in favor of glitzy beautiful back hand mehndi designs. It is either bling or go home!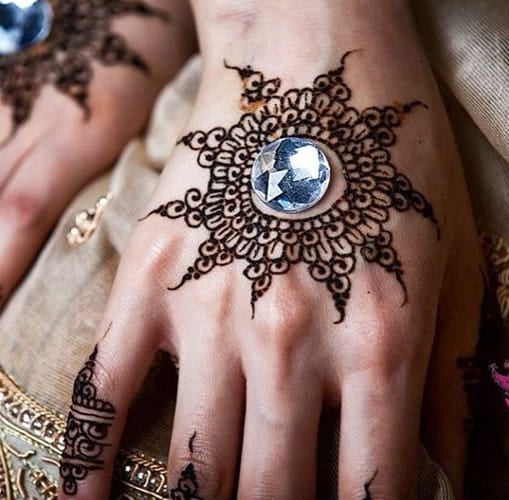 Beautiful back hand mehendi designs have emerged as a major ready-to-wear trend. But the idea of wearing mehndi designs on the back of your hands mustn't have to end on usual designs. Mehndi designers are rethinking the potential of classic designs for non-traditional designs.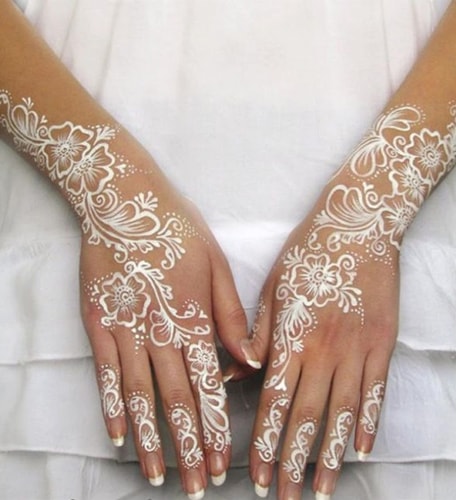 If you are pairing a pastel off-shoulder blouse with an ivory wedding ensemble, why not play up and adorn your shoulders with some white mehndi back hand designs? Or, you can choose to go completely bold and graphic to be in sync with your biker chic vibe. Excited much?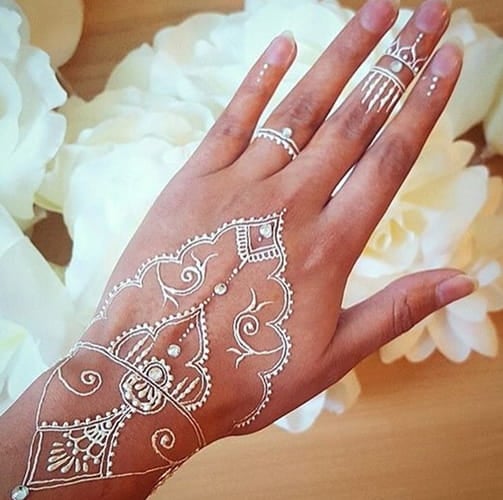 7. Red Mehndi Back Hand Design:
The red mehndi designs are larger than life and we have proof. Think back to the screen sirens of the 70s, all wrapped up in back hand red mehndi designs. All concealed behind their mehndi designs at their hands, and you have the season's go-to look.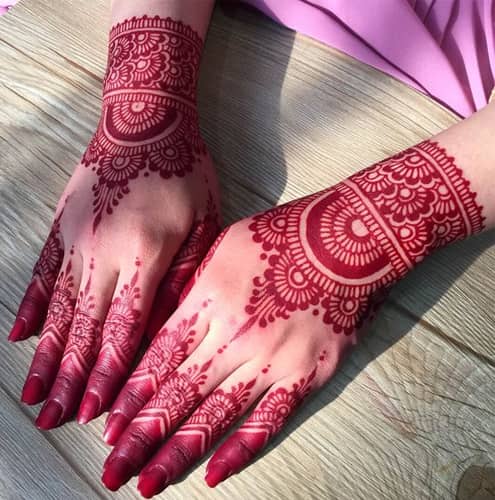 This mehndi design, where red mehndi has been used to create outlines are then filled with colors. The mehndi design has made use of large floral motifs and spiral works, making it an instant hit for weddings and festive occasions.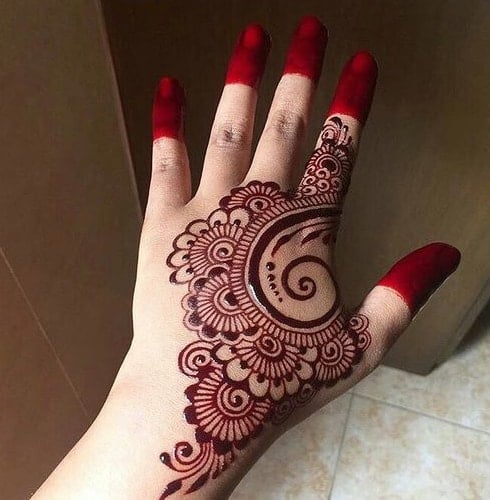 These are our list of awesome back hand mehndi designs. The designs look quite artistic, yet are easy to create! All the designs are ideal for both young and old.