There is something absolutely divine about mehndi designs, especially rubbing your palms to remove dried mehndi from your hands. Recently, with an increase in trends, girls are going the extra mile with finger mehndi designs, leaving enough space in between patterns. They live by the 'less is more' motto, eschewing the traditional Indian style.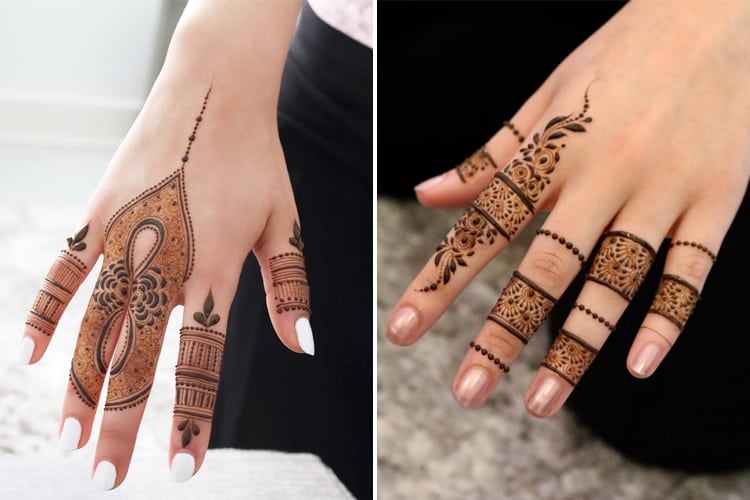 Here Is The List Of Finger Mehndi Designs:
Instead of using the intricate jaal on your palms, use it on your fingers alone. Or instead of trying multiple motifs, focus on just one intricate design. And if you crave to stand out, request your mehndi designer to go for new patterns and revel in the results of the mehndi design images below.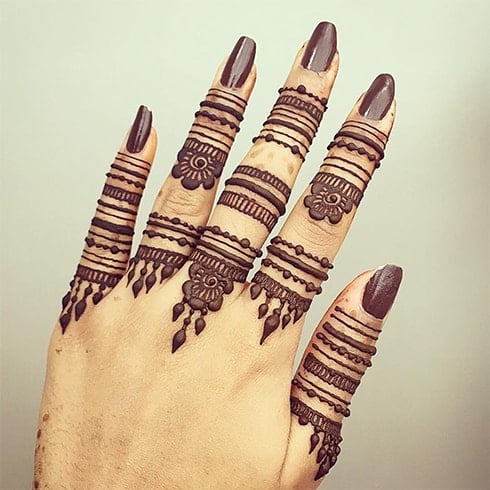 [Also Read: Top Rose Mehndi Designs]
1. Stylish Mehndi Designs For Fingers:
Mehndi designs for fingers involve less effort but makes a high impact. The image below indicates five rings or bands along the fingers with few lines. The mini patterns are filled using henna. Other designs like the circle, single line, and leaves on the ring finger are just as beautiful!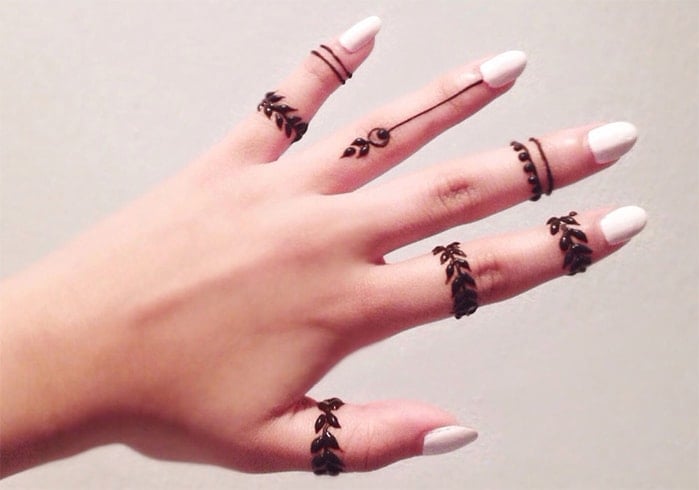 Move away from the rigidity of geometric patterns and immerse your fingers with floral mehndi designs.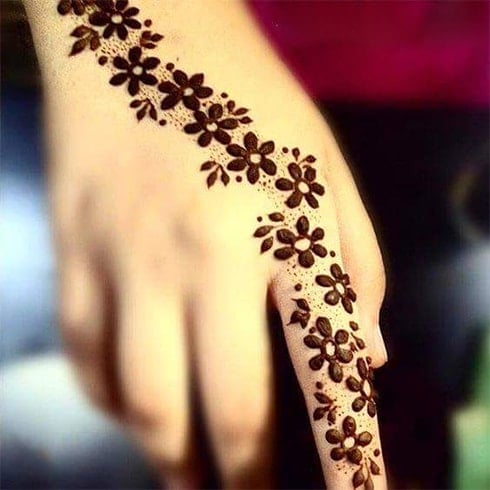 Think out of the box and create swirls and twirls of vintage roses and hearts. Elements of these love symbols can be etched on your fingers to embody your feelings. It doesn't get more personal and dreamier than this!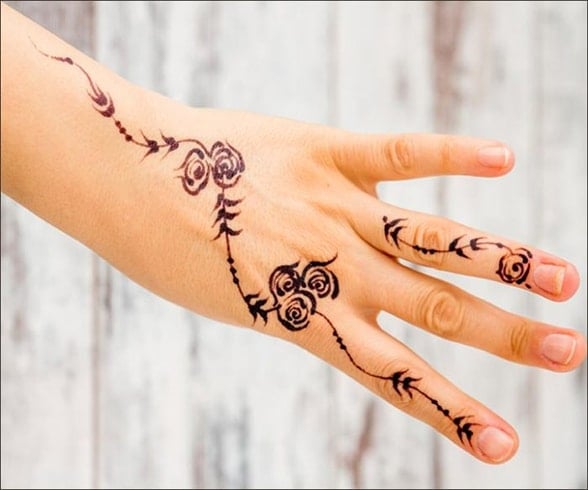 2. Easy Mehndi Designs For Fingers:
Decorate your fingers with this gorgeous henna finger designs. It features five leaves in different sizes on each side of the fingers. The smallest leaves are filled with henna while the rest has been left empty.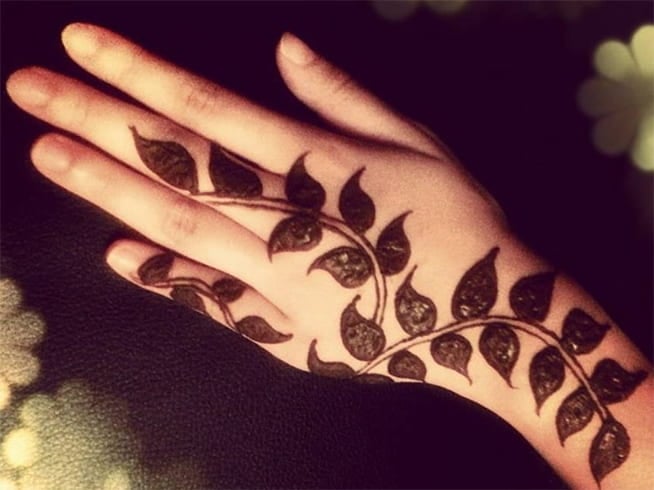 This is a perfect mehndi design for beginners who want to try their hand at something smooth and beautiful.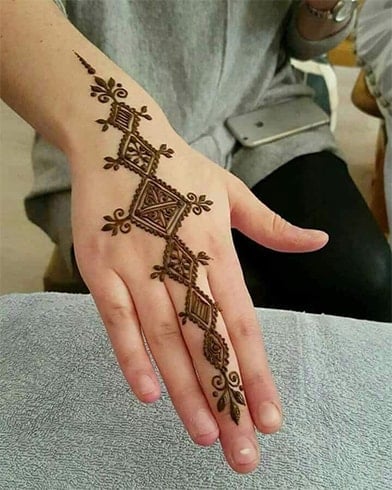 One can never really go wrong with ethnic themes of dhols, jaals, and peacocks. So do not mind waiting for additional few minutes for the pursuit of perfection. Go all the way for an intricate all-over pattern with no gaps.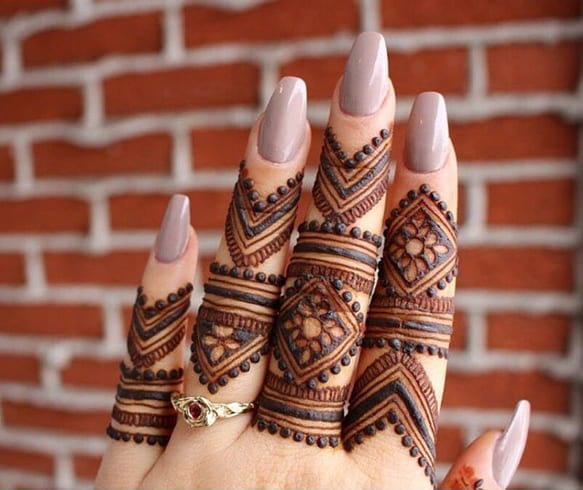 3. Simple Finger Mehndi Designs:
Simple finger mehndi designs can make your hands look attractive. The triangular pattern on the fingers is suitable to be applied on the back of the fingers.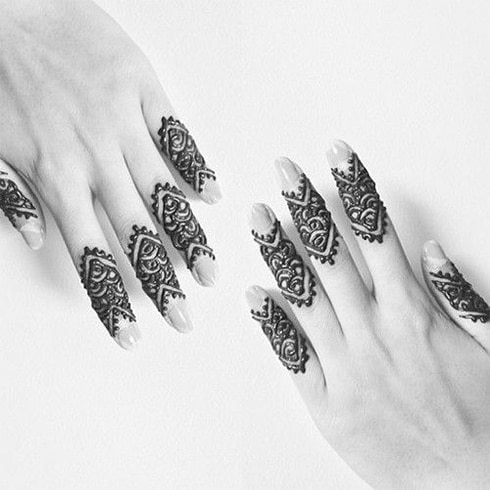 Do a simple finger mehndi design that mirrors your versatile personality. What if you can merge fluid floral vines and circles?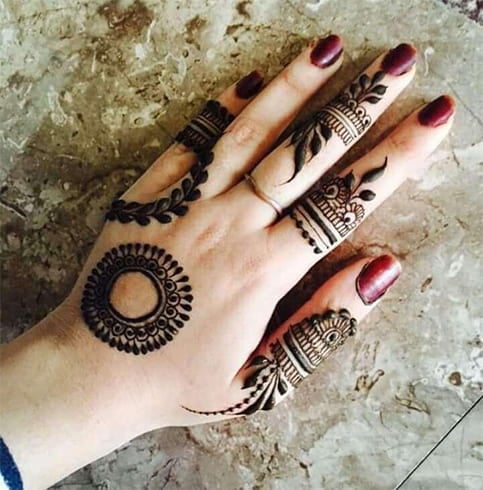 Try color blocking using shades like black and red to create a spectacular statement-making effect.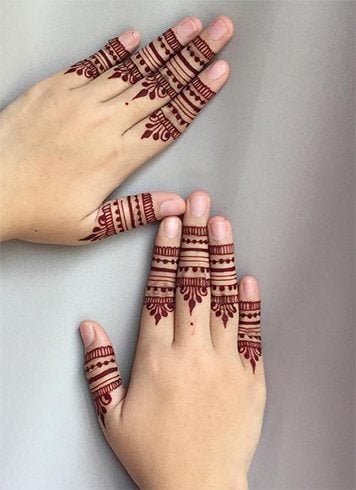 [sc:mediad]
4. Latest Finger Mehndi Designs:
A beautiful finger mehndi design like this one portrays the twin motifs in all its elegant glory. Wear this with your Indian traditional wear and bring your ensemble to life.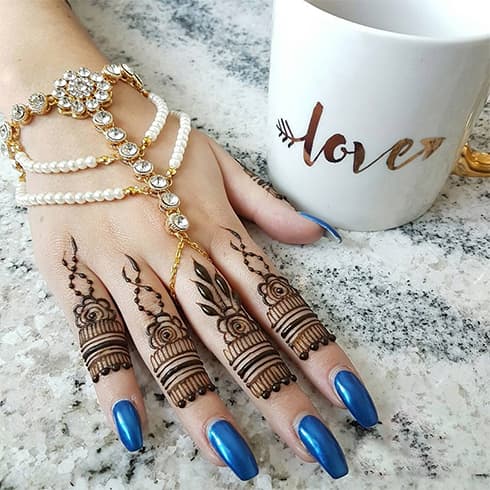 This latest finger mehndi designs set in intricate pattern perfectly capture the essence of romance. The design below is versatile and can bring any saree or lehenga to life.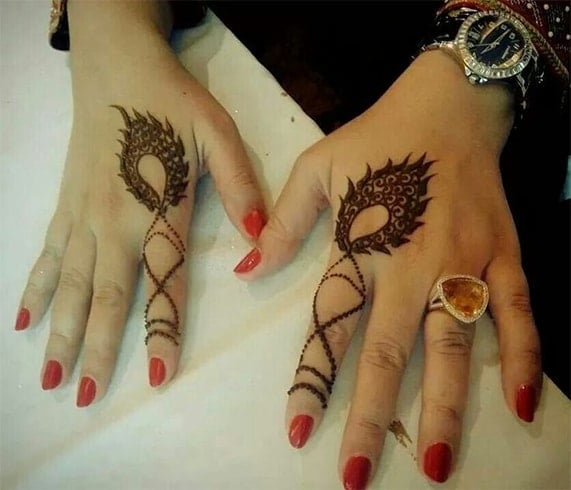 An intricate design with motifs will complement any scene-stealing ensemble you plan to wear during the wedding season this year. The beautiful design will add a touch of glamour to any exquisite saree.
5. Only Finger Mehndi Designs:
This pretty peacock-themed mehndi finger design captures the poise of the magnificent birds and is an exclusive design you must try. These designs are as traditional as they get and will complement a saree beautifully.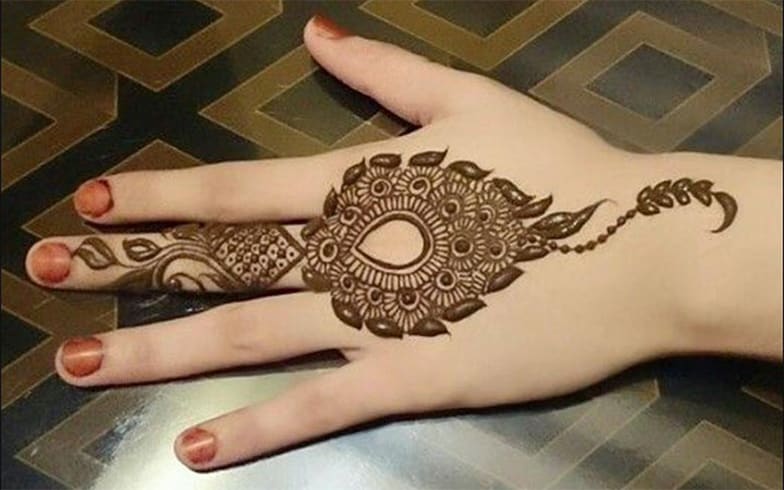 Is your mehndi design idea ever complete without a personal touch? Try a dreamy design like this one, which can easily influence your loved ones.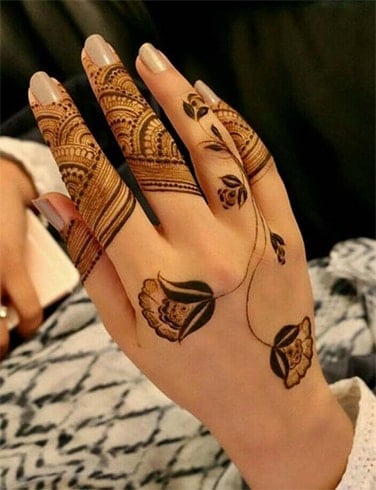 6. Special Finger Mehndi Designs:
The ethereal beauty of nature is captured masterfully in these classic mehndi designs. And even though these mehndi designs are common, you can mix and match and wear these with a fusion ensemble.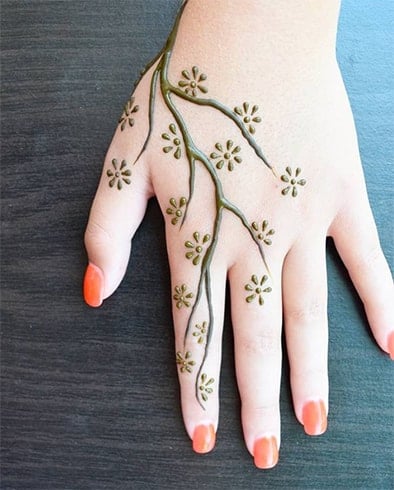 Simple line and cut come together in this finger mehndi design, making it a classic look that can be easily replicated. Simple and neat, this pattern should be worn with your favorite cocktail saree.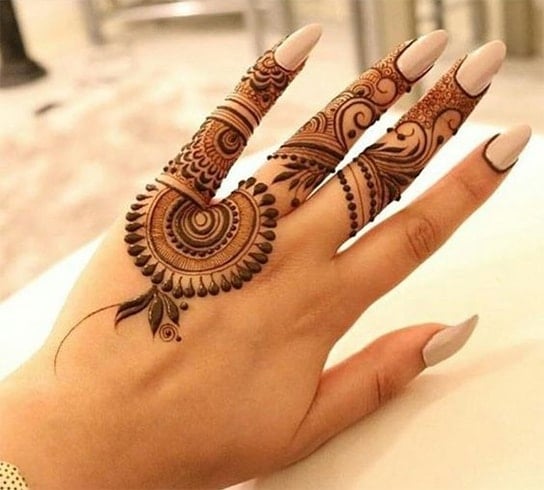 7. Finger Mehndi Designs Arabic:
Succumb to the charm of the Arabic mehndi design with a pair of exquisite hand chain work. Beautifully collaborated together, this exotic design will instantly transport you to another era. This design will add the touch of old-world charm to your Indian wear.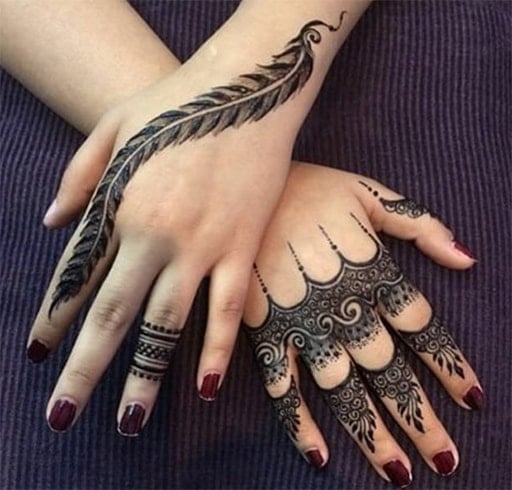 Bold, bright, and pretty, this Arabic hand design is filled with a gorgeous pattern. Unique and stylish with a fair dose of tradition, this mehndi design can be worn with just about any ensemble. Try this Arabic finger mehndi designs now.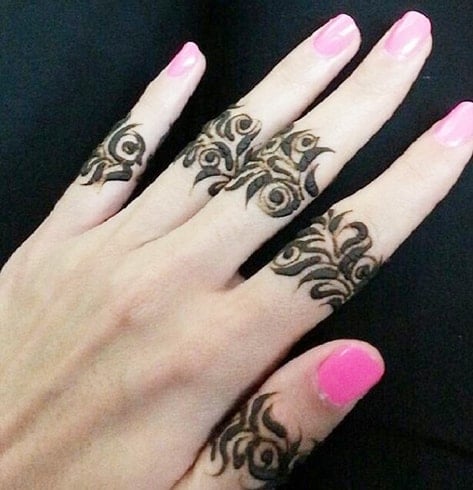 8. One Finger Mehndi Designs:
This is a finger mehndi design with a confluence of different designs, enriched by neat swirls and loops to give an immaculate look. This design is contemporary and versatile and perfect to wear with a lehenga or gown.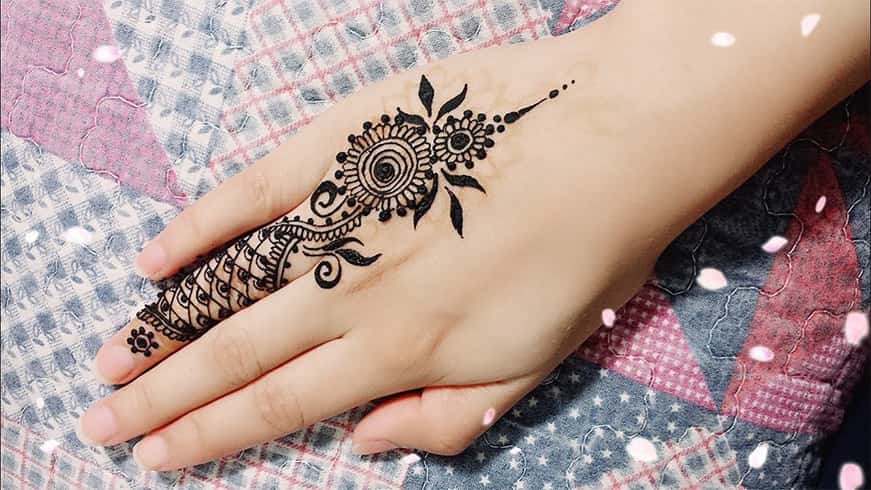 Try these cute and appealing mehndi designs on your fingers. You can apply a different pattern of the band on each of your fingers. Seen in the image is an extension of the finger design, extending all the way to the hands. For instant attraction, use shaded nail paint on your fingers.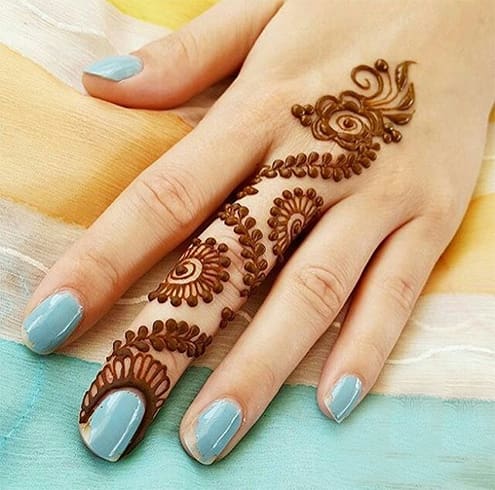 9. Indian Mehndi Designs For Fingers:
Modern brides who experiment with one statement jewellery piece, like an oversize diamond ring and statement mehndi design, make an outstanding bride. Since ethnic and traditional Indian bride look is back in fashion, these mehndi designs for fingers make a bold statement.
When it comes to mehndi designs, most still prefer the traditional look. The most popular trend is of classic designs using single colored gemstone. The ethnic design will give you a regal look.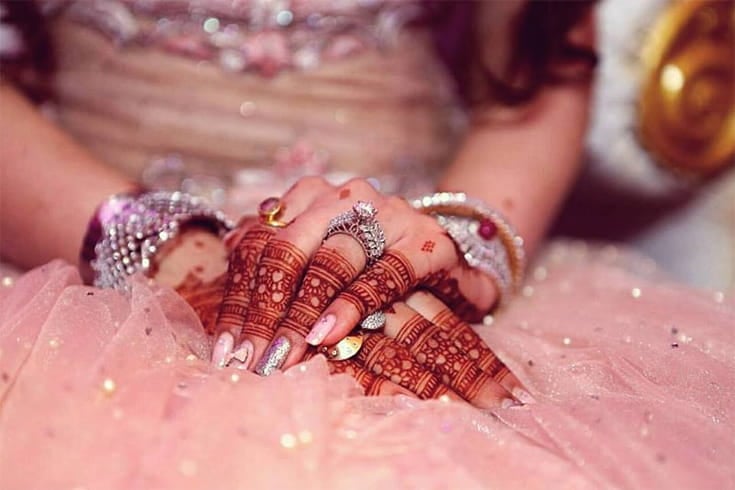 You can use a good quality cone and try all these mehndi designs for fingers today! You would not only love the look of your gorgeous hands but will also eventually fall in love with the art of applying mehndi.