With the festival season in full swing, what is there on your plate sweetie? Loads of blessings from your ma-in-law and good wishes and love from your dear husband! That's all? Is this a trick? No reason to feel sad sweetie pie as the auspicious day of Karwa Chauth not only gets you lovely gifts and presents (read diamonds, sarees, lehngas and gold jewellery), but the super fabulous karva chauth mehndi designs too.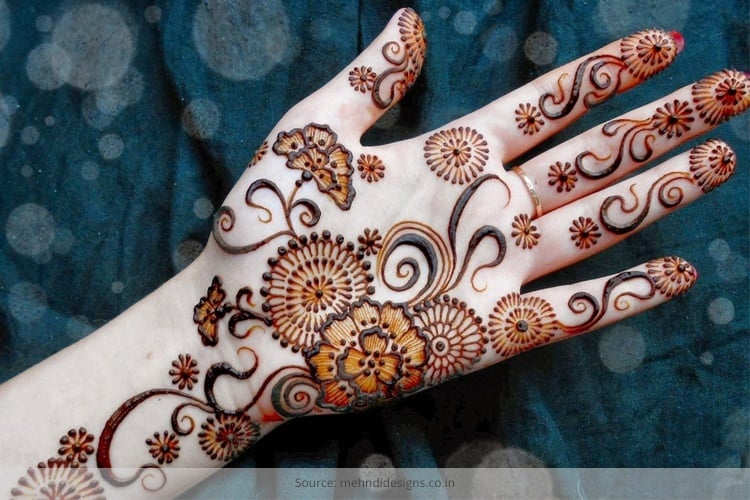 Feeling happy now? Well you have every reason too.
An integral part of celebrating Karwa Chauth is the endless range of karva chauth mehndi designs images. And they are not one, but multiple designs and patterns for the new age bride to the one of yesteryears.
Color is everywhere when it comes to celebrating Karva Chauth. And mehndi designs for karva chauth are such a traditional practice that no celebration of this day goes complete without dressing up and decorating hands and legs with beautiful mehndi designs.
[Also Read: Designer Sarees For Karva Chauth]
From intricate flower patterns to full mehndi design to hands and legs done up half, karva chauth special mehndi designs only get better and better by the day.
In fact, karwa chauth mehndi design is unique to various cultures whether it is Indian, Arabian, Pakistani, the works.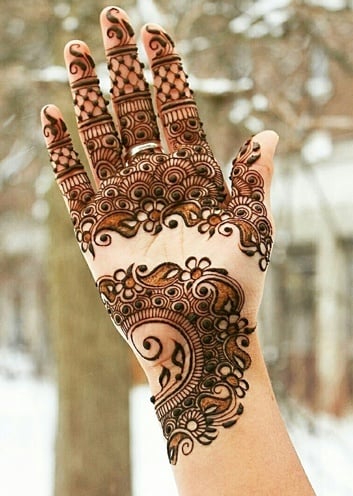 Arabic mehendi designs are quick to apply and since the designs are fatter, the color tends to stain the arms faster.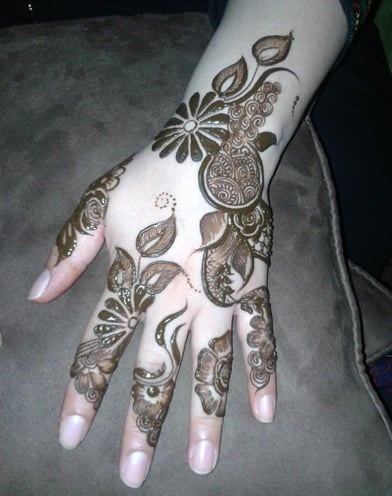 What Is Indian Mehndi All About?
Lace, leafy or thin floral patterns, karva chauth mehndi designs images go from the hand upto the mid of the arm and from toes to the leg calf. Here's a look-see at the traditional karwa chauth mehndi design that are racing up the popularity chart.
[Also Read: Bangle Mehndi Designs]
Festive yet Trendy
This mehendi design perfectly captures the ritual followed on the day. The depiction brings out the essence of the festival and makes it the ideal design.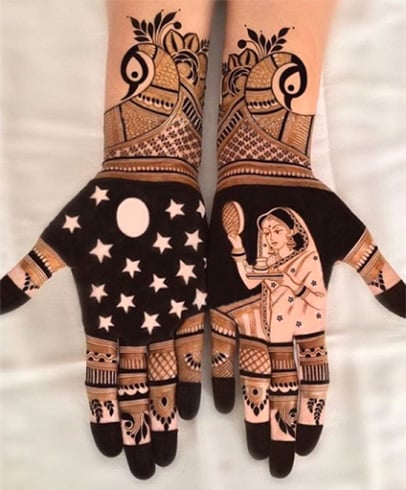 A lot of detailing and creativity would go into getting the perfect outline of this design, which again portrays the famous looking-at-the-moon routine.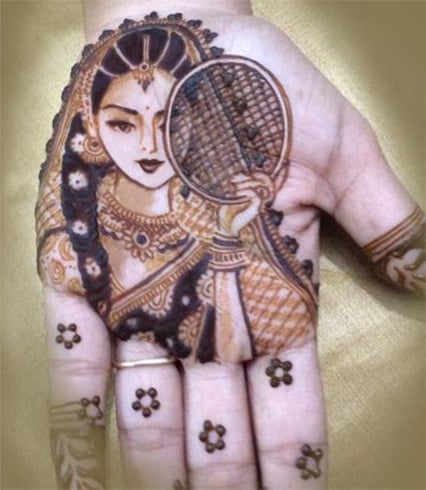 This beautiful design is an example of how the wife adores her man in every possible manner.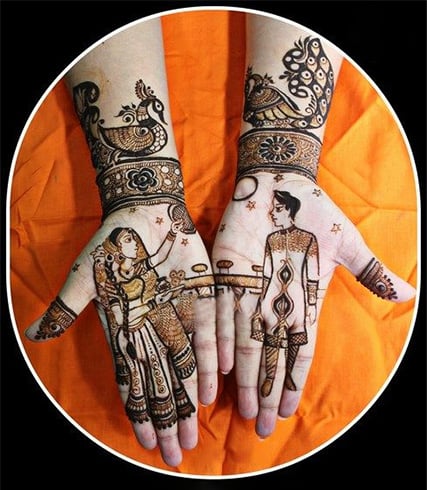 The most sought after design is a design that perfectly depicts what Karva Chauth is all about.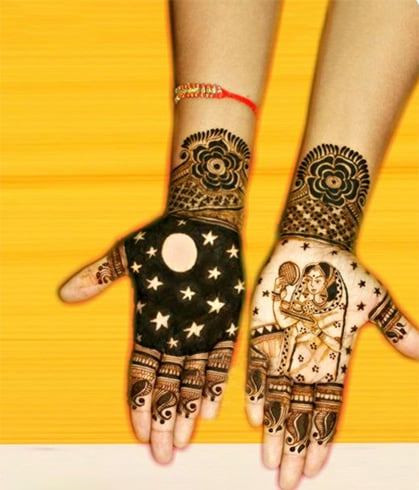 Put on this heavy mehendi design that weaves in all aspects of the main day into it.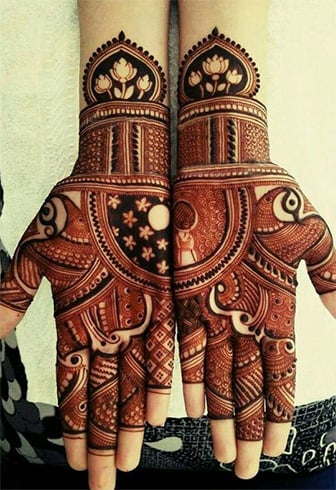 The light and love of your life sure deserves an artistic representation of himself on your hand.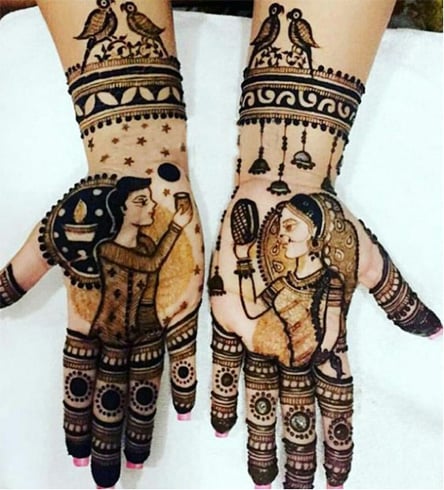 This beautiful design has so much oomph to it, due to the extensive designing apart from the festival design itself.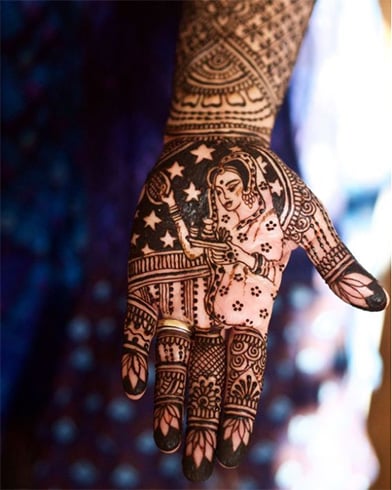 1. Simple Yet Sophisticated
Karva Chauth is an auspicious festival. This is one reason why married ladies and newly married ladies prefer to go to the traditional way in mehndi designs. Yes, full mehndi design is a rage in most ladies, particularly young married girls.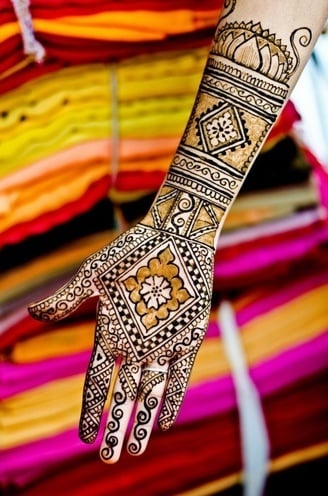 Geometrical mehendi designs with concentric rings filled with petals and flows are also a common design seen during festival occasions.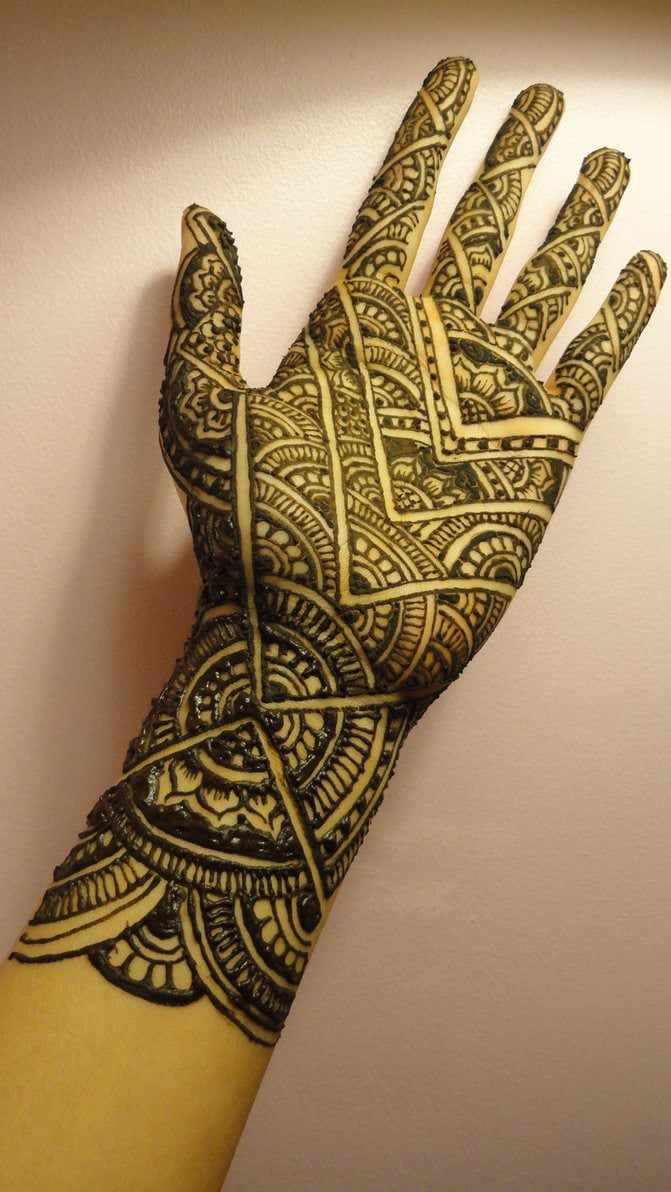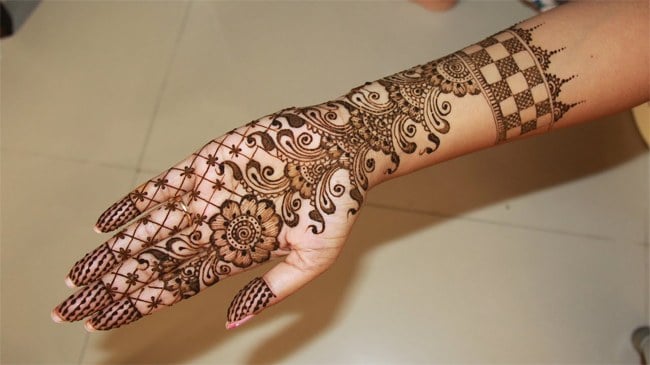 Even if the design is maintained and the same design is replicated on the entire hand, it will look beautiful.
[Also Read: Heart Shaped Mehndi Designs]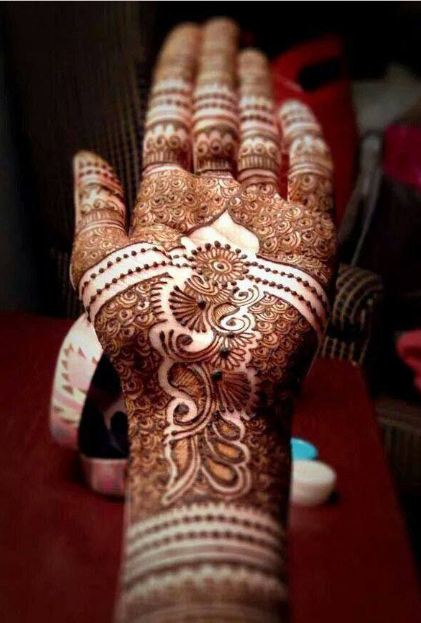 Swirls are the most common types of designs.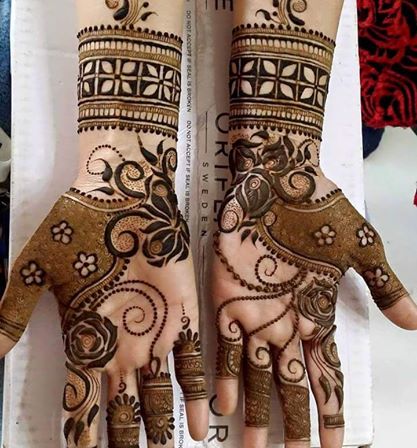 Rajasthani mehendi designs also are seen during Karwa chauth.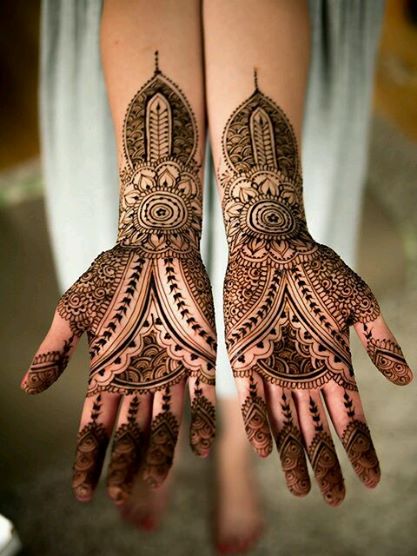 2. Intricate Yet Awesome
If it's your first Karva Chauth after your marriage, you gotta make it look stunning. Which is why, go for elaborate and beautiful mehndi designs that have more detail and depth than just simplicity.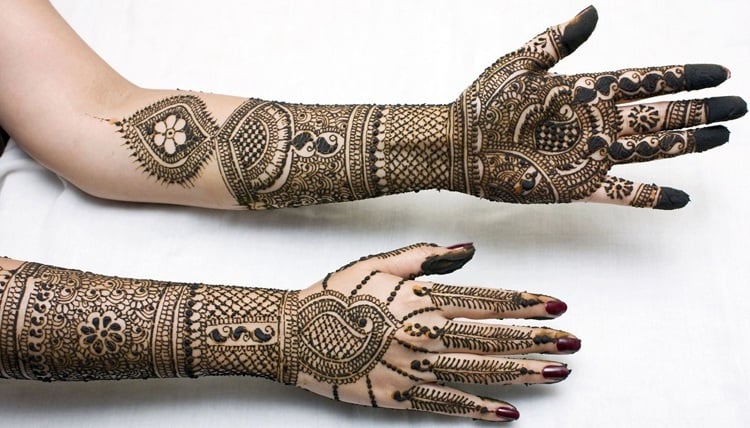 Hands full of mehendi look very pretty on anyone and everyone.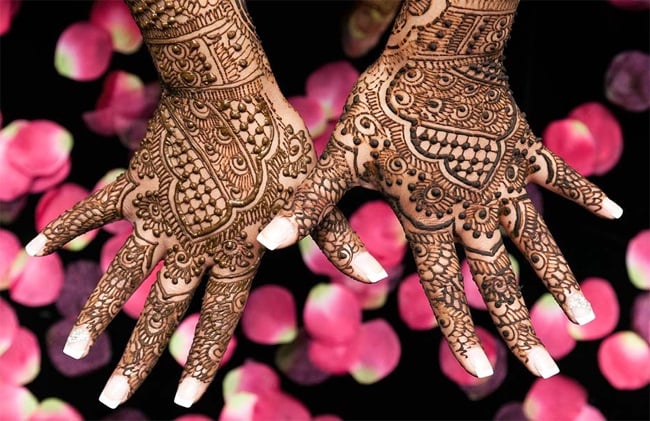 Lengthy mehendi designs on arms, even Arabic designs look wonderful.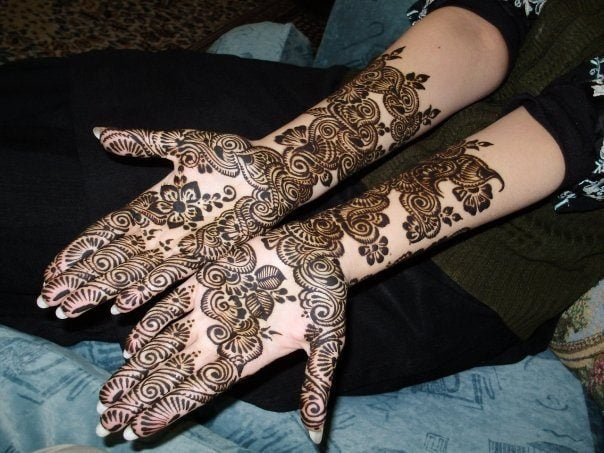 Couples depiction in the form of mehendi is mostly seen on new brides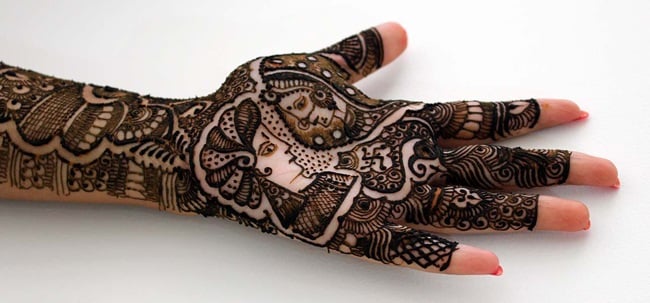 Couple mehendi designs with initials is also a common thing to see.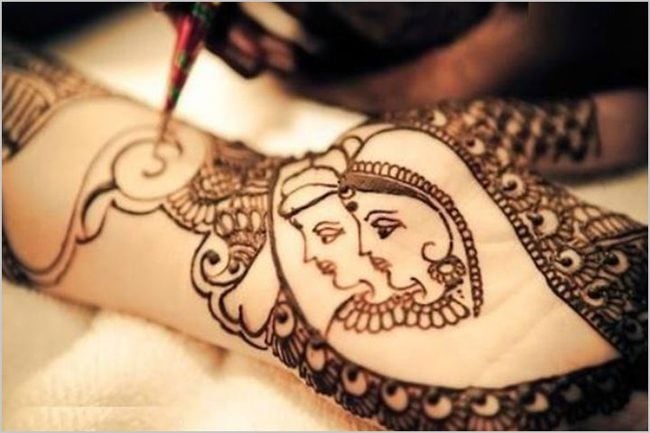 Those who love, take mehendi to a next level of intricacy.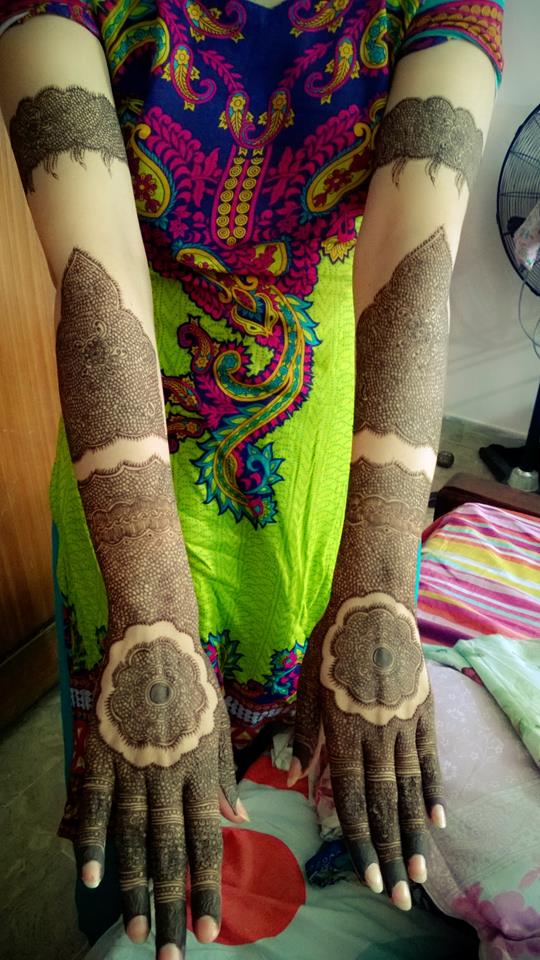 Lotus, brides, grooms are all part of the newly wed karwa chauth designs.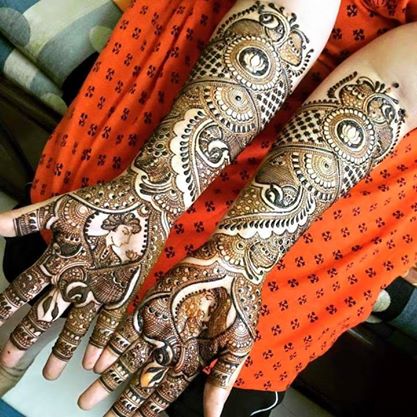 3. Gorgeous Hands And Feet
While getting karwa chauth mehndi design done, pay equal attention to your designer jewellery as well. The new fever is to sport beautiful floral-cum-leafy motifs with deserving jewellery too.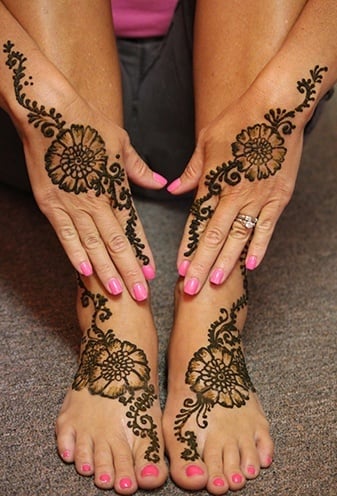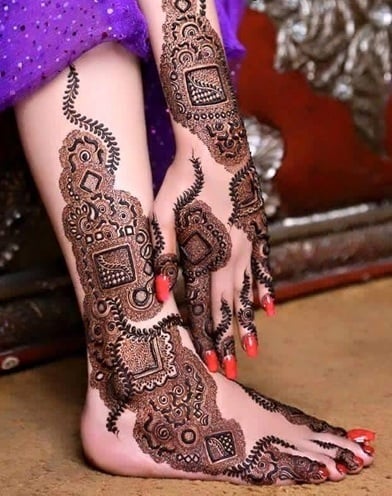 [Also Read: Bring out the Bride in You this Karva Chauth]
4. Two-in-One Mehndi
Got surprised by the name? This is a bridal mehndi which has geometrical designs, curves, circles, lines and squares.
All you need to do is split a design into two. Then draw one half of mehndi design on one hand and the other half in the other hand. When you bring both the hands close to each other in a joining pattern, what comes about is a complete karwa chauth mehndi design.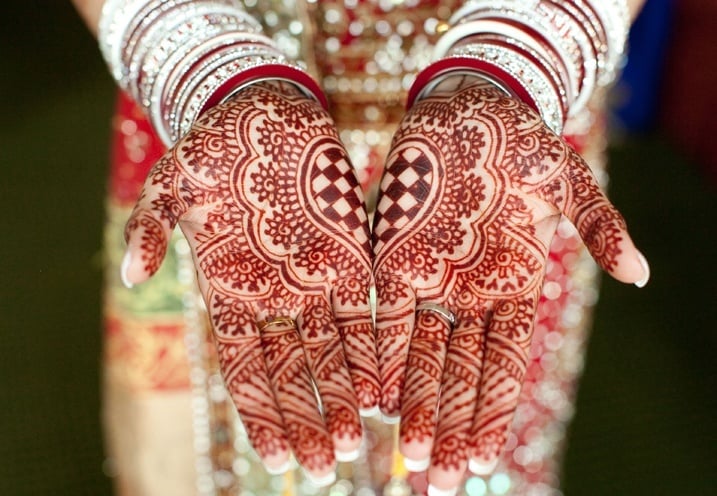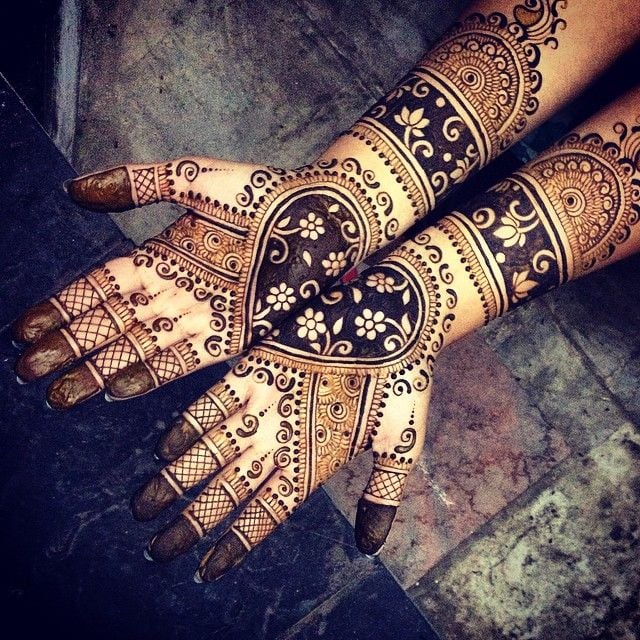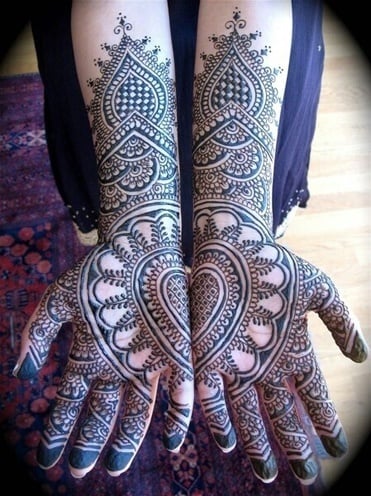 5. Half And Half Mehndi
This karwa chauth mehndi design is half empty, half full. It means half of your hands and palms are designed in mehndi, whereas the other half is left blank. A huge hit amongst the younger women, this design seeks inspiration from Arabic mehndi.
[sc:mediad]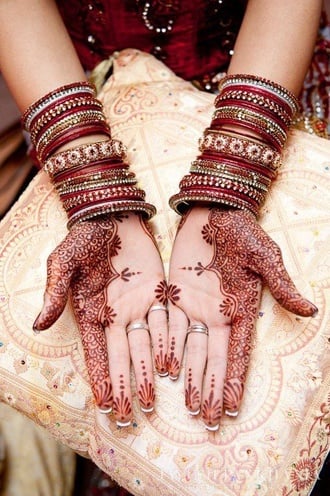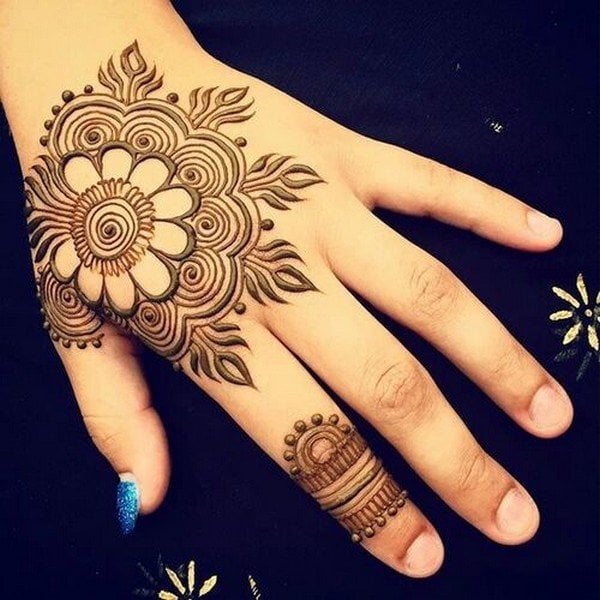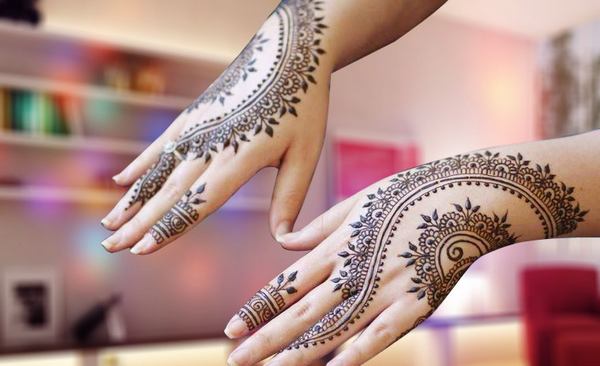 6. Palm Mehndi
Most of you are racing against time on this festival day of Karva Chauth. You can still get karva chauth mehndi designs images done up on your hands by drawing a palmful mehndi pattern. But make sure the lines are thick and dark so that despite being minimalistic, they stand out.
[Also Read: Types Of Mehndi Designs]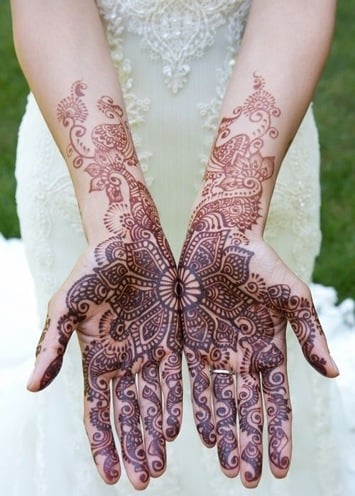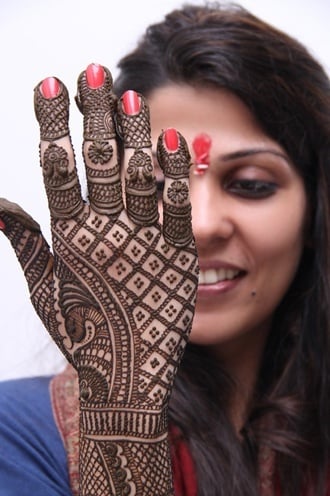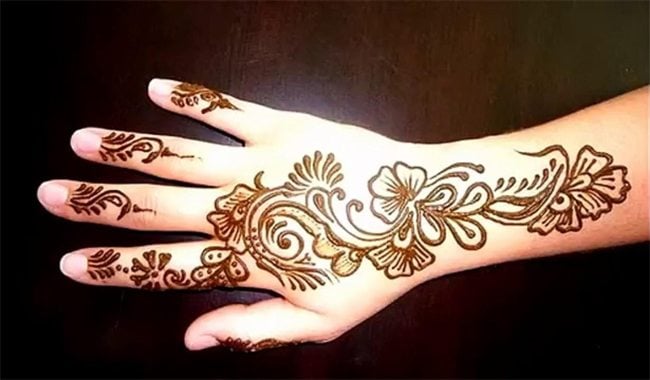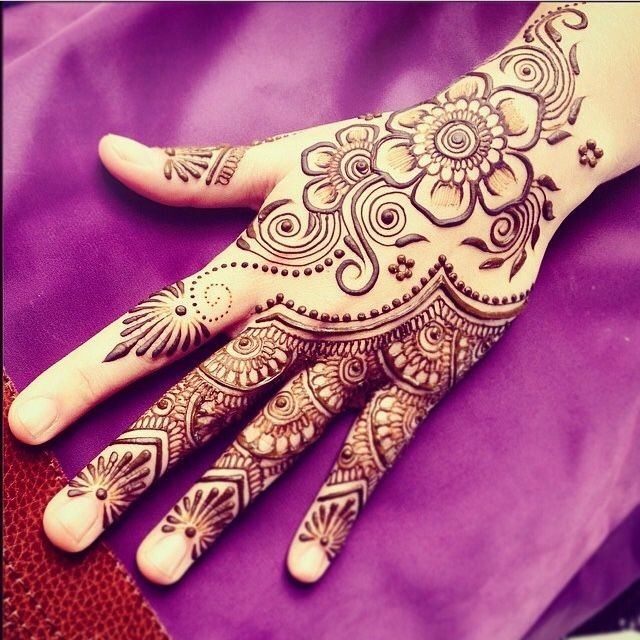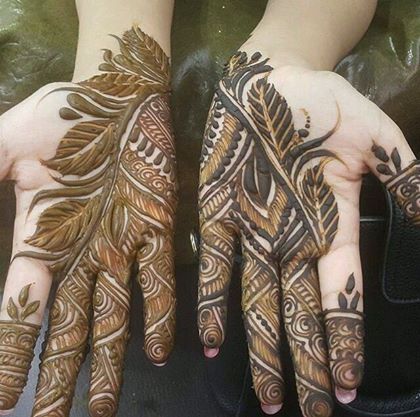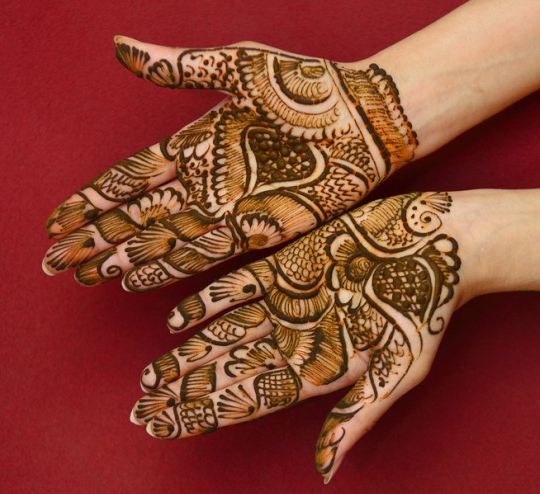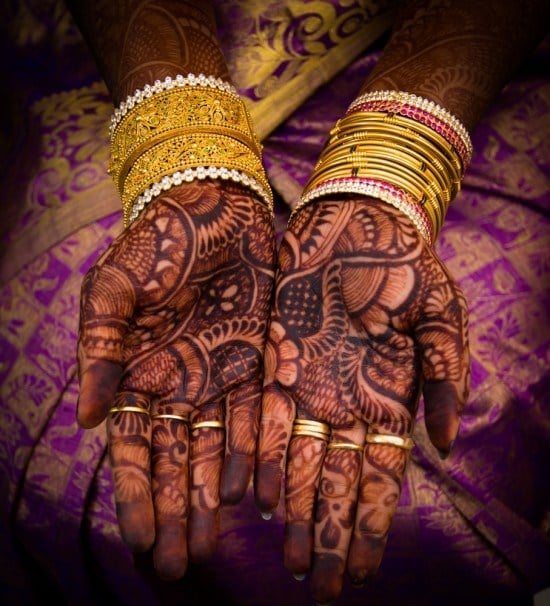 7. Mehndi Made Minimal
Sometimes even less pays rich dividends. Same is the case with mehndi designs done on Karva Chauth. Instead of drawing designs all over the hands and feet, it makes sense to go for a borderline mehndi running across the feet.
[Also Read: Marwari Mehndi Designs for Hands and Feet]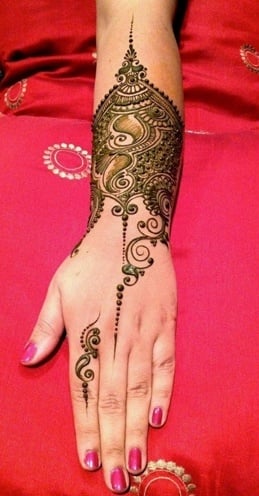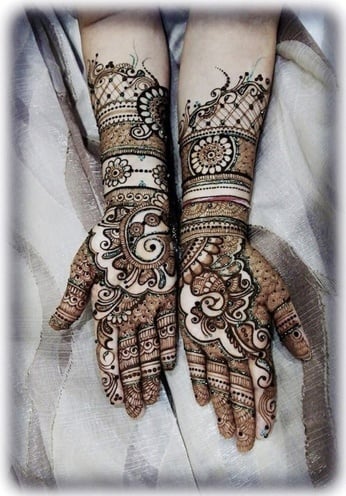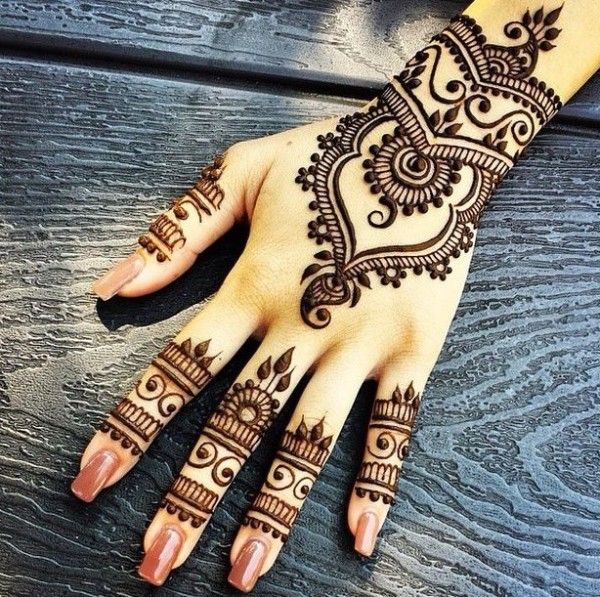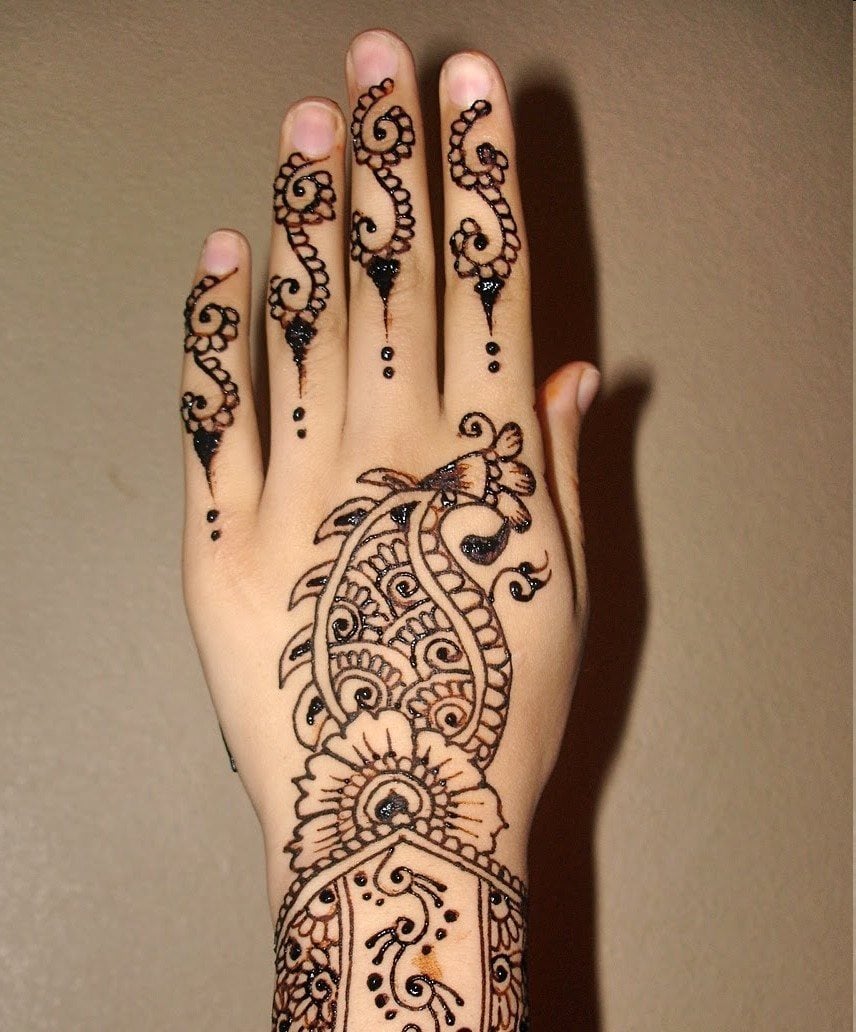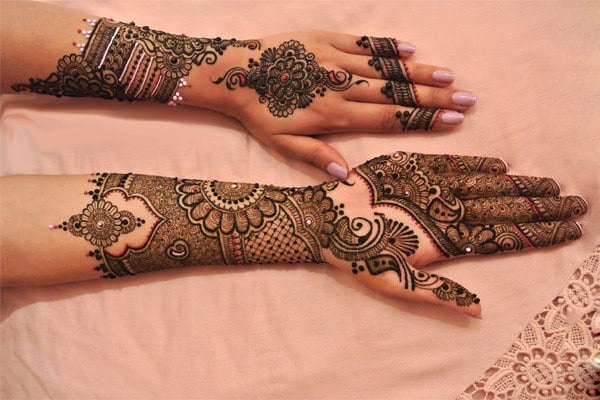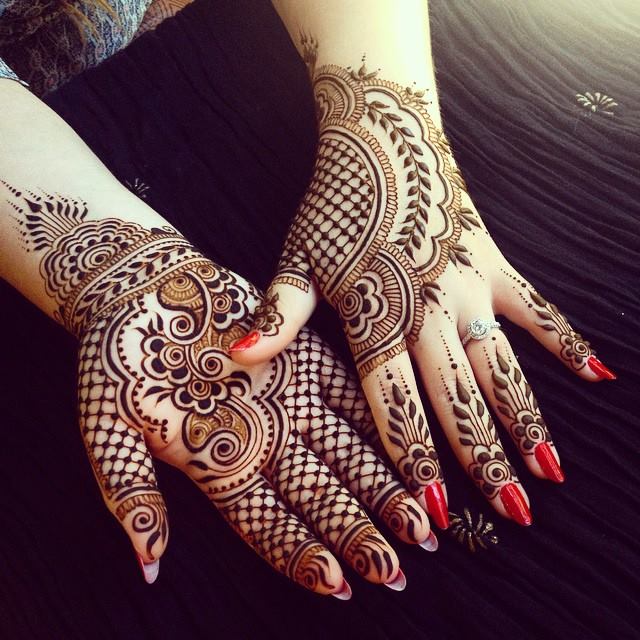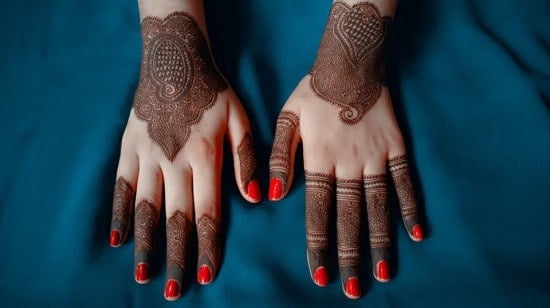 8. Ornamental Mehndi
When we talk about karva chauth special mehndi designs, we are referring to items such as crystals, beads and stones that can be added in order to make mehndi designs for karva chauth look sparkling and dazzling.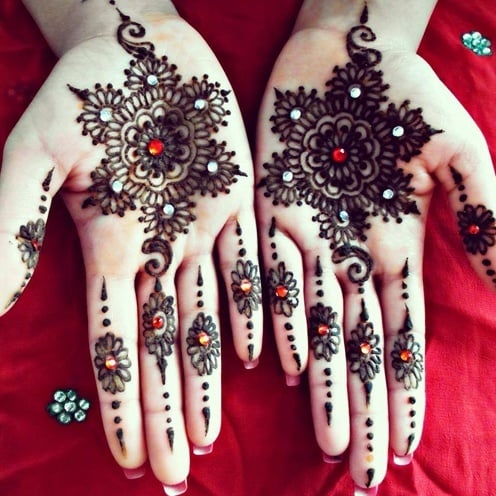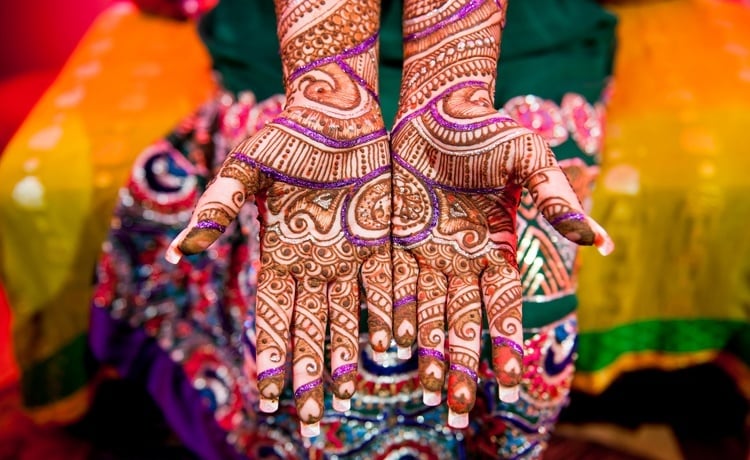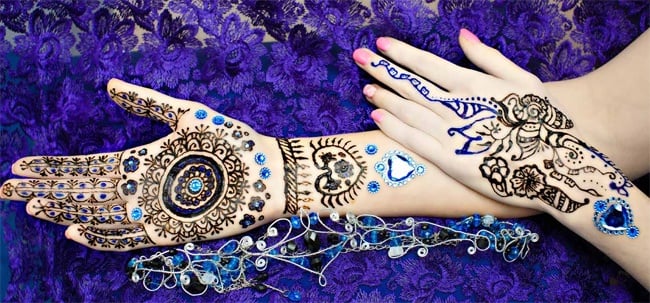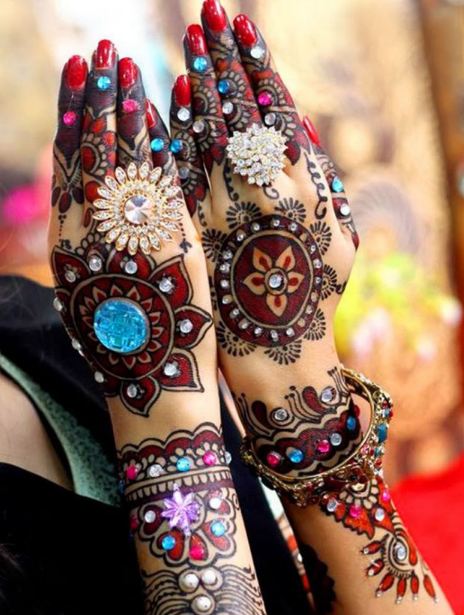 9. For Legs
It is not just the hands that have mehendi, mehendi designs for feet are also considered very auspicious. Married women are often expected to have beautiful mehendi on feet.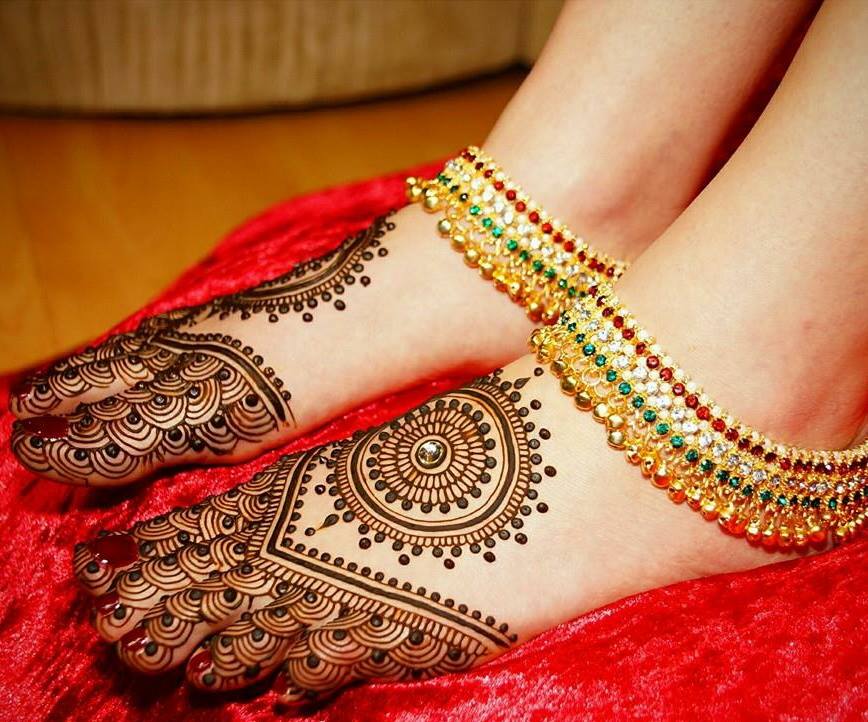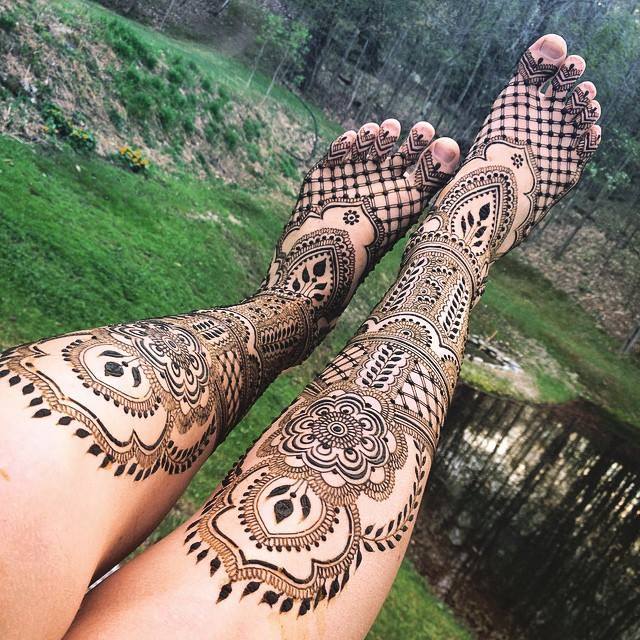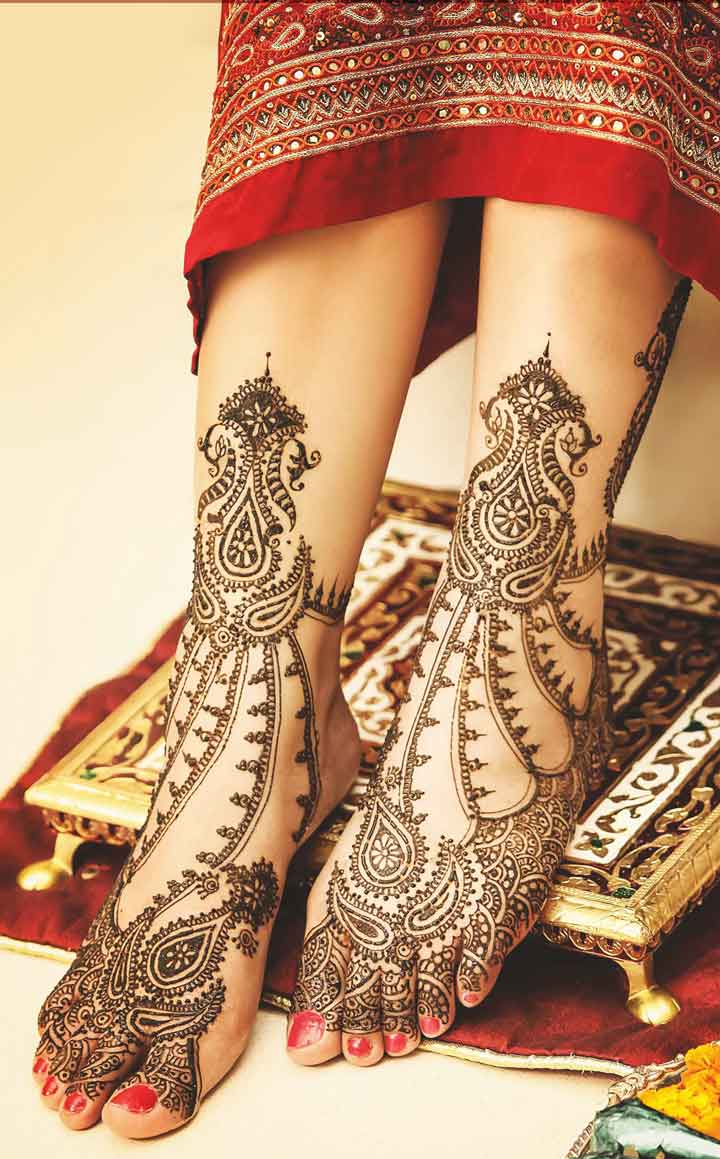 So what karva chauth mehndi designs images are you planning to wear this year? We will be happy to hear your favourite amongst the ones shown.
Images Source: pinterest