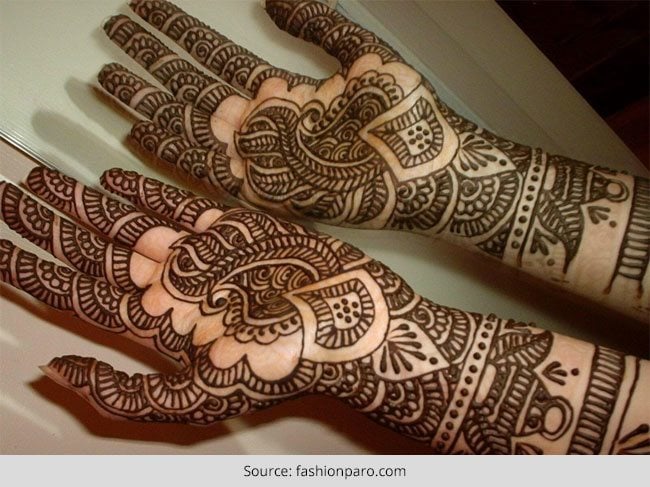 Indian brides have been decorating their hands with henna for decades now. Historically, henna with its cooling properties, was applied on hands and feet to cool one's body. The beautiful stain that it left on the skin after its application led to the practice of making designs with it on one's hands and feet. Over the years, Indian henna designs have evolved and have become much more intricate. Each design has a specific meaning attached to it and knowing these meanings will throw a whole new light on the significance of henna art.
Let's look at some Indian Henna Designs and know their meanings.
Henna Flower Designs
One of the most popular designs, flowers symbolise joy and happiness. Is it any wonder then that they are widely used for weddings and other celebrations? Here are a couple of pretty flower designs. These simple Indian mehendi designs are mostly adapted by beginners and those who want to practice and learn mehendi to become a pro.
[Also Read: Karva Chauth Mehndi Design]
Henna Buds
Buds are used to signify the start of a new life. They can also be interpreted as meaning fertility and joy. While blossomed flowers are the preferred choice for most, buds can be used creatively to bring a new dimension to a design. Henna patterns in buds form are generally seen on the palms of newly-wed brides or soon-to-be mothers.
[sc:mediad]
Henna Lotus Designs
The lotus stands for a myriad of virtues—creativity, grace, sensuality, beauty, femininity, and purity. The lotus is also said to represent the awakening of one's soul.
Henna Peacock Designs
Another popular design that you are sure to come across is the peacock mehendi design. The peacock is a beautiful bird that looks exquisite when adopted as a henna design. And not surprisingly, beauty is what a peacock signifies. These Indian mehndi designs for weddings are extremely popular.
Henna Bird Designs
Apart from peacocks, many other birds such as parrots and sparrows are also quite popular and are incorporated in henna designs. Birds symbolise either freedom or are considered as the messengers between heaven and earth.
Henna Fish Designs
Since these henna designs are distinctly shaped like eyes, fishes are used to represent a woman's eyes. While they are not as common as peacocks or flowers, fishes do have their own distinct symbolic feature.
Henna Butterflies and Dragonflies
While butterflies signify transformation and change, dragonflies are associated with rebirth. With their elegant wings and shapes, butterflies and dragonflies provide an ethereal feel.
Henna Vines and creepers
A recurring theme used in many henna designs is the vine. With dainty leaves and pretty flowers, the vine is an attractive design that symbolises longevity, perseverance, and vitality, qualities that are very important for a relationship to prosper.
Henna Sun Designs
The sun has always been considered the ultimate source of energy according to our Indian culture. So it is to be expected that the sun in a henna design has very strong meanings. The sun stands for resurgence, immortality, eternal love, and knowledge. This maybe a simple henna design but it sure has a strong presence.
Henna Moon Designs
Lasting love between partners, the positive power of change, protection and health is what the moon signifies. A crescent moon means a new baby is in the line.
Henna Water Designs
Water is usually represented as a pattern of ripples. Just as a river or stream keeps flowing, life is a constant series of change and emotions. Water could also mean purification.
Henna Reptile Designs
Reptiles are not a part of the mainstream henna designs. After all, no bride would want to feature a snake or a lizard on her hands or feet. But they do hold great significance and are used to convey a strong meaning as seekers of enlightenment.
Henna Mandala Designs
The dictionary defines the mandala as—a circular figure representing the universe in Hindu and Buddhist symbolism. As a henna design, the mandala represents the universe. Its visually-appealing circular shape has made it a favourite amongst mehndi artists.
Significance of the Henna Applied on your Body Part
Apart from the designs having specific meanings, which part of the body you have the design on also holds significance. For instance, having a henna design on your hands / palms signifies an offering from you to the world. A henna design on the back of your hand symbolises protection; so you might want to choose a design that has strong qualities associated with it. The feet are our only point of contact with earth, so whatever design you get should be aimed at strengthening the bond between your body and the earth.
While henna has become an art and there are new designs coming up every day, there is some mystique and a lot of tradition attached to this art form. So the next time you get a henna design, do some research to find out the significance of the design, and you might be surprised by what you unearth.