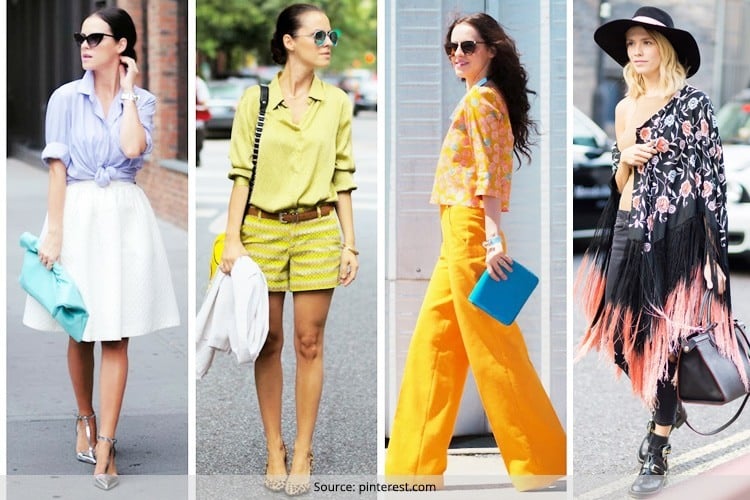 It's the herald of the fashion month and streets of Paris, Milan and New York are teeming with strutting beauties each with their unique sense of style. What makes these cities a hub of fashion is that you can learn fashion from almost everyone here. Whether it's a hat or a scarf or a certain dress, they all rock them with quite an élan! In fact, most fashion designers believe that more than celebrity fashion, it is the street style which will dictate the kind of style that might be prevalent on the runway!
We have curated some of the best summer street style trends that have our heart racing. Read on to know more!
Fringe Galore
Love them or hate them, but you certainly can't ignore them. One of the biggest players this season, fringes have made their debut in almost all corners. So, whether you are strutting in your fringed boots, fringe earrings and sashaying around in your fringe bags, they are big this season. It is the sign of a boho chic, but many women are embracing fringes one by one. A perfect example is this picture where you can see women with a fringe bags, a kimono and even a skirt!
Saddle Bags
It has been rightly said, fashion keeps coming back! So for now, the seventies are back with a bang. A lot of entries here have been prevalent in the past and now have risen back from the dead. Everywhere you see the saddle bags are proudly strutting with their owners. The classic style bag is very chic and can be styled with either a feminine dress or even a skirt.
Our favorite Taylor Swift is often seeing carrying one in most of her sightings. Take cues from her!
[Also Read: Bringing Back the 90s Fashion]
Flares
Guess who is back? Back again! Yes, they are our flares! Those seventies disco staples are back in business and are doing very well. Most fashionistas have dug out their flares from inside their closets and dusted them off. On the international fashion scene, you can see the flares making a splash everywhere. A streamline polo-neck or a single colour look will look perfect with flares. If you are a little adventurous you can even start pairing them with crop tops! Way to bring in the seventies vibe!
[sc:mediad]
Overalls And More Overalls
Who said we were over our overalls! A lot of people are embracing the overalls and we can surely forecast that it is here to stay. They look cool and chic at the same time. So style them right and get your street style primped up!
Decorated Denims
They sure look like some kids got a free rein and decided to ruin their mama's favorite pair of denims! But jokes apart, decorated denims too are making quite a splash in the industry. So whether you are looking for some patchwork designs on boyfriend jeans or on some flares, patchwork jeans have settled in for good now. Give a makeover to your old denims. There is certainly no ignoring them!
All Wrapped Up
Yes, we know, summers are hot and who can be your best friend here? Yes, the blanket coats and your kimonos. Available in myriads of styles, the poncho or the kimono and the blanket coats were reigning supreme on the streets. Every haute couture designer is surely picking up this sign and soon you will see them on the runway too!
Don't forget to invest in one of these great street styles! Your wardrobe isn't complete without prepping up for the summers!
[Also Read: Patchwork Trend]