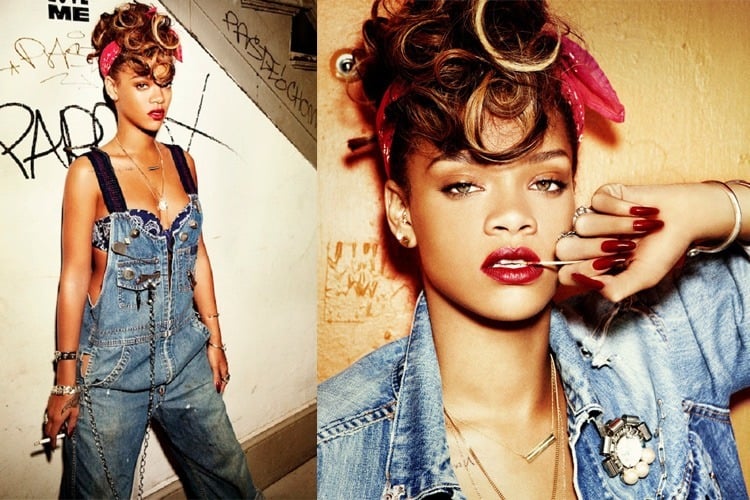 Bip Ling and Shailene Woodley, Katy Perry to Miley Cyrus, Rumer Willis to Rita Ora and the famous pop singer Rihanna too- they've brought the MTV Gen-Y fashion back!
Why the 90s?
While most designers are still reminiscing the days of the swinging sixties and the flower-power seventies, the golden eighties too, the subcultures of the melodious yet paradigm shifts of the nineties, especially with fashion has made a comeback.
[Also Read: Most Stunning and Sensuous Top Five Bollywood Fashionistas of 70's]
A change was needed, and contemporary fashion is now being recycled with utmost seriousness in the world of fashion. Celebs are endorsing them, and surely the 'risk-takers' they are, the herd out there is setting a trend in the loud nineties colours and styles. If you thought the BACKPACK sported famously by the OLSON TWINS was so passé, be ready to be thrown off your chair cushions! Here's what to look forward to!
Painting the town NEONISH
Much of the 90s saw the colourful saga of fashion on the streets; a time when women didn't have qualms wearing buttoned down shirts in bright colours. A little hint of the cleavage didn't kill anyone back then. Neon coloured clothing thus ruled every wardrobe, and some of them are making a comeback on clothes such as;
Leggings
Drainpipe jeans
Cycling tights
Biker shorts
Court shoes
Skater skirts
Ballet flats
Cowboy boots
Headscarves
[Also Read: How To Get the Neon Trend Right]
Crop tops for 2015
Yes, they are back and this time exposing the midriff in all its glory. Flaunt the belly button and wear them with skater skirts or pencil ones- you'd be bringing back Vanessa Amorisi (singer) very soon!
Sports, exercise wear and leggings
From homemakers to college-goers, teens to moms, women of all age groups back in the 90s wore Leotards. In addition to that, the 90s brought around a change in comfort clothing with a sporty edge;
Babydoll dresses
Black opaque tights with hot pants or denim shorts
Keds
Slouch socks and leggings
Sweatpants in grey
Oversized Tees
Converse shoes
[Also Read: How to Wear Leggings as Pants]
Pretty Camisoles
Sexy and minimal, very simple to wear and sans the fuss- 90s believed in expressing yourself through comfort and style. Works best with skinnies made of leather for a girl's night out, and a dinner blazer for a formal occasion. Use your creative imagination and doll up in a camisole!
[sc:mediad]
Clean slip dresses
We've watched many celebs (Julia Roberts and Madhuri Dixit) wear slip dresses through the 90s. Much on the lines of the peplum invasion, slip dresses now are being worn with belts and knits (oversized ones).
The famous Grunge
It would be a sin not to mention the mainstream clothing item of the mid 1990s, the famous GRUNGE. Pair the Grunge with;
flannel shirts and mom jeans with combat boots for the look
band tees and large sweaters
long flowing skirts
tight shorts and biker boots
ripped jeans too
Circular sunglasses, colourful and large are a must to have or else the look wouldn't complete, and do not forget the MULE shoes, which were so comfy to wear for work or at play. While the 90s kids have all grown up and gone ahead in life, the MTV Gen-Y spirit still remains. Thanks to the new-age fashionistas and celebs, the 90s fashion trends are being revived. Do you have your own personal take on the 90s fashion? If yes, do write in to us and let us know!