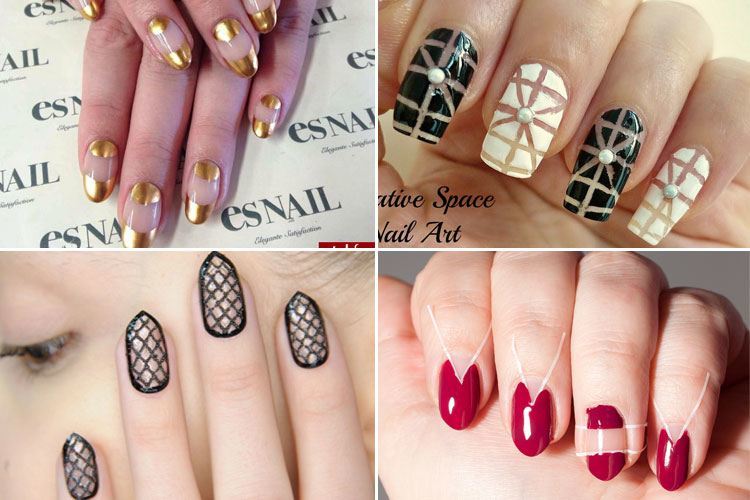 'Sometimes no polish is the best way to look polished'.
Lyndsay Green
If Beauty is about putting a new face each day, why leave behind the nails? The latest and hottest trend in the business of nails is negative space nail art. Tauted as the biggest fashion and beauty trend of 2015, it went popular as an haute couture pattern picked up by celebs and models at the New York Fashion Week.
[Also Read: Flower Nail Art Designs for Your Inspiration]
As the name suggests, negative space nail art is a manicure pattern where your nude and uncoloured nails peep out through the bold nail colours that you put. To simplify it further, it is creating a breakthrough in nail art where the blank part in nail artwork does the talking.
Imagine poppy reds to pastel pinks as the base nail pattern and suddenly a white interruption in between. Trending hot nails as these are making a splash in the fashion runways. Take a look how.
[Also Read: Summer Metallic Nail Art Designs You should Try]
How to create Negative Space Nails
Negative Space Nail art is no rocket science. With time, you will pick up the fundamentals of doing it on your nails. What you need is a black and a white nail colour, a base coat, a matte and a glossy top coat and a striping tape. Here we go.
The first thing you have to do is stick a stripe tape on your nails. When done, paint the rest of your nail in bold hues.
Now remove the tape in a careful manner so as to create negative nude spaces in between the bold lacquer paint.
At this juncture, paint the whole nail and then wipe out a portion with a brush dipped in acetone in a pattern of your taste.
All you have to do now is paint your nails bright while leaving the blank spaces in between.
Fashion Gallery of Negative Space Nails
Check out some of the hot and happening trend patterns for negative space nails. They are bound to put you in a league of your own.
Super-Chic
This look spotted backstage at the spring show of Misha Nonoo shows negative space in its simplest form. Just one stripe it takes to reveal your bare nail colour between your favourite solid polish colour!
Coral Crescents
Give your half-moons a pop of colour. It will be a fun surprise for you and bird watchers.
Gilded French
If you have a heart for French manicure, then give it a fashion twist by dipping your nail tips in gold polish.
Moon Shine
Love the moon effect? So simple to get it is. Give your nails a side-swipe of metallic polish to get the crescent moon effect.
Going Graphic
In the age of colour, often it is the graphic black-and-white colour combo that stands out. Check out this nail manicure that makes the multiple designs talk a new language.
Gilded Age
For Zimmermann's Spring Summer 2015 show, a prominent nail artist used glittering gold polish to create crescent shapes on the nails of the models walking the ramp. No wonder it is fashion bling at its best without being too loud.
Sophisticated, sleek and in-your-face, negative space nail art is here to woo your nails.
[Also Read: Summer Nail Care Tips]
It's fun, minimalist with graphic patterns painted over a naked nail. Even the most die-hard anti-nail art girl would go bonkers over it. So without wasting time, get going with the negative space nail art. It's incredibly versatile that suits any age and style.