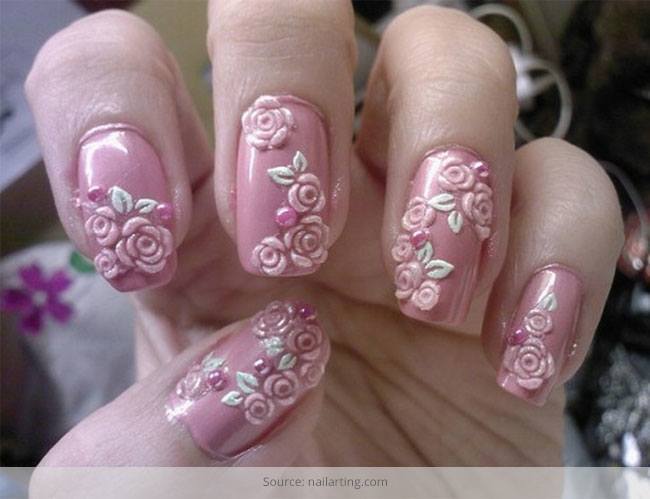 The holiday season is finally here. Taking this opportunity, we offer you 7 Flower Nail Art Designs for Your Inspiration that can enliven your mood and occasion alike. Nail art designs can be followed by a relaxing manicure at home at at the salon. The nail art designs can also be done at home with some practice or again by a professional nail art artist.
All you need are basic supplies to do nail art designs at home. Your favorite nail colors, scotch tape(if you want to create some unique abstract design), bobby pins to make dots and flowers, or just simple and easy to find nail art stickers that just requires you to stick them on the nails and you are ready to go.
The best thing is, people have started becoming so creative that they are making their own nail art stickers at home.
However, we have made a set of some pretty nail art flowers designs for you. So have a look and stay inspired!
1. Sunflower Nail Art
Here is a beautiful nail art in floral pattern that aptly suits any sunny day. To create this design, you'll require a couple of nail shades and also glitter manicure. You can try to adopt this fabulous design. And if it seems difficult then you can simply try out sunflower motifs and finish it with a glitter coat. You can even pick your preferred shade if you want to match it with your outfit or occasion. This and similar flower nail art designs for long nails can be tried by anyone.
2. Color me Pretty Flower Nail Art Designs
If you want to create a dramatic look for any fancy party, then this can be your best bait. The rose motifs for manicure are available in the market these days. All you need to do is to paste the sticker on your nails.
[Also Read: Mani Pedi Chart you must follow]
3. Nail Art Flowers
Here is another nail art flower design available in sticker pattern. If you have already experience in creating nail art designs, then you can give this design a try. Here's how to do flower nail art designs.
First, apply a coat of black nail paint on your preferred nails and then you can use different shades to create miniature flowers over the applied coat. However make sure the coat has dried up and you will require thin and sharp brushes to create those designs. You can get latest nail art designs on your nails with some research and an expert who can beautify the nails for you.
[Also Read: 25 Peacock nail Art designs]
4. Nail Art Pastel Flowers
For these flower nail art designs you'll have to first apply French manicure. You can then use 3-4 shades to create floral patterns over the nails. You can create 2-3 small flowers in a bunch pattern to make it look like a small bouquet on your nails. Make smaller flowers if you want to do flower nail art designs for short nails.
[sc:mediad]
5. Nail Art Flower Designs for Beginners
This is one of the best nail art flower designs for beginners. You can simply play around with various shades. To give an edge to your style statement especially if it's for night look then you can use black shade for background. Then you can simply paint flowers in contrasting shades like yellow and pink. This nail art design for short nails can also be replicated on long nails.
6. Floral Mug Inspired Nail Art
How about taking some inspiration, like the nail art flower design shown in this picture is inspired from the floral printed mug? Just like the above design you can also keep black as backdrop and over it you can create floral and leaflet designs.
7. Going Floral
Last but not the least, here is a nail art design which you would like to give a try. You can flaunt your creative side by using some real flowers for your nail art floral design. Surprised? Well then this image says it all. And to give it a dramatic look, you can first apply a coat of white nail paint, followed by an imprint of a piece of any newspaper. Over that, you can stick small naturally looking floral motifs.
Make sure you do not put your hands into water if you are using real flowers on your nail art designs.
[Also Read: How to make flower nail art designs]
So those were the 7 Flower Nail Art Designs for Your Inspiration. Hope you enjoyed the post!