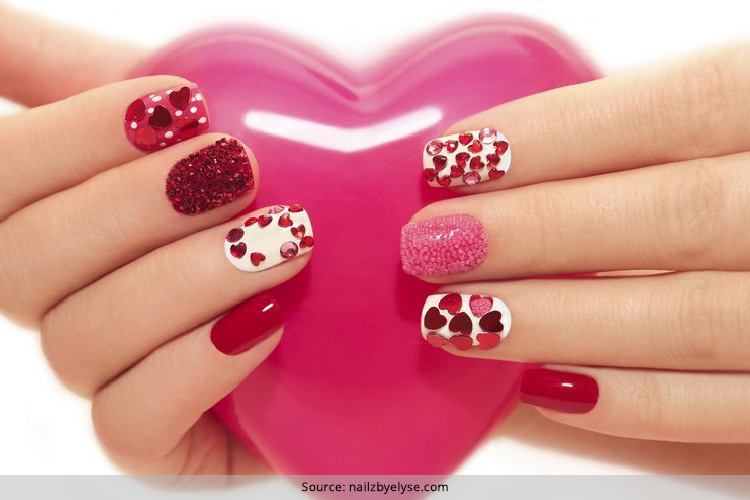 Happy falling in love ladies! Having said that, there is no better festival the whole of year for a teenage girl, a doting mommy, or workaholic girl than Valentine's Day. You can go mushy or swoon but valentine's day nail art designs are something that catches attention, each time you pretend to put your nails on your lips, or on paper, over a cup of coffee, or through your hair locks.
[Also Read: Valentine's Day Nail Art Designs]
So for all you chocolate and rose loving girls, here are some breathtaking designs for valentine's day nails that will bowl you over, till the next Valentine's. Go get them painted on your nails before V day passes out and leaves you lost.
1. A pop of big and small hearts in pink and white, painted on a black nail base paint. This is color at its electrifying best.
2. Hearty affair this is with solid red hearts featuring in the center of the nail supported by black diagonal lines. There is no way you can miss out on these valentine's day nails.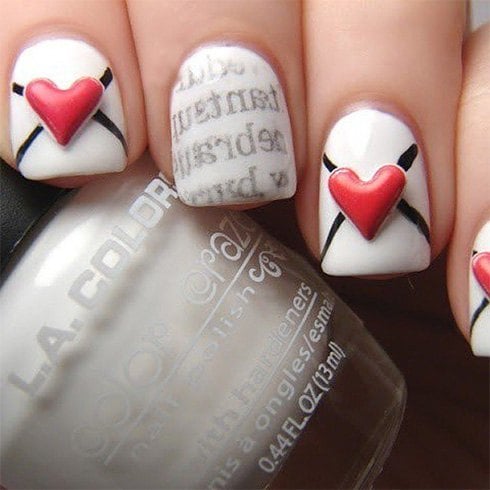 3. "Be Mine". Why not, when the nail paint has pink and black as base colors, with hearts, dots, and a message painted over it.
[Also Read: Kiss Nail Art]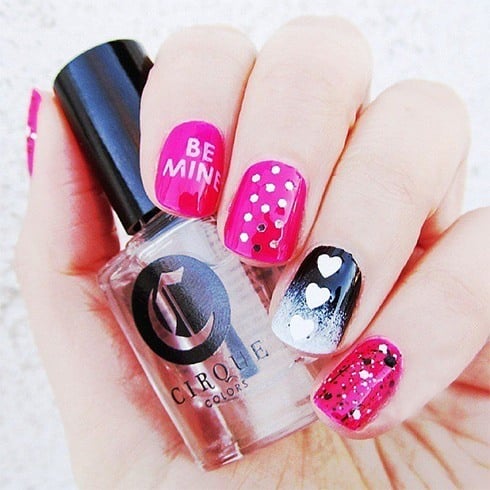 4. A Valentine's heart is a heart, no matter whether it is painted in grey, red or black. In this designer valentine nail, you will find the thumb standing out with a dotted heart drawn on pink base.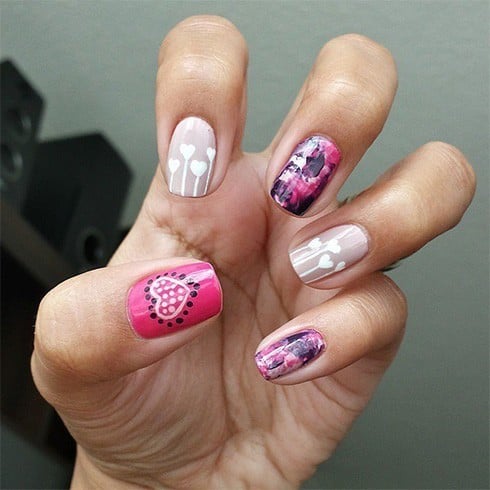 5. Know what is the power of two? Yes, with two of the middle fingers humbling saying love is on my mind through a heart symbol painted on white nail paint base and tiny specks of black around it, love could not have been expressed better.
[Also Read: Party Nail Art Ideas]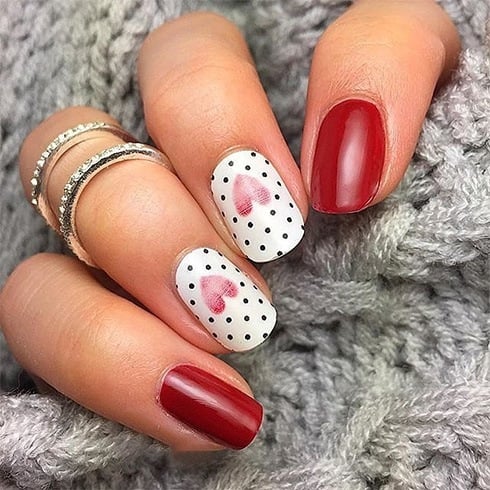 6. For message savvy girls, this valentine's nail design looks cool and awesome. With just two of the nails painted in glorious pink and the middle fingers shouting 'Love' scribbled on the nails, you can feel cupid.
[Also Read: Squoval Nails]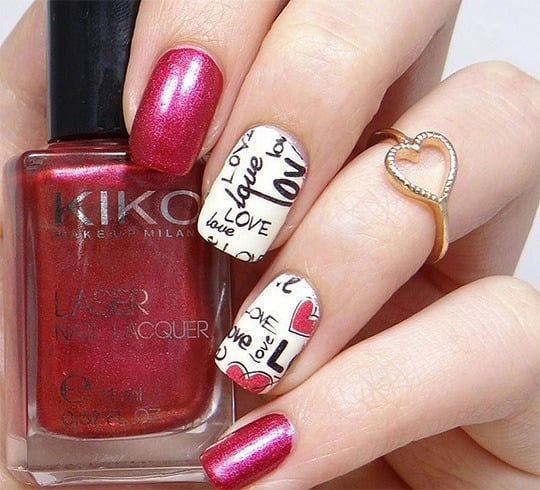 7. What a hearty hearty affair with red hearts popping out on the edge of the nails? Look at the beautiful contrast of white and black as base nail paint.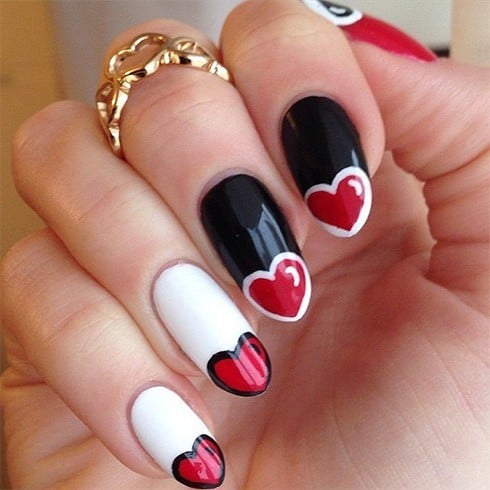 8. For all you corporate bees, this valentine nail paint is subtle and expressive with sweet little hearts made at the nail tip. It would surely go well with your business attire.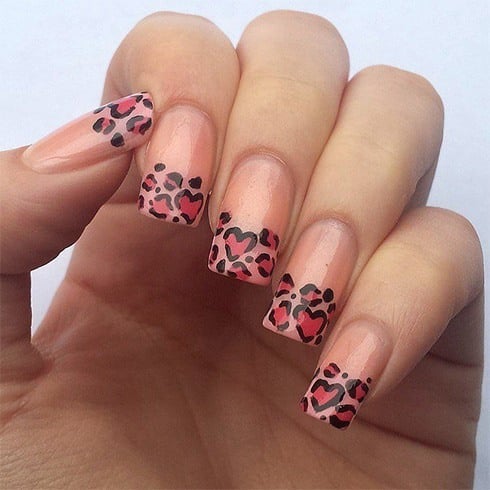 9. Now this nail design has got everything – from XOXO to hearts to love scribbled across the nail. Call it puppy love.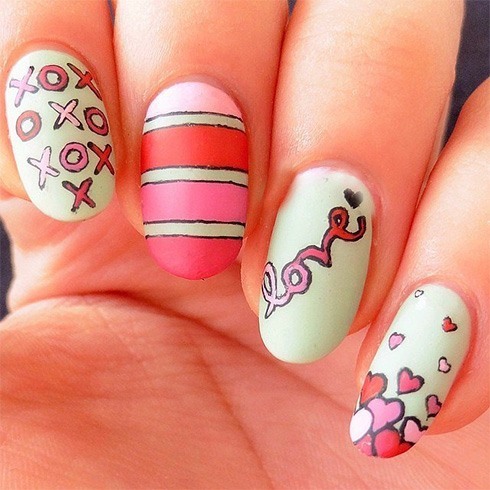 10. XOXO, Kiss Me, True Love, Be Mine…love has so many expressions. All you need to do is pick your favourite as you paint your nails with color blocks.
11. Surely this valentine nail art would make your heart go fluttering. With the first three fingers painted in cosmopolitan and brushed out black, silver line of ECG running in two nails and red heart painted in the middle finger, it reminds one of a black magic woman.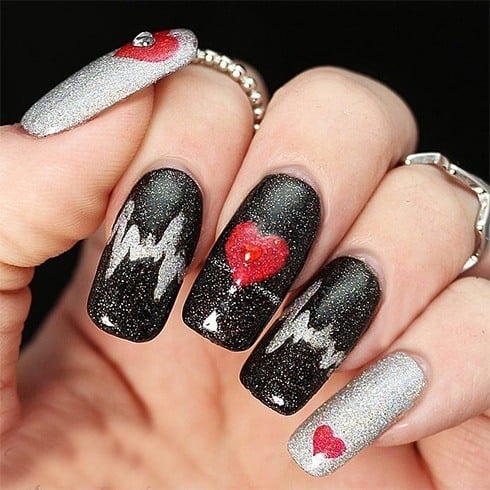 [Also Read: Heart Shaped Jewelry Gifts On Valentine's Day]
12. Check out the tale of six hearts painted on pale pink background with surrounding nails having glitter on it.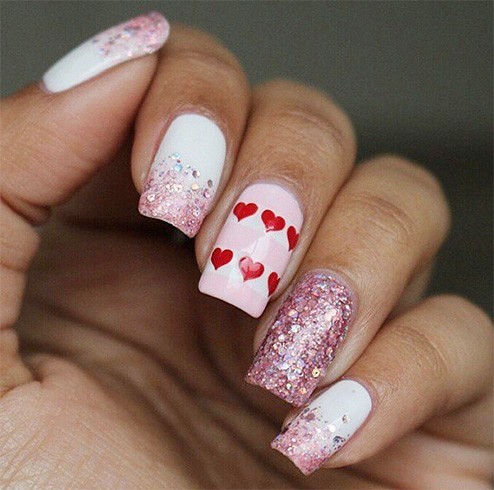 13. The tussle between 'He loves Me' and 'He Loves Me Not' is never-ending. But with this soft and romantic looking nail paint design, 'He Loves Me' would be the final judgment.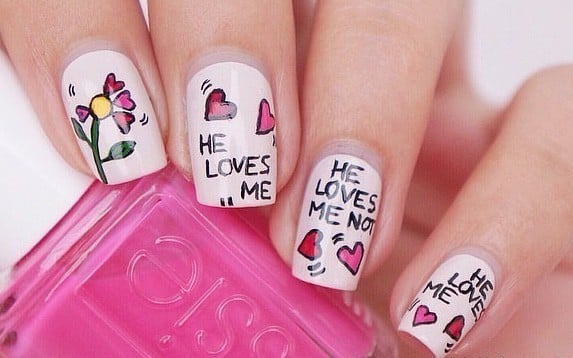 14. If your mind likes to explore less of colors, then these valentine's nails would be good to go. The thing that makes a striking impact is pinkish hearts drawn with freehand tapering towards the edge of the nails.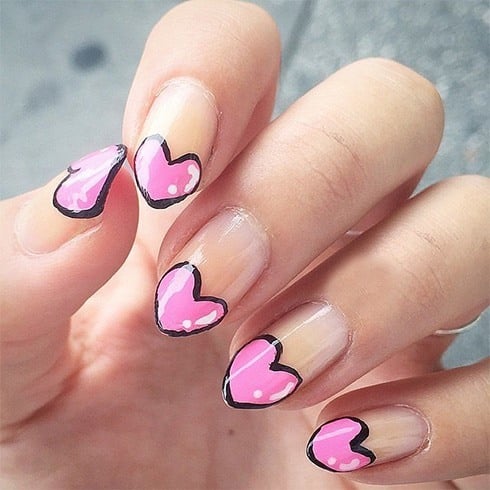 15. Yeah, red is the color of valentine. And with a white nail base paint bearing lipstick marks in between red nails, your BF is bound to kiss this very nail. Shy no more!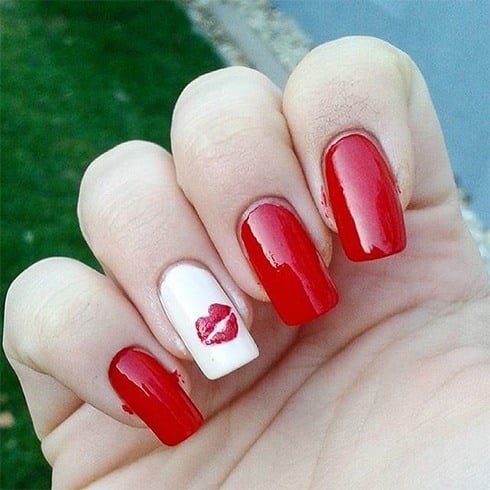 16. Is this a scrabble of hearts? Even if it is, then it's so stylish that it will make your heart play with white and red.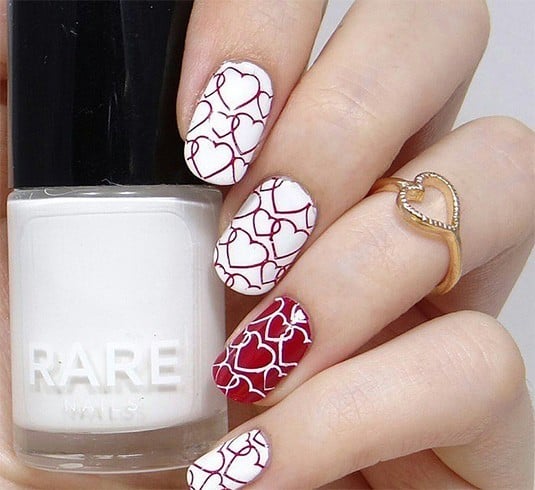 17. What a wonderful depiction of love between two toddlers – one male and the other female. The only thing that separates them is the love symbol in the in-between nail.
[Also Read: Blue Nail Designs]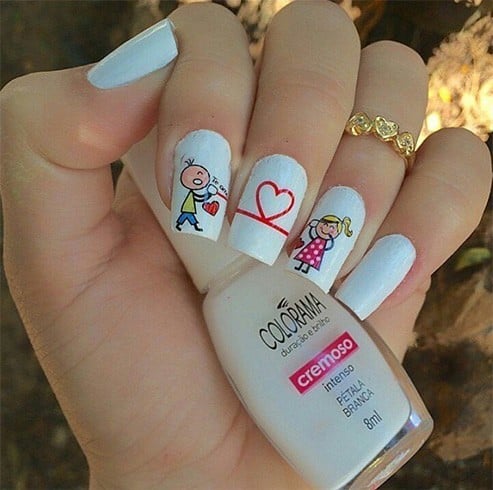 18. Yes, you can make your hearts look subtle with this savvy looking valentine nail art design which has hearts, lipstick shape, and stars painted over grey nail paint.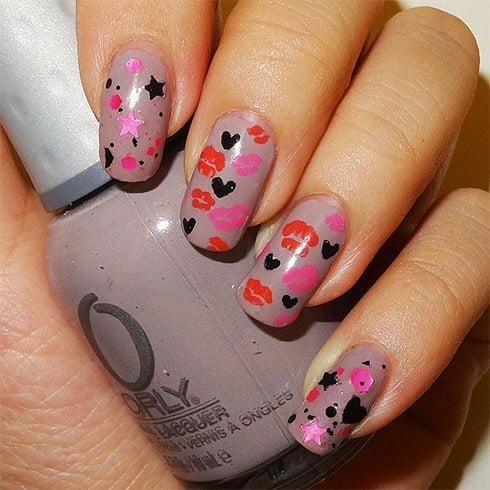 19. Catch the beauty of one pink heart painted on all the nails against the white base. It's so simple it will further melt the heart of your dating partner.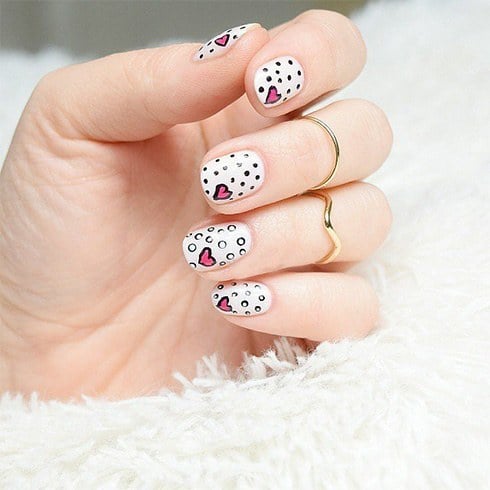 20. Simplicity wins. And so does this neat and clean valentine nail design that has black dots and two hearts painted over white nails.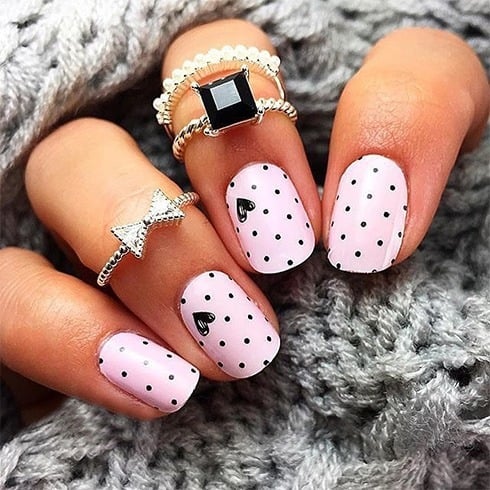 21. Laugh, Live, Love is the formula painted over the nails here. With little red hearts poised at the nail tip, this is nail elegance in its top form.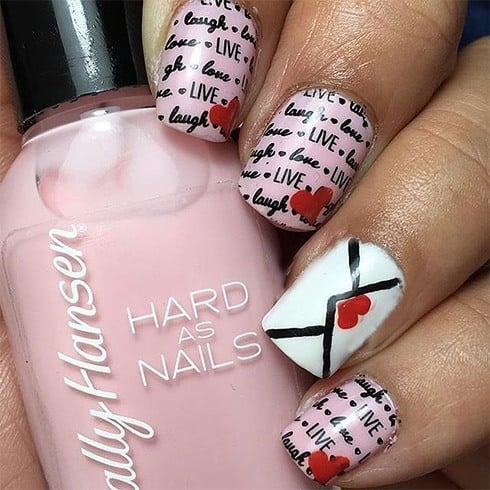 22. Youthful, peppy and adventurous, this Valentine nail art pronounces 'Love' emphatically.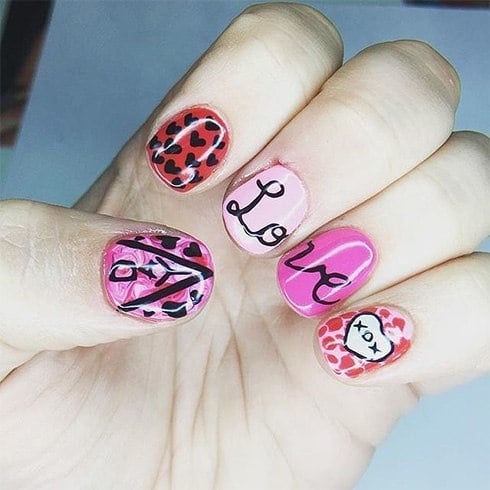 23. Straight out of an artist's canvas, valentine nail design couldn't have been so simple and impactful. Hearts always rule the mind, and this shows amply enough in this nail design.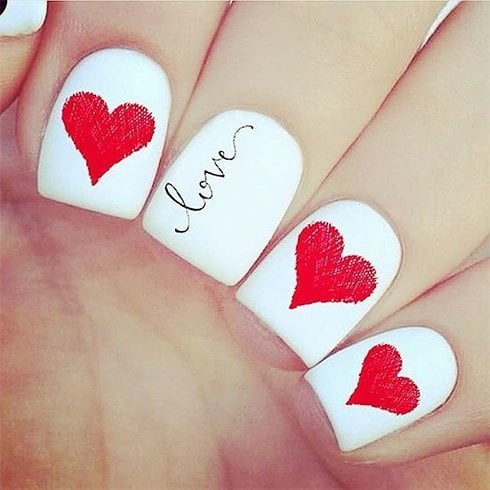 24. Heart symbol on each nail with 'me' written and the lip icon explains the love quotient so well.
25. This pictorial representation shows beautifully how hearts can be exchanged between a girl and a boy.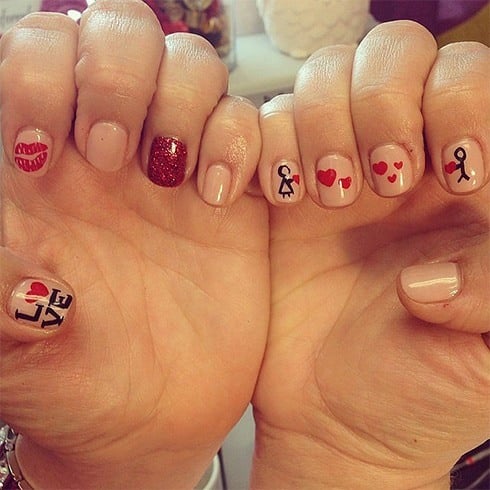 26. Love goes futuristic through this nail design that has only one heart pasted on one nail.
[Also Read: Valentine's Day Outfit Ideas]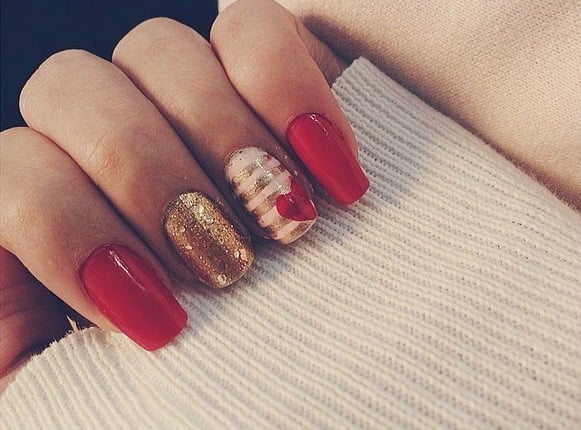 27. For black colour lovers, this is a unique Valentine nail design that has just one heart drawn out on the first finger against the pink nail base.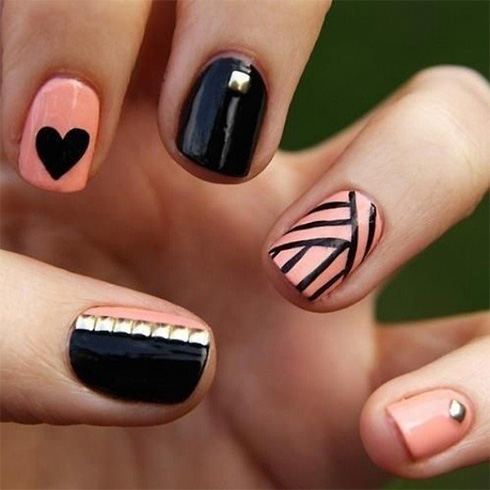 28. Play a game of tic tac toe and let your love beat the odds! Get this unique valentine nail design in vibrant colors.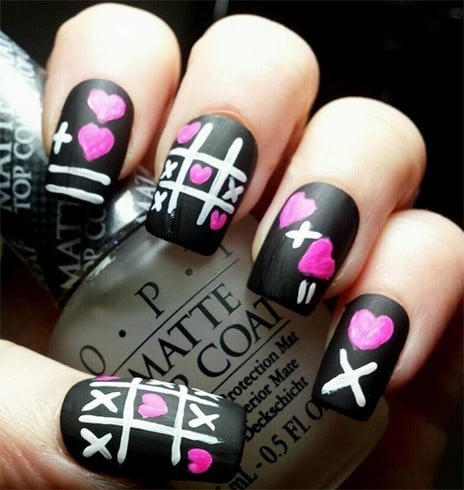 29. Red and white – the first colors that come up when we think about love. Try this love combination as your valentine nail art and see all the love showered on you.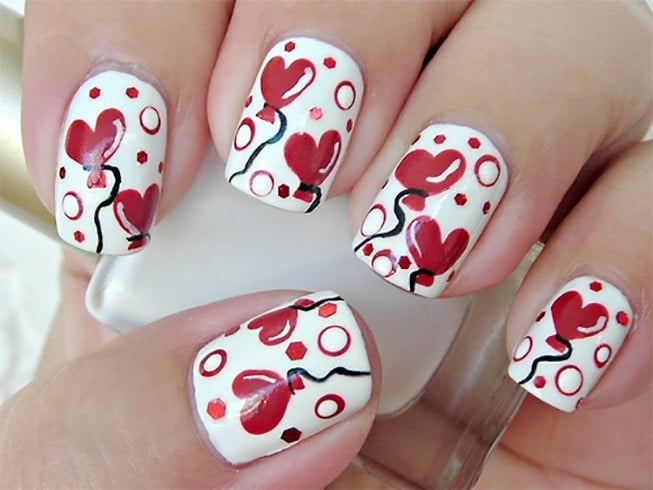 30. Pull out your magic wand, aka your nail paints and brushes, and spread your love on the valentine nails.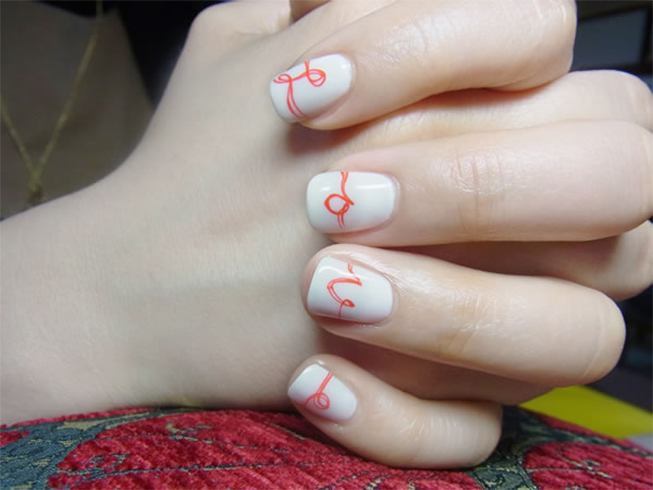 31. Capture your loved one's attention by trying this easy valentine nail art in just 3 steps. First, apply white nail polish as the base. Once it's dry, add 3 horizontal stripes using black nail paint. Let it dry. The final step would be to draw the perfect heart using either pink or red nail polish. Make sure that your hands are steady while painting the heart.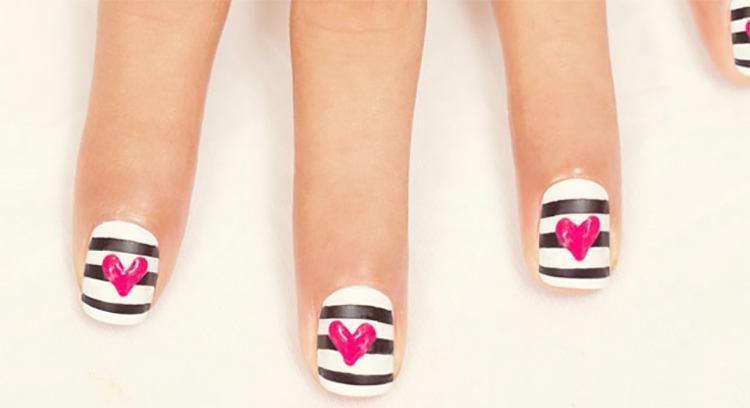 32. If you don't want anything mushy-mushy, then you have to try this unique nail design for Valentine. A combination of hearts and zebra prints will tick mark both your boxes – love and not too mushy!

33. To keep your valentine fingernails chic and classy try this nail art idea. Paint the base with a nice dark black nail polish and then add your hearts with red nail paint and there you have your chic and classy valentine nail art!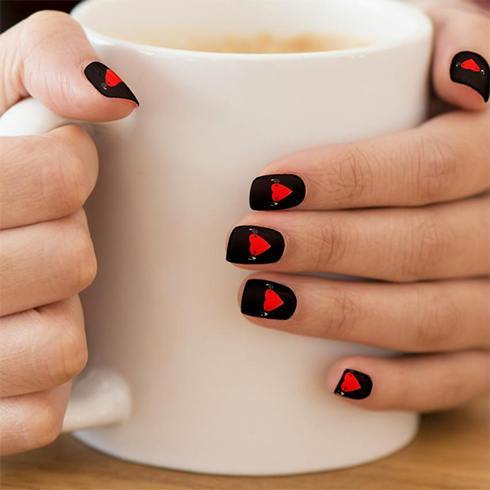 So which of these Valentine's Day Nail Art are you going to put on your nails? Give us a shout.
Images Source: popsugar