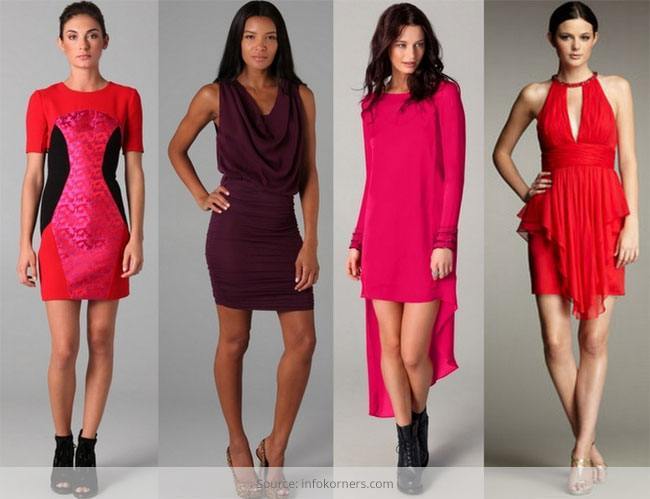 Valentines Day – Chocolates, roses, mushy cards, kisses, hugs, love, romance, sizzling moments, wine and more – not to forget, you need to doll up at your best; a little different from the rest. This is a day when you'd be celebrating and wearing what you want, and as you want it – dress to feel sexy, alive and super-special, wear that lovely dress and don't forget your heels too. The right makeup and yes, let the hair flow – nothing turns the male bastion on, better than being your 'sensual self'!
Valentine's Day Outfit Ideas
1. If you want to wear the sizzling combo of pink and red
Pink and red- the colour of the season and without which Valentines Day would be so boring. Most of the year you would be dolled up in pastel shades, greys, blacks, blues, maroons and a whole plethora of hues – keep 14th February special though – pink and reds when combined can make a splashing statement.
Make it an interesting one – a patterned top maybe with a statement necklace that compliments the red and pink fanfare!
2. Polka dotted love
Feminine and chic, dressing up in a belted polka dot shirtdress seems like fun, isn't it? With a neutral shaded belt or a thin wooden one for the waist and equally neutral accessories for the hands – a bracelet made of wooden beads or metal, would sure raise the oomph factor on you. Once again, slingback shoes here would help you strut with confidence while walking arm-in-arm with him.
3. The Royal look
2013 saw the Royal family's sweetheart the 'Duchess of Cambridge' – Kate Midleton sported an all red Alexander Mc Queen ensemble in red with nude pumps. Well, enough said – you now get to be the queen of his heart on Valentines Day 2015 – don't forget a nice feather hat to doll up the hair with, and yes a tartan clutch bag too.
4. Bow skirts sans the sleeves
A little skin-show on Valentines Day to spice things up – speaks of elegance and beauty, dignity and élan; your man would be proud being company to a beautiful lass in his arms, making other men jealous of his choice. Carry a long sling purse, minimal accessories for the hand and yes, play with the nail-art; darker the better. Make up should be minimal and go sleek with the hair, if possible.
[sc:mediad]
5. Only a few touches of Red and pink
Pinks and a combo with another colour can make wonders happen; a variation for the special day would woo him crazy. A coral white striped shirt with a dark cardigan and purple-pink lipstick; minimal accessories again for the hands and hair, would make you look like a diva – boots for the feet please. Don't forget a blood red scarf to keep your neck warm!
6. Shade play
A sassy tunic in orange, why not – should you desire to break away from the herd mentality of pinks and reds – orange and its shades can do wonders for you.
7. Hello Floralina
Floral for the evening, a sexy pencil skirt with flowers on it as patterns would steal the show. Pair it with a white or neutral based top, and slingback shoes; you are now ready to hit the floors and burn the many rival eyes around.
8. La Femme Fatale
The idea is to have a womanly touch – even if you are tomboyish! Make their hearts skip more than just a beat – femininity can take his breath away; the ball thus is in your court now. A slight touch of skin, colourful clothes and the right accessories and shoes – your man would be yours for life. This is a way to show him you are receptive of his love and appreciate his presence around – hence the dolling up effort, which shows you care.
Be the Diva he cannot resist; explore new fragrances and capture his soul – vanilla or citrus, we'd leave that aroma choice to you for wearing. Just a hint though, your pheromones should do the talking – too much of perfume would drive him away, and not drive-him-crazy!
Most of all, have fun darlings with these beautiful Valentine's Day Outfit Ideas!