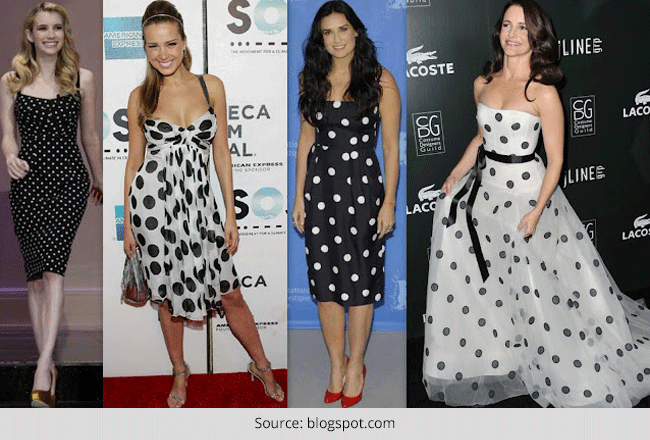 Polka dots can be what you make them out to be. You can use them in a way that looks chic and sophisticated or you can go totally bonkers and make a bold and funky statement with them. They are a lot of fun to experiment with; let's look at all the different ways in which you can include polka dots in your wardrobe.
Polka Dot Dresses
The easiest and fool-proof way to wear polka dots is as on a dress. Get yourself a cute, knee-length or shorter polka dot dress. Team this up with solid-coloured accessories. You don't want your accessories to clash with your dress. Look at your dress as the hero and you accessories as the sidekicks. The sidekicks are there to make the hero look good and not to overshadow the hero, right? And that is exactly what you need to aim for. Polka dot dresses are perfect for summer and spring time.
Polka Dot Maxi Dresses
And what about full-length polka dot dresses? Well, those aren't for everyone. Full-length polka dot dresses tend to look a little dramatic and over-the-top, which is not a bad thing. You can create some very arresting looks with them, but be sure that you can carry them off with confidence. There is nothing sexy about a woman wearing a fabulous dress but feeling awkward in it. When you wear a dress, you should totally own it and radiate confidence. Take a look at a couple of full-length polka dot dresses and decide for yourself if it's your style or not.
Polka Dot Shirts
[sc:mediad]
Shirts and tops are another great way in which you can wear polka dot prints. Pair a polka dot shirt with a pair of jeans or even formal trousers for a look that is classic and contemporary at the same time.
Polka Dot Pants
And of course you can flip this look over and wear polka dot pants with solid coloured shirts/blouses.
Polka Dot Accessories
You can also incorporate polka dots through your accessories. Add a polka dot printed scarf or wear a pair of shoes with polka dots on them. Polka dots do a great job of breaking the monotony of a monochromatic look. Pair them with a solid coloured jumpsuit or a casual pair of dungarees.
Polka Dot Shoes
Aren't these polka dot shoes total show stoppers?
Polka Dot Scarves
And how cute is this multi-coloured polka dot scarf?
If you're feeling adventures, you can even mix polka dots with stripes to create a quirky look. Just take care not to overdo it or it'll end up looking silly instead of stylish. Here's a great look that seamlessly brings together polka dots and stripes.
Here, the polka dotted headband and shoes are paired with a striped top. The white pant helps to offset all the prints and brings the whole look together nicely.
A polka dotted blazer or a pair of polka dot stockings are guaranteed to make your look so much more interesting and unique. So consider investing in a nice blazer and patterned stockings to create your own version of the below looks.
There is no limit to the magic of polka dots. Polka dot patterned nail artis another avenue where you can showcase your love for polka dots.
Polka dot has a very vintage look to it; many a pinup girl in the 60's has been featured wearing a polka dotted dress or swimsuit. But it still manages to keep its appeal as witnessed by the countless sightings of celebrities flaunting this print.
Check out Marilyn Monroe's polka dot bikini.
Here's a bikini from the Victoria's secret line. Which one do you like more, Marilyn Monroe's vintage bikini or Victoria Secret's contemporary bikini?
From the runway to the streets, polka dot has made its mark in the world of fashion. So what's stopping you from taking the plunge and falling in love with polka dots?