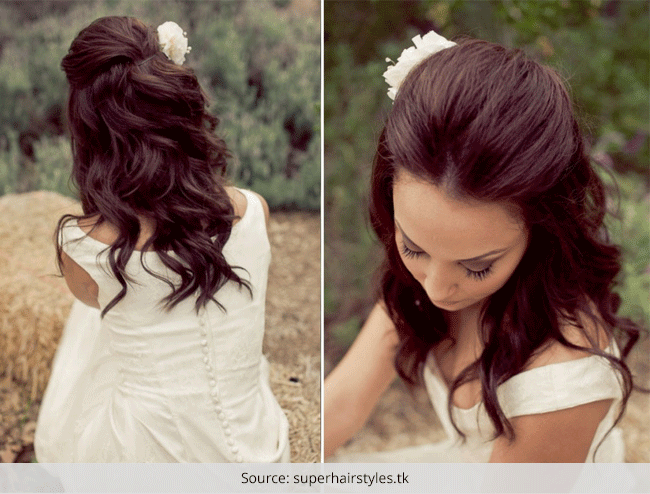 The half up half down hairstyle has become a popular wedding hairstyle these days, especially in Christian weddings. While letting hair loose or a regular bun might seem to be stereotypical, this fabulous bridal hairstyle can create a difference, adding edge to the bride's look. In this post, I offer you top 4 half up half down wedding hairstyles. Do have a look and stay inspired!
1. Half up half down curls
If you have bouncy and long hair then this is an amazing style for your bridal look. If your wedding trousseau is off-shouldered then this can be a perfect choice.
How to style –
Firstly, apply a styling cream on dry hair
Now create curls by setting medium-sized hot rollers
Allow rollers to cool and pull all the sections of hair to one side
Now take the whole top section and create a loose ponytail
Take a small section of hair and wrap it around the ponytail and secure it with bobby pin
Now brush the ends smoothly to create volume
Complete the look with a medium hold hairspray
2. Inside Victory Roll
If vintage style is of your preference then here is the look. This wedding hairstyle screams attitude. This retro hairstyle if styled outside then it gives a hint of punk element and since it's for bridal look so inside victory roll is a more decent choice.
How to style –
[sc:mediad]
You'll need a light hold gel to set air-dried hair firmly
Now create a side partition
Take a section of hair that goes from the part to the top of the ear
Take the same section from other side and clip the back section to prevent them from coming in the way
Now take one side and back brush the base
Roll this section backwards and secure it with bobby pins
Repeat the same on the other side
Now loose the back strands and roller a curling iron to curl the ends
Now complete the look with a strong hairspray to secure the style.
3. Pulled back style
If you have a small forehead then this is a great style to suit your face.
How to style –
Blow dry your hair and apply a texturizing spray
Now with a curling iron, curl the mid length and also the end parts
Now back brush the top and crown hair, while keeping the sides smooth
Now secure the hair with bobby pins and complete the look with hairspray
4. Pretty Poof
And if you prefer a less dramatic look then this pretty pouf half up half down hairstyle can be your ultimate choice. Brides can pick this hairstyle for their D day and cherish it for the rest of their lives.
How to style –
Apply texturizing paste in the roots of the crown area
Create a deep side part and back-brush the crown to desired height
Now secure the section under the crown with bobby pins
Now take a large section from the front and smoothen it with flat iron
Wrap it around the back of the crown and again use bobby pins
Again use flat iron on the rest of the hair
Now complete the style with a shining hairspray
Let's look at some more half up half down bridal hairstyles you could try.
So these are the top half up half down wedding hairstyles for your inspiration, especially if you're taking your wedding vows in church.