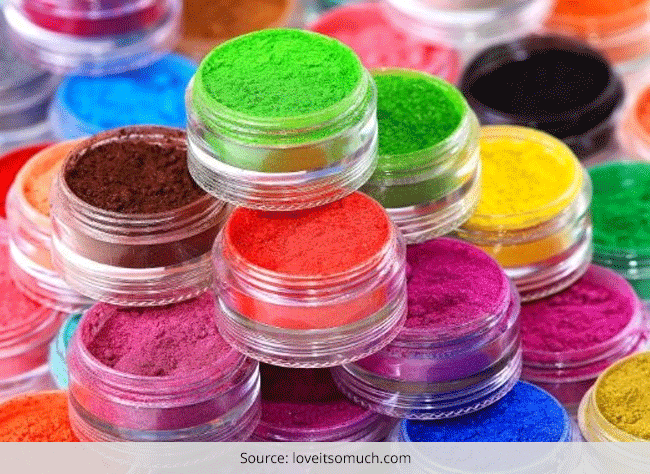 Every once in a while the makeup industry will be taken by storm by a revolutionary product. One such product that has caught our attention in recent times is the pigment. From professional makeup artists to amateur upcoming ones, everyone seems to be taken with them. While pigments have always been a part of makeup, they are now taking centre stage and being given the attention that they deserve.
So, What Exactly Are Pigments?
Why such a big hype? Well, for starters, let me just tell you that all the hype about pigments is justified. Pigments are loose powders that provide vibrant colours. They are the main ingredient in our makeup. For instance, traditionally, an eye shadow has a pigment for colour and a binder that binds the pigment. This results in a tightly packed eye shadow that when put on, lasts long on our skin. Alternatively, if no binder is added to the pigment, then what you end up with is a loose powder that is highly pigmented. When a binder is added, the pigment loses some of its vibrancy and becomes a little muted. So skipping the binder gives a highly coloured powder that can be used in many different ways to create stunning looks.
Why Use Pigments?
Okay, so now that we know what pigments are, the next question is why should we use them? We already have makeup for every part of our body, so why do we need to use pigments? Well, the fact is that pigments are very versatile. You can get creative and use them on your face, lips, nails, and body. So, a small pot of pigment can act as an eye shadow, a lip colour, a blush, and even a nail colour. So that's what makes pigments so desirable. Also, they provide a vibrancy that is lacking in our conventional makeup products. So the result is a very bright and intense colour, something that every makeup artist wants to achieve.
How To Use Pigments?
The one thing to always remember when using pigments is that you need a base to help the pigment adhere to your skin. Since it is a loose powder, using it on its own is just not an option as you will end up with the pigment spreading everywhere. So always use a base for your pigments to help them set.
Let's take a look at all the different ways in which you can use pigments:
How To Use Pigments As An Eye Shadow
Start by prepping your eyelids with a primer. Then use a good quality eye shadow brush to pick up some pigment. Tap the brush to get rid of the excess (this is very important as too much pigment will just end up falling around your eye area). Pat on the pigment on your eyelids; never sweep it on as this will again result in a lot of fallout.
How To Use Pigments As A Lipstick
Another popular way to use pigments is to mix some with a clear or light coloured lip gloss and pat it onto your lips. You can also get creative and pat on some pigment over your lipstick to create some unique shades. Just make sure the lipstick has a bit of a damp or sticky feel to it so that the pigment adheres to it easily.
How To Use Pigments As A Blush
You can use these pigments as a blush. Just mix a little pigment with a small amount of your moisturiser and voila! Your crème blush is ready. Dab it on and blend it in. If you prefer a powder blush, add a little pigment to some translucent powder and brush it onto your cheekbones. Just remember to prep your face with some primer prior to this.
[sc:mediad]
You can also use a light coloured pigment with your foundation to use as a highlighter on your brow bone, cupid's bow, cheekbones, centre of the nose, and forehead. Just be careful to use a very small amount or you might end up looking like a disco ball.
How To Use Pigments As A Nail Polish
One of the most creative ways of using pigments is to use them to create your own nail polish. Just mix some pigment to a bottle of clear nail polish to create your own unique nail colour. Alternatively, you can also put on a nail polish and sprinkle some pigment while it is wet to create some interesting dual toned colours.
So now that you know why everybody is going gaga over pigments, how about trying them out yourself? Start small with just one or two colours, but I can guarantee that you wouldn't be able to stop with that.
Let us know how you use pigments.